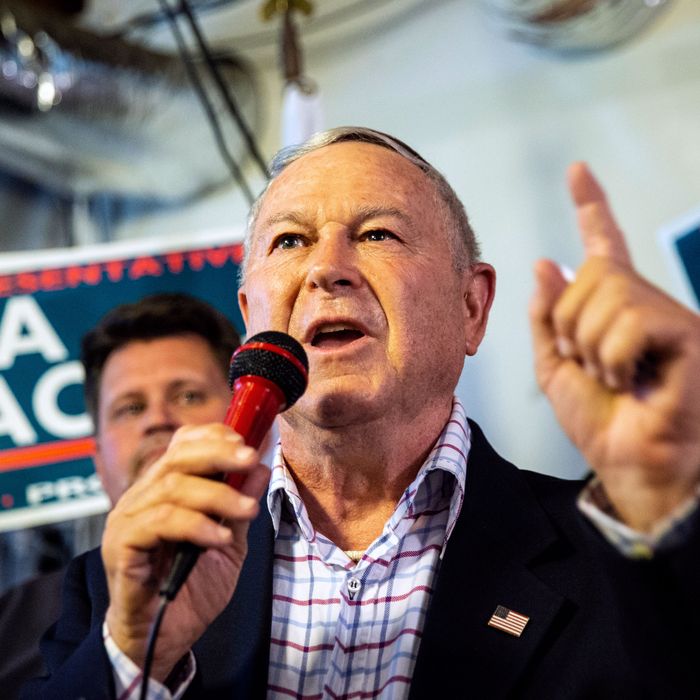 There's a new mystery involving a former opponent of embattled California congressman Dana Rohrabacher.
Photo: Kent Nishimura/LA Times via Getty Images
According to Rolling Stone, the FBI has been investigating an apparent series of cyberattacks on email accounts and websites associated with former California congressional candidate Dr. Hans Keirstead. At this point there are no allegations about the identity of the attackers, and thus no idea whether they might have a whiff of vodka about them. What is clear is that Keirstead was at the time of the attacks the front-running Democratic candidate challenging U.S. Representative Dana Rohrabacher, often referred to as "Putin's favorite congressman."
The hacks on Keirstead began in August 2017 with a spear-phishing attempt — a fake email intended to deceive the recipient into typing in his or her password or other confidential information — sent to Keirstead's work email address. The phishing attempt was successful — Keirstead thought it was a legitimate Microsoft Office message and entered his password before quickly realizing the message was fake and having his company take measures to secure their email system. (Keirstead had used his work account for campaign purposes, emails show.) This was similar to the phishing attack on Hillary Clinton campaign chairman John Podesta that later resulted in the release of thousands of Podesta's personal emails …




In December [of 2017], the cyberattacks on Keirstead took a different form: a sophisticated and sustained effort to hack into the campaign's website and hosting service.
As Rolling Stone notes, these attacks occurred during a period when U.S. law enforcement and intelligence agencies were warning of heightened cyber-threats against the United States, including those based in Russia. That may be why the FBI has shown interest in the attacks on Keirstead. But if Russian involvement is suspected, it may have something to do with the fact of Rohrabacher's close relationship with Moscow, which was established years ago but keeps popping up in the news. Most recently he was linked to suspected Russian spy Maria Butina, who was indicted last month for allegedly acting as a Russian agent without registering with authorities.
To be clear, nobody so far as I know has any dirt involving Rohrabacher's relationship with Moscow, but he continues to stand out for an aggressive defense of the regime, as in this comment on Butina's arrest:
News of the 2015 meeting [with Butina] — confirmed Tuesday by Rohrabacher's office — came the same day he told Politico that Monday's indictment of 29-year-old Maria Butina was "bogus" and "stupid," saying he believes the allegations are part of a larger plot to undermine President Donald Trump's relationship with Russia.
Rohrabacher chairs the House Foreign Affairs Committee's Subcommittee on Europe, Eurasia, and Emerging Threats, so he's not just some back-bencher when it comes to Russia policy. And his district is pretty much ground zero for the 2018 battle for control of the House. So anyone with a pro-Russian outlook would probably want to see him win.
As it happens, Hans Keirstead, who was endorsed by the California Democratic Party, is not Rohrabacher's general election opponent: He lost to Harley Rouda by 125 votes after he was hit with allegations (never substantiated) of sexual harassment of his students at UC-Irvine. Keirstead is now supporting Rouda, and his former campaign manager is quick to say he doesn't think the hacking attempts (which the campaign brought to the attention of the authorities) had anything to do with his narrow defeat.
It's all a Dog Days mystery at this point, and no one knows what if anything the FBI will find or say. But it probably does not help Dana Rohrabacher to find his name connected, however remotely, to the words "Russia" and "hacking" just weeks before balloting begins in Orange County.