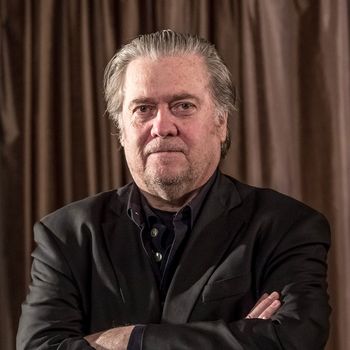 How else is he going to pay for his debilitating shirt habit?
Photo: Martin Divisek/Bloomberg/Bloomberg via Getty Images
Many fired Trump aides wind up remaining in the president's orbit, but former chief strategist Steve Bannon seemed to bent on ensuring that would not be the case after he was pushed out of the White House a year ago. Upon returning to Breitbart News, he pushed the candidacy of Alabama Senate candidate Roy Moore even as he was accused of harassing and assaulting teen girls, eventually giving Democrats a win in the deep-red state. Then in Michael Wolff's Fire and Fury, he was quoted insulting Trump and his adult children, and calling the Trump Tower meeting with Russians "treasonous." For once, Trump's anger couldn't be contained in a tweetstorm. He released a four-paragraph statement denouncing Bannon, who promptly lost his job at Breitbart.
But now Bannon is staging a comeback, whether Republicans like it or not. The New York Times and Politico reported on Wednesday night that Bannon is launching a pro-Trump political group and documentary aimed at framing the midterms as a referendum on the president.
The 25-person group, Citizens of the American Republic, intends to help Republicans hold the House by advising surrogates, generating talking points, and flooding cable TV, conservative radio, and op-ed pages with messaging on how GOP voters must turn out to save Trump.
"It's very simple to me. This is a referendum on Trump, up-or-down vote on impeachment," he told Politico. "This other side, they're very motivated — and they're motivated for one thing: They want to impeach Donald Trump."
Bannon would not say how the group is funded or how much money it's raised. The Times reported that his old benefactor Rebekah Mercer, who cut ties with him amid the Fire and Fury debacle, is not involved.
Bannon plans to release the documentary, Trump@War, in September, on the second anniversary of Hillary Clinton referring to Trump's supporters as "deplorables." The film depicts Trump's campaign and first 18 months in office as a stunning success, with the president delivering results as he and his supporters are attacked by a violent and intolerant left.
The film is reportedly not in sync with the Trump reelection campaign, which is focusing on culture wars. It's also unclear if Bannon's plan of focusing on Trump's impeachment rather than individual races is smart; a new poll from a coalition of Democratic groups suggests framing the race as a referendum on Trump may boost the left. Per HuffPost:
The survey of likely voters from Navigator Research, conducted by the Global Strategy Group, found Democrats had a 8-point lead on a generic ballot for Congress, 45 percent to 37 percent.




The Democratic lead grows, however, when the battle for Congress is framed as a referendum on the president. Asked if they would prefer a Democrat who mostly opposes Trump or a Republican who mostly supports him, 52 percent picked the Democrat, and 39 percent choose the Republican.




When presented with a Democrat who will be a "check and balance" on Trump against a Republican who will help Trump pass his agenda, Democrats led 50 percent to 38 percent.
But a genius like Bannon doesn't need polling; after all, this is a man who strategized a way to make himself offensive to both the Republican establishment and people who proudly consider themselves "deplorables."