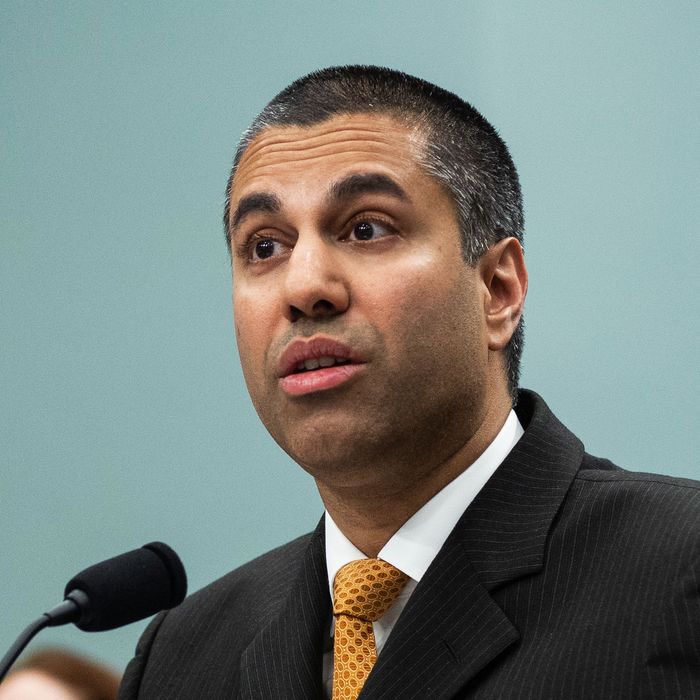 Ajit Pai.
Photo: Alex Edelman/Getty Images
For over a year, FCC chairman and "Nemesis of Net Neutrality" Ajit Pai has claimed that hackers brought down the FCC's public comment website last year with a targeted distributed denial of service attack. It turns out the attack didn't come from hackers at all — but instead, from a flood of commenters advocating for a free internet.
That's according to a report released by the FCC's Office of Inspector General yesterday. "Our investigation did not substantiate the allegations of multiple DDoS attacks alleged," the report reads. Instead, the report attributes the influx of traffic to the FCC's site on May 8 to an outpouring of comments after a segment about net neutrality aired on Last Week Tonight With John Oliver. In addition to encouraging viewers to send comments to the FCC voicing their displeasure themselves, Oliver tweeted out the link, "gofyourself.com," which redirected to the FCC comment page, so users could easily reach the site. The site could not handle the traffic.
"One minute after the 'gofyourself.com' link was tweeted by the Last Week Tonight With John Oliver program, the FCCs Electronic Comment Filing System experienced a significant increase in the level of traffic attempting to access the system," the report continued. Over 2.1 million comments were filed in the five days following Oliver's show, which, according to a report by the Pew Research Center, made up nearly 10 percent of all comments for the five-month period.
Pai, who's become a stock internet villain thanks to his cringe-worthy attempts to relate to the very internet culture he's poised to pillage, responded to the news the way one would expect. Rather than admit the FCC's blunder and false DDoS claims, Pai blamed the past administration.
"I am deeply disappointed that the FCC's former Chief Information Officer (CIO), who was hired by the prior Administration and is no longer with the Commission, provided inaccurate information about this incident to me, my office, Congress, and the American people," Pai wrote in a statement. "This is completely unacceptable."
FCC's Net-Neutrality Stance Could Come Back to Bite Conservatives
Earlier this year, the senate voted on and passed legislation to reinstate net neutrality, only to have the bill fail in the House of Representatives with the votes falling largely on party lines. While net neutrality remains dead in the water for now, that may change depending on the results of this year's midterm elections.
Until recently, the narrative of preventing a handful of internet-service providers from establishing near monopolies, limiting online content availability, and throttling internet speeds seemed a no-brainer and remained one of few major issues able to escape the clutches of political polarization. Just last year, a poll showed that 77 percent of Americans said that they supported net-neutrality regulation. In that same poll, 73 percent of Republicans also said they supported net neutrality.
While conservative politicians principally opposed to internet regulation in any form have reaped massive benefits from Pai's brief stint as chair, their continued opposition to internet protections may come at a price.
A new survey conducted by conservative pollster group IMGE Insights found that a broad cross section of voters in battleground states not only said that they support net-neutrality protections, but that these protections were important factors in how they will cast their vote. The poll, which was first reported by the Intercept, analyzed voters in four battleground districts in California, Colorado, New York, and Florida. Sixty-three percent of the polled Republicans support net neutrality, including 58 percent of Trump voters.
"Voters across key battleground congressional districts overwhelmingly support net neutrality and want their member of Congress to force a vote to overturn the FCC and restore net neutrality protections," the survey reads. "Support for net neutrality is broad and bipartisan, and moves independents and undecided voters toward a member of Congress willing to take immediate action."
More interestingly still, 60 percent of all people surveyed said they would be "more likely" to vote for a candidate who ran on overturning the FCC's net-neutrality reversal. Similarly, 46 percent said they would be less likely to vote for a candidate if they refused to help overturn the FCC's ruling.