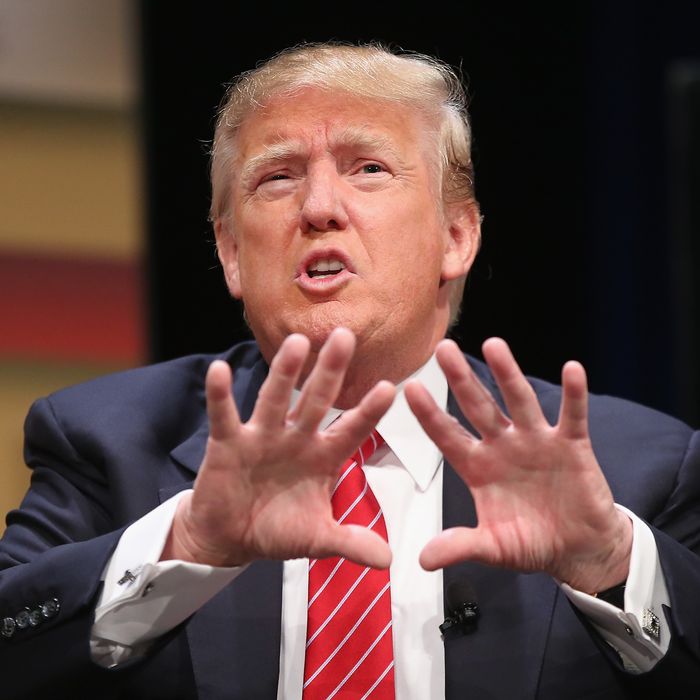 Mueller's "witch hunt" must be shut down — but first, let's chat.
Photo: Scott Olson/Getty Images
On Wednesday President Trump's day started, as it often does, with a bizarre tirade attacking Special Counsel Robert Mueller. This tweet storm was particularly unhinged because for the first time, Trump explicitly called on Jeff Sessions to shut down the Mueller probe … which isn't possible, since the attorney general recused himself from the investigation more than a year ago.
Once again, Trump seemed to be undermining his own case, providing Mueller with fresh evidence of obstruction of justice as he lashed out at the special counsel. There's no good explanation for Trump's tweet — so instead, his team made one nonsensical claim after another, confusing the narrative to the point that well-known points about where Trump and Mueller stand seemed like new revelations.
First Trump's lawyer, Rudy Giuliani, told the New York Times that everyone knows Trump only states opinions on Twitter — though for months we've watched him use the medium to hire and fire staffers, announce new policies, and pick fights with foreign leaders.
Later, Mr. Giuliani said that the fact that Mr. Trump had made the statement on Twitter, "a medium that he uses for opinions," was proof that it should not be seen as an order.




"One of the good things about using that is he's established a clear sort of practice now that he expresses his opinions on Twitter," Mr. Giuliani told reporters.
When asked about Giuliani's remark, White House press secretary Sarah Huckabee Sanders issued her own meaningless denial, saying "The president is not obstructing, he's fighting back."
Then when talking with reporters in New Hampshire, Giuliani seized on an opportunity to return to a topic he's been teasing since his first week on the job: Trump's willingness to sit for an interview with Mueller.
"Well he's always been interested in testifying, it's us, meaning the team of lawyers, including me, that have the most reservations about that," Giuliani said.
"Why should we believe that though, because everything he says indicates the opposite, that he doesn't want to talk with Mueller," a reporter asked.
Giuliani gave a quizzical look. "Really? I haven't heard him say that. I've heard him say I want to be interviewed if my lawyers can reach an agreement on what the ground rules will be," he answered. "We've had a hard time doing that but we're still — I'm not going to give you a lot of hope it's going to happen — but we're still negotiating, we haven't stopped negotiating with them."
A few hours later, several stories emerged that built on Giuliani's point. ABC News reported that Mueller's office said in its latest exchange with Trump's team that prosecutors are willing to limit the scope of their questions, but they want to question the president about obstruction of justice — and that's what sparked Trump's call for Sessions to end the probe:
Special Counsel Robert Mueller's office wants to ask President Donald Trump about obstruction of justice, sources close to the White House tell ABC News. According to sources, the president learned within the last day that the special counsel will limit the scope of questioning and would like to ask questions both orally and written for the President to respond to.




According to sources familiar with the President's reaction Wednesday morning, that was the genesis for his early morning tweet storm.
But as TPM's Josh Marshall notes, that doesn't really explain Trump's outburst, as we've known (as much as we know anything about Mueller's moves) that he wants to talk to Trump about obstruction before wrapping up that part of his investigation:
This simply doesn't make sense as an explanation for Trump's blow up because this is not different from anything that has been widely reported for some time. For months it has been widely reported that Mueller's questions to Trump would focus on obstruction. Part of the effort to secure the interview was to finish a report on questions of obstruction of justice so that the Special Counsel could move on to finish the collusion part of the probe. He needed to talk to Trump before he could issue a report because state of mind and intent are so central to obstruction.
Then the Times published a report that reiterated something else we've known for months — in fact, Giuliani alluded to the point hours earlier: Trump can't wait to talk to Mueller, though his attorneys are against it. The Times said:
President Trump pushed his lawyers in recent days to try once again to reach an agreement with the special counsel's office about him sitting for an interview, flouting their advice that he should not answer investigators' questions, three people briefed on the matter said on Wednesday.




Mr. Trump has told advisers he is eager to meet with investigators to clear himself of wrongdoing, the people said. In effect, he believes he can convince the investigators for the special counsel, Robert S. Mueller III, of his belief that their own inquiry is a "witch hunt."
Trump is not known for his grasp of the law or for his consistency, so maybe he really is pushing to talk with Mueller, even as he calls on his attorney general to "stop this Rigged Witch Hunt right now." But it's also possible that the Trump camp is just resurfacing a headline-grabbing story to send the message that Trump is tough and ready to stand up to Mueller, as he did nothing wrong.
Later in the piece, the Times highlights the two most obvious explanations for the sudden escalation in the president's attacks on Mueller: Michael Cohen leaking recordings of his conversations with Trump, and the start of Paul Manafort's trial:
For the past week, Mr. Trump has expressed frustration about the confluences of investigations that have dogged him. The president told his advisers that the Russia inquiry and a separate federal investigation in Manhattan into his former personal lawyer, Michael D. Cohen, have undermined him for too long and need to be brought to an end.




The president's concerns were reignited by both the start of the money fraud trial of his former campaign chairman, Paul Manafort, and the release last week of a recording on which he and Mr. Cohen are heard discussing hush money payments during the campaign to a former Playboy model who says she had an affair with Mr. Trump. He denies the affair.
But after a day chock full of seemingly significant revelations about the Trump team's negotiations with Mueller, who can ever remember what the president was ranting about this morning, let alone his embarrassing motivations?