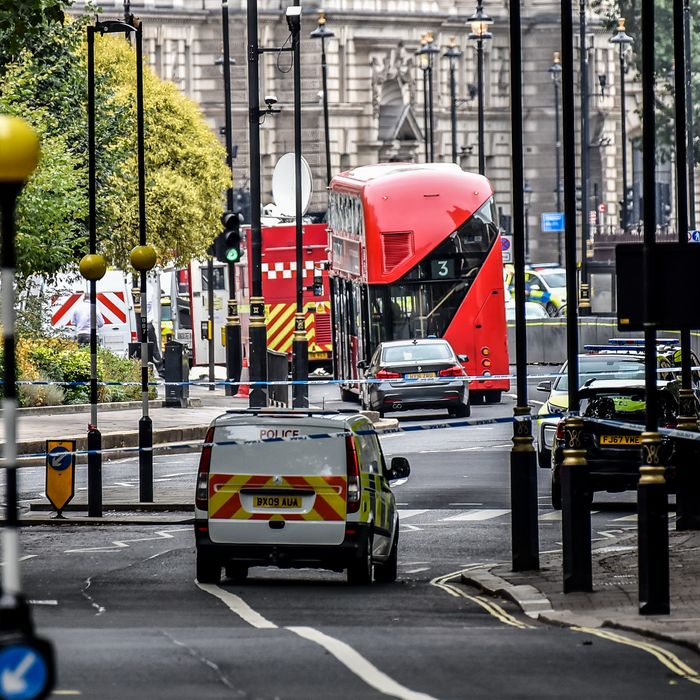 Police secure the roads around the Houses of Parliament as forensic teams investigate the crash.
Photo: Alberto Pezzali/NurPhoto via Getty Images
A man crashed his car into barriers outside Britain's Houses of Parliament on Tuesday morning, injuring "a number of pedestrians" according to London police. The AP reports that two people were hurt, and their injuries aren't life-threatening.
The driver was arrested at the scene on suspicion of terrorism offenses. Witnesses said the car was driving at high speed before smashing into security barriers at 7:37 a.m.
"The car drove at speed into the barriers outside the House of Lords. There was a loud bang from the collision and a bit of smoke," Ewelina Ochab told the Associated Press. "The driver did not get out. The guards started screaming to people to move away."
Another witness, Jason Williams, said the crash appeared intentional.
"It looked deliberate. It didn't look like an accident," he said. "How do you do that by accident? It was a loud bang."
Photos from the scene show a man in a puffy black jacket being surrounded by police, then led away from a silver Ford Fiesta. Police said he's in his late 20s, but have yet to release his name.
"At this stage, we are treating this as a terrorist incident and the Met's Counter Terrorism Command is now leading the investigation," the Metropolitan Police spokesman said.
Police quickly flooded the area, and cordoned off the streets surrounding the Houses of Parliament. The Westminster tube station was closed, and people were urged to stay away from the area.
There was a terror attack at the same site in March 2017, when Khalid Masood ran his car into pedestrians on Westminster Bridge, killing four people. He then fled his vehicle and stabbed and killed a police officer before being fatally shot outside Parliament. That was one of four vehicle-based terror attacks in London in the past 18 months.