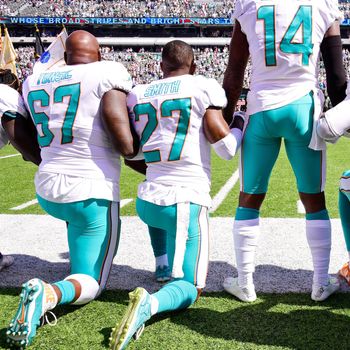 Dolphins players kneel in protest during the 2017 regular season.
Photo: Steven Ryan/Getty Images
The NFL returned Thursday night with this year's first full slate of preseason action. And with the games came a renewed round of pregame player protests. Malcolm Jenkins and De'Vante Bausby of the Eagles raised their fists during the national anthem. Four members of the Jaguars remained in the stadium tunnel while the "Star Spangled Banner" played. And in Miami, two Dolphins — Kenny Stills and Albert Wilson — took a knee.
"If you guys pay attention, most of the time I'm praying," Stills told reporters after the game. "I thank God for having Albert next to me. Being a part of this protest hasn't been easy. I thought I was going to be by myself out there, and today I had an angel with me with Albert being out there. I'm grateful that he sees what's happening and he wants to do something about it as well."
Colin Kapernick, who sparked NFL player protests of racial injustice and police brutality three years ago, praised Stills and Wilson in a tweet.
President Trump was much less enthused in a couple of error-ridden tweets sent Friday morning.
To be clear, only two players took a knee during the anthem and they were on the same team. And the idea that NFL players get the majority of the league revenues is demonstrably false. Per the 2011 collective bargaining agreement between players and owners, the guys on the field get between 47 and 48.5 percent of revenue. They should get more.
But the worst part of Trump's bad tweets is the assertion that players are "unable to define" the reasons for their protest. Over and over again, players have stated clearly why they're kneeling and why they're doing it during the national anthem. It's so obvious that, when he's not trying to whip up racial resentment, even Trump can acknowledge it.
And even if he didn't know, all he had to do was look at the shirts the Eagles were wearing before their game Thursday. They were simple enough that even Trump could understand.