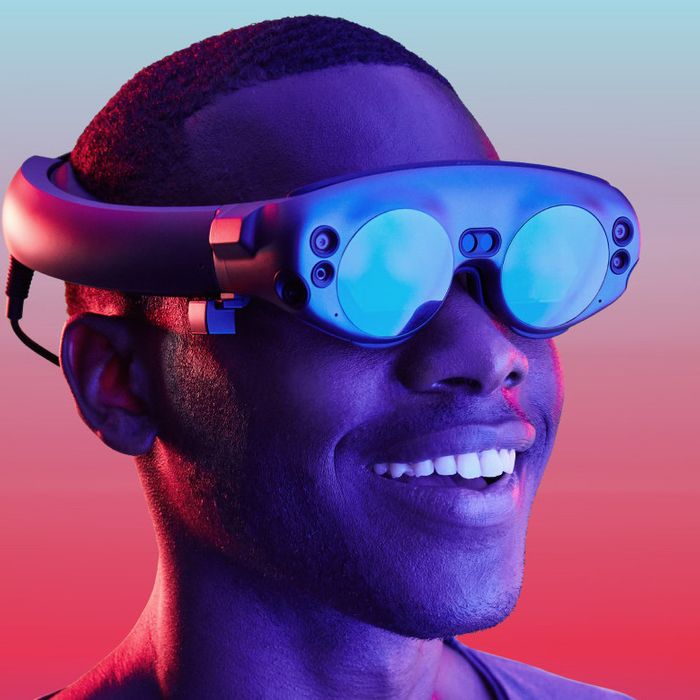 Hey everyone, the Magic Leap is here. "Finally," you say, "the Magic Leap has hit the market." Try to sound more enthusiastic!
The Magic Leap, as anyone who reads breathless tech-magazine journalism knows, is the augmented-reality headset from a secretive Florida company that has been the subject of rumor and speculation for years. Making grandiose promises and demonstrating very little public material, Magic Leap has attracted a lot of hype and billions of dollars in investments. Today, it finally released its headset, the Magic Leap One, with a surprise launch and accompanying embargoed write-ups from places like Wired and the Verge. In case you were thinking about an impulse buy, the headset costs $2,300.
Magic Leap might've been an intriguing proposition two years ago, when Wired put out a blustery cover story on the start-up. It might've been intriguing when they put out a concept video of how the glasses theoretically worked, which the Information later reported had been fudged. "Most investors put money in after seeing dazzling demonstrations put on by early prototypes and other technologies still in development. Much of that technology won't be in the product now planned for commercial release," the site reported.
A few years from the launch of Oculus and as interest in VR has seemingly waned, is there any way that Magic Leap can possibly succeed? Maybe. The upside of selling a $2,300 augmented-reality headset is that you don't need to sell as many of them to make money; the downside is, well, you've made a $2,300 headset and made a lot of grandiose promises about it. The launch of the Magic Leap was accompanied by a mea culpa from CEO Rony Abovitz, who admitted to Wired that the marketing department went overboard in selling the nascent piece of tech.
Abovitz says the marketing team wasn't in line with the company's culture. In retrospect, he likens it to a type of organ rejection, describing the ethos of the time as tribal. "It was like, which culture is going to win? This splashy big company kind of thing? Everyone else was just like, that doesn't feel right." To cut to the chase, he explains, "we were not connecting," he says.
Adi Robertson at the Verge writes, "It's not the kind of revolutionary (or downright magical) advance that Magic Leap has teased for years. It's a better version of a thing I've tried before, and that thing is still very much a work in progress."
At least buyers will get white-glove treatment. A technician will hand-deliver every Magic Leap headset and help users set it up. Whether the tech will be useful for anything other than a neat party trick remains to be seen.