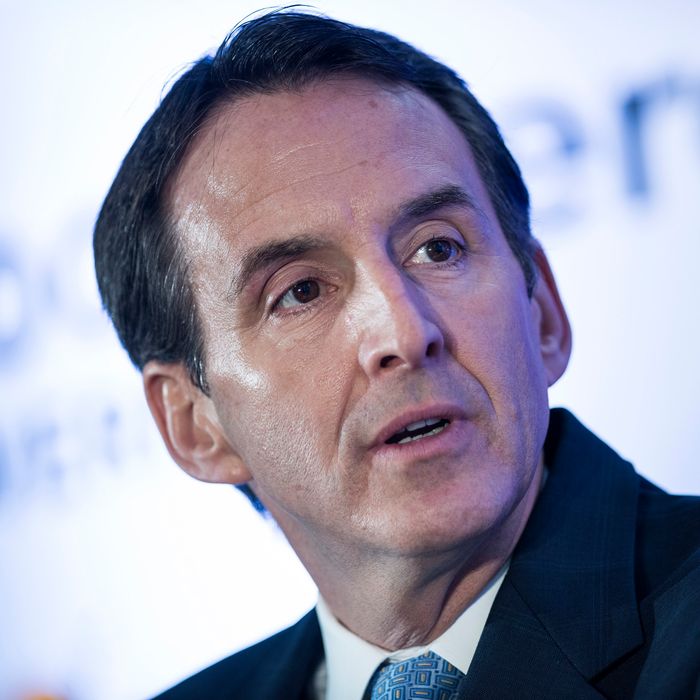 Another underwhelming campaign left Tim Pawlenty probably wishing he hadn't given up that posh lobbying gig to run for governor again.
Photo: BRENDAN SMIALOWSKI/AFP/Getty Images
Former Minnesota governor Tim Pawlenty is famous for being a presidential candidate who looked great on paper, but flamed out early. In the 2012 campaign he couldn't even beat fellow Minnesotan (and mad-fringe favorite) Michele Bachmann in an Iowa straw poll before the race was properly underway. He left behind a lot of lost bets on his candidacy, and this memorable campaign video that struggled unsuccessfully against his flat personality and less-than-stirring speaking style:
Having embodied a political version of the Peter Principle (holding that most people eventually rise to a level where they become incompetent), Pawlenty went back to his comfort zone and announced a third gubernatorial run. Perhaps drawing on his experience in Iowa, he did not pursue the endorsement of the conservative-activist–dominated state party, and instead attempted to drown his primary opponent, 2014 gubernatorial nominee and local government official Jeff Johnson, in a sea of name identification and money (he was outspending Johnson by a ten-to-one margin as of June). Sparse polling showed him comfortably in the lead.
But then on Tuesday night, he lost. Johnson played the underdog well, scoring points over Pawlenty's post-presidential-campaign career as a D.C.-based bank lobbyist. He also reminded Trump-loving GOP voters that TPaw called POTUS "unsound, uninformed, unhinged, and unfit to be president of the United States" while withdrawing his support from the GOP nominee after the Access Hollywood video came out in October of 2016. In the end Pawlenty again turned out to be a better candidate on paper than on the campaign trail.
Pawlenty wasn't the only gubernatorial candidate to have a shockingly bad night, though. Democratic front-runner and Attorney General Lori Swanson finished a poor third behind state legislator Erin Murphy and the winner, U.S. Representative Tim Walz. Swanson had antagonized Democratic progressives for years, and was hit by a late-breaking series of scandals involving alleged misuse of state property and personnel for electioneering. Walz, meanwhile, seemed to benefit from a consolidation of anti-Swanson voters. He's likely to be the favorite over Johnson, bolstering Democrats' hopes of holding onto the governorship of this increasingly purple state.