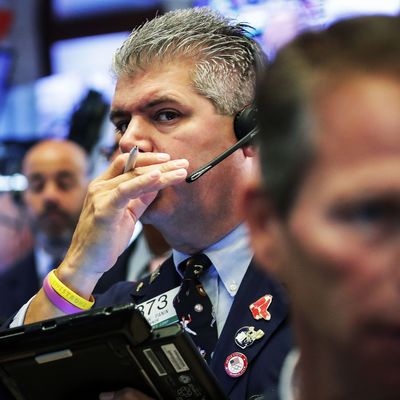 Blue is the scariest color.
Photo: Drew Angerer/Getty Images
Some on the American (far) left believe that the Democratic Party remains too beholden to Wall Street to champion a bold, progressive agenda — and thus, to win back power from the Republicans.
Some on Wall Street beg to differ.
In recent days, major portfolio managers have been trading bank and technology stocks for cash, out of a belief that Democrats will retake the House this November – and that said midterm triumph will strengthen the party's progressive wing in 2020. As Reuters reports:
Fund managers from Federated Investors, OppenheimerFunds, and BMO Global Asset Management are among those who are repositioning their portfolios and seeing cash as more attractive with the Nov. 6 elections less than 100 days away.




Chief among their concerns: a so-called blue wave of Democratic victories could end the Republican Party's single-party control of the White House and Congress, leading to both more investigations into possible abuses by the Trump administration and more stock market volatility.
… Such a move would also embolden Democratic presidential candidates to run on a platform in 2020 calling for universal health care, increasing the minimum wage, and repealing the Republican-led corporate tax cuts passed in December, all of which could slow economic growth, [Phil Orlando, chief equity market strategist at Federated Investors in New York] said.
Not everyone in high finance is so afraid of a blue America. Orlando told Reuters that he expects U.S. stocks to sink by "at least 10 percent" between late August and September, as the inevitability of a Democratic House comes into view. And yet, Team Blue is already favored to retake the lower chamber — and the S&P 500 remains up more than 5 percent on the year.
Still, there's something to be said for Federated Investors' gambit. While there's little reason to believe that the emerging Democratic agenda would be bad for the economy as a whole, it would likely take a bite out of bank, tech, and health-care industry stocks — all of which have been riding a wave of corporate tax cuts and reduced regulatory compliance costs throughout the Trump era. Virtually all of the Democratic Party's 2020 hopefuls have promised to turn back that tide, by raising taxes on the wealthy, strengthening regulation of the financial sector, expanding the federal government's share of the health insurance market, and strengthening the bargaining power of workers.
Leftists might question the sincerity of these commitments. Centrists might insist that such progressive policies amount to electoral suicide.
But some of America's preeminent corporate stooges suspect that both groups are wrong.