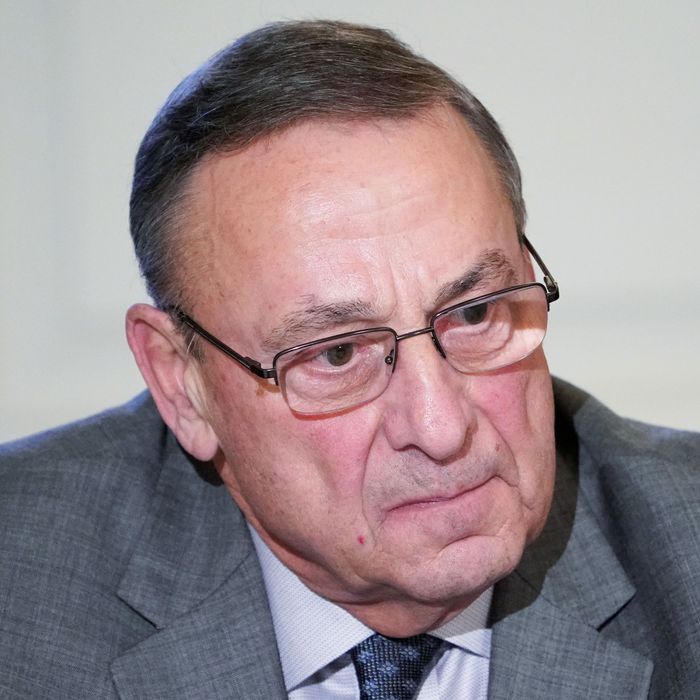 Paul LePage will do just about anything to deny additional health coverage to the people of his state.
Photo: Mandel Ngan/AFP/Getty Images
Voters in Maine approved a ballot initiative last November that made their state the 32nd to take advantage of the Medicaid expansion option created by the Affordable Care Act of 2010. It wasn't close: Expansion won by a 59-41 margin after a very extensive public debate. And the initiative was made necessary by the state's famously paleolithic Republican governor Paul LePage, who vetoed legislation expanding Medicaid on five separate occasions.
But LePage didn't let the express instructions of the Maine electorate bother him. He chose the tack of fighting tooth and nail against appropriations to pay for the state's small share of expanded Medicaid services (which would have been zero for several years had Maine expanded Medicaid when that step first became available), while exaggerating their actual cost.
In early June, a state judge ordered LePage to comply with the ballot initiative and send the feds a plan for a Medicaid expansion. He refused and appealed the decision. In early July, he vetoed legislation funding an expansion.
His defiance of the will of his constituents may finally be running out of time, though. The Maine Supreme Judicial Court sustained the lower court ruling that LePage had to begin implementing Medicaid expansion immediately:
Maine's top court has ruled that the LePage administration must file a plan to expand Medicaid even as it fights implementation of the ballot initiative approved by voters last fall.




The ruling Thursday delivers a blow to the governor, who has steadfastly opposed efforts to extend the public health coverage to an estimated 70,000 additional adults in Maine.
This isn't absolutely the last ditch for LePage, because he can still challenge the funding and even the ballot initiative, although he can no longer drag his feet on implementation in the interim. He has said he'd go to jail before cooperating in the Medicaid expansion. The open question now is whether he will get that opportunity to wear an orange jumpsuit before he leaves office in January.