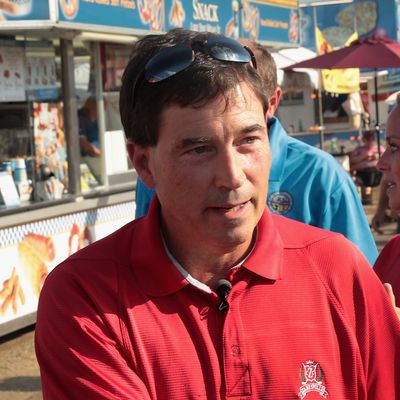 Troy Balderson meets a skeptical young District 12 resident in Hartford, Ohio, on August 6.
Photo: Scott Olson/Getty Images
Republicans have held Ohio's 12th Congressional District for decades, but recent polling shows Tuesday's special election is now a toss up. Though the GOP has little room for error, that did not prevent President Trump from initially tweeting his endorsement for the wrong candidate, and then picking a fight with NBA superstar LeBron James, Ohio's favorite native son, hours before a rally in support of GOP candidate Troy Balderson.
But Balderson might have found a way to outdo the president. During his final campaign stop on Monday night, Balderson told a crowd in Zanesville, Ohio, that they need to get out and vote tomorrow because "we don't want someone from Franklin County representing us."
Balderson's opponent, Democrat Danny O'Connor, is from Franklin County — but so are about a third of the district's voters. The 12th District covers all of Delaware, Licking, and Morrow counties, along with parts of Franklin, Marion, Muskingum, and Richland counties.
O'Connor's path to victory involves turning out the more Democratic northern suburbs of Columbus, which are located in Franklin County. Balderson needs to boost turnout in the rest of the district, which is more Republican. Per the Cincinnati Enquirer:
In a Monmouth University poll released Wednesday, O'Connor did the best in his home region, holding a 54 percent to 36 percent lead among Franklin County voters. Balderson led 48 percent to 38 percent in the remainder of the district, which includes his hometown of Zanesville.  
Rather than offering a message of district-wide unity on the eve of the election, Balderson explained to voters in his home county of Muskingum — where he won 80 percent of the vote in May's primary — that they were key to him triumphing over the preferred candidates in other areas within the district:
I just want to explain to you why we beat Franklin County, why we beat Delaware County, where everybody thought that's what was going to happen. We had the odds against us the whole time. Everyone said "you're too far away Troy, you can't do it" but guess what it means when you get a community, not just one person or six people, but a community that gets behind you, this is what you get. You get someone that comes out of a nine-way primary, 80 percent of the vote.
Balderson then marveled that a guy from Zanesville had just attended a rally with President Trump. "On Saturday I had the opportunity to stand with not only the president of the United States, but Donald J. Trump, the United States president," he said. "I kept pinching myself."
Then he returned to his point about hometown support, saying he needs even bigger turnout in Muskingum on Tuesday, lest it fall into the hands of someone from Franklin County. (Though for the past 17 years, Republicans seemed fine with having former Congressman Pat Tiberi, who was born in Franklin County, represent the district.)
I've got to have 85 percent. Eighty-five percent from Muskingum County this time, not 80, but 85. I'm counting on that. My opponent is from Franklin County, and Franklin County has been challenging. We don't want someone from Franklin County representing us. And it's really important that we move that needle tomorrow. 




… It's back to that whole community thing again. I could go on and on and on and tell you how important it is to have a community behind you. That's the only reason I won that primary. And it shocked them. It shocked Franklin and it shocked Delaware County. It shocked all those counties, the bigger populated area ones, knowing that from eastern part of the Muskingum County, the Shaker Heights of Appalachia …
O'Connor quickly seized on Balderson's remarks, posting video of the key line on Twitter and saying the district needs someone who hasn't disparaged a large swath of its voters:
O'Connor also released this statement:
One of the reasons I love crisscrossing our district is because whether I'm in Zanesville, Mansfield, Delaware, Dublin, or anywhere in between, I find that the folks I talk to are all worried about the same issues. This district deserves someone who is going to represent all of us and fight for our priorities in Washington, and Mr. Balderson just made it pretty clear that's not him.
As of 1 a.m. Tuesday, Balderson had offered no explanation.
Balderson's remarks spread quickly on Twitter:
The incident did little to ease Republicans' concerns about Tuesday's race, which is the last special election before November.