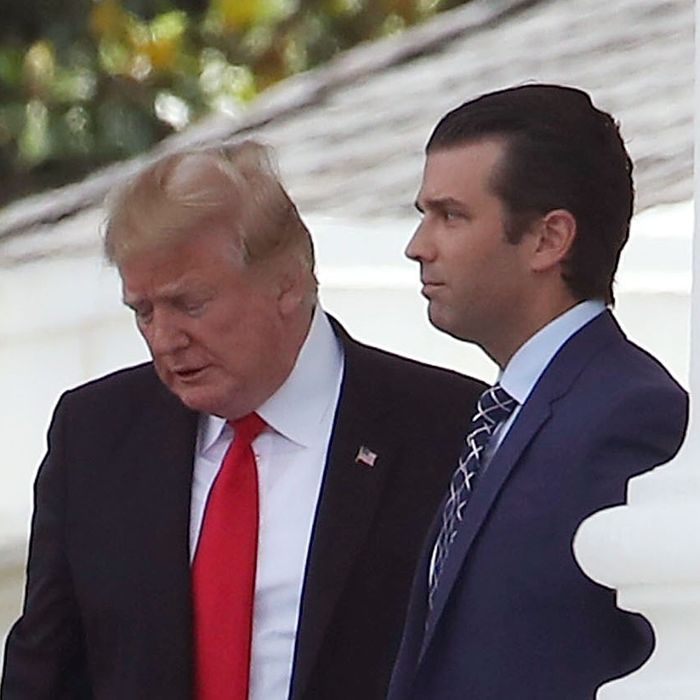 No collusion?
Photo: Mark Wilson/Getty Images
President Trump publicly acknowledged on Sunday that his son, Donald Trump Jr., had met with Russians during the 2016 presidential campaign in order to obtain damaging information on Hillary Clinton.
Within a series of morning tweets making what has become a routine attack on the Robert Mueller's Russia investigation, Trump first denied Saturday's reports that he was worried about his son being ensnared by the probe. He then acknowledged that the infamous June 2016 meeting between Trump Jr. (and other top campaign officials) and a Kremlin-linked lawyer was indeed about obtaining dirt on Clinton — only the president insists he didn't know about the meeting, and that it was still "totally legal" and something that's "done all the time in politics":
Previously, the Trumps had pushed other explanations for the meeting — after having failed to disclose it and having denied that anything of the sort had ever happened in the first place. When the story of the meeting broke open in July of last year, Trump Jr. quickly issued a statement that the meeting had been about Russian adoption, except that statement was dictated by his father, who had recently discussed that very topic in person with Russian president Vladimir Putin. Then, during the rolling political disaster that followed, Trump Jr. was forced to revise his recollection several times and ultimately admit that information about Clinton and the Democratic Party had been offered up front — though he claimed that offer had had just been a ruse to arrange the meeting, and that there were no further interactions with the Russians.
Amid the fallout, Trump Jr. even released his own emails regarding the meeting, which proved that it had been pitched to him, by music publicist Rob Goldstone, as a meeting with the "Crown prosecutor of Russia" who had "offered to provide the Trump campaign with some official documents and information that would incriminate Hillary and her dealings with Russia and would be very useful to your father." Trump Jr. was also told the offer was "part of Russia and its government's support for Mr. Trump." He quickly replied, "if it's what you say I love it."
At a press conference not long after composing his son's statement, the elder Trump again tried to downplay the meeting, suggesting it was too brief to be significant, falsely implying that Trump Jr. had not known he was taking a meeting with a Kremlin-linked lawyer, and making it sound as though Trump Jr. and the Russians mostly just talked about adoption. The president also alluded to the promised Clinton dirt, asserting that he thought "from a practical standpoint most people would have taken that meeting — it's called opposition research or even research into your opponent."
"Politics is not the nicest business in the world, but it's very standard where they have information and you take the information," Trump continued, again indicating that neither he nor his son thought taking anti-Clinton intel from the Russians was out of bounds.
"In the case of Don, he listened, I guess they talked about, as I see it, they talked about adoption and some things. Adoption wasn't even a part of the campaign, but nothing happened from the meeting, zero happened from the meeting, and honestly I think the press made a very big deal over something that really a lot of people were doing."
But for something so many people were supposedly doing or willing to do, the Trumps and their advisers clearly thought it was bad enough that they repeatedly tried to hide it. Trump Jr. had previously claimed that he had never participated in any such meeting. "Did I meet with people that were Russian? I'm sure, I'm sure I did," Trump Jr. said in March 2017. "But none that were set up," he continued. "None that I can think of at the moment. And certainly none that I was representing the campaign in any way, shape or form."
Also on Sunday, Trump lawyer Jay Sekulow, who has had to walk back a lot of his statements on the Trump Tower meeting, admitted that it was a mistake for him to have claimed that President Trump didn't dictate Trump Jr.'s Russian adoption statement. "Over time facts develop," Sekulow explained as part of his excuse.
President Trump's other claim in his Sunday tweet — that he did not know about the Trump Tower meeting with the Russians — may also be exposed as a lie. Last week, CNN reported that Trump lawyer Michael Cohen has claimed that the president did know about the meeting in advance, and that he was willing to tell the Mueller investigation about it. Cohen has reportedly said he was with Trump when he was told about the meeting — and that the then-candidate gave his approval to proceed.
President Trump repeatedly insists there was no collusion between his campaign and the Russian government, and he will undoubtedly continue to maintain that. But on Sunday, he effectively admitted that his son had indeed taken a meeting with a Kremlin-linked official in the hopes of colluding with the Russian government. Perhaps the Trumps, as they claim, didn't accept any help from Russia to win the 2016 election — but as even the president now acknowledges, they definitely wanted it.
This post has been updated to include Trump's last known reference to the meeting being in some way related to intel about Clinton, in July 2017.