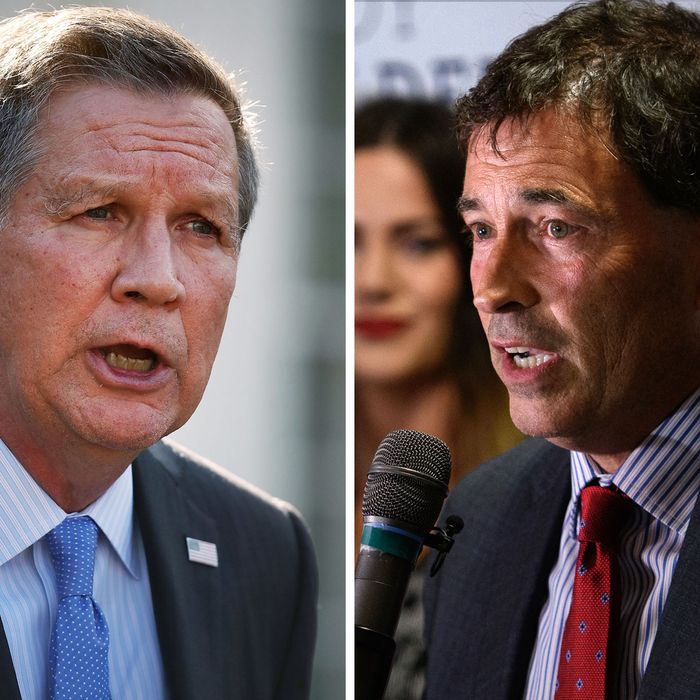 Governor John Kasich provided some key late support for Ohio congressional candidate Troy Balderson. But Trump's not having any of that.
Photo: Justin Merriman/Getty Images
When it comes to mendacious Trump tweets, this doesn't rank especially high in the quantity or quality of misinformation. But it's still pretty ridiculous:
That seems more than a little bit unlikely. The congressional Republicans who were bankrolling Balderson's campaign helped pull Kasich into the contest, and paid for this ad:
And Kasich's support for Balderson seemed to matter, as Cook Political Report's wizard David Wasserman said on Election Night:
Trump, of course, was already hogging credit (prematurely, since the race has still not been called thanks to outstanding provisional ballots and a possible recount) and not-so-subtly dissing Balderson on that same Election Night:
Democrats were universally expected to win early voting heavily, even if Republicans won, so this is another bit of Trump misinformation.
Trump's claims that Kasich's "unpopularity" was a problem for Balderson doesn't make a lot of sense; by every available measurement Kasich is more popular in Ohio than Trump (last month Morning Consult had Kasich's approval/disapproval rating in Ohio at 48/33; Trump's was at 47/49). And blaming Lieutenant Governor Mary Taylor's May gubernatorial primary loss to Mike DeWine on Kasich is a little weird: DeWine was the heavy, early, favorite, and Taylor spent most of the campaign distancing herself from Kasich and trying to pick up anti-Establishment votes.
In Trump's defense, sort of: Kasich fired the first shot over Ohio's 12th District results, blaming Balderson's tepid performance in a district that has been held perpetually and easily by Republicans on you-know-who:
"Well, the voters here sent a message to the Republicans to knock it off," Kasich, who has been critical of Mr. Trump, [said]. "Stop the chaos, the division, no more of this family separation that we see at the border or taking people's health care away. I think that have — basically have had enough and they're sending a message to the Republicans, including the Republican in the White House."
As for Trump's counterattack on the "very unpopular" governor, Kasich's response was pretty acidic:
I don't think they are going to kiss and make up any time soon.