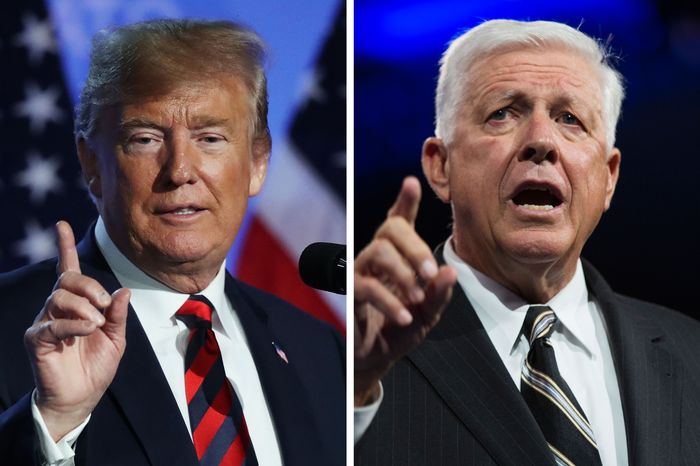 Best known for an open wallet that kept Rick Santorum in the 2012 presidential race, Foster Friess is being rewarded by Trump for his steady loyalty.
Photo: Sean Gallup/Getty Images; Brooks Kraft/Corbis via Getty Images
President Trump continued his pattern of very late interventions in Republican primaries with an endorsement in today's Wyoming gubernatorial primary:
That tweet didn't come out until after the polls had been open for an hour or so, but presumably a majority of Election Day voters will hear about it. At the beginning of the Wyoming gubernatorial contest (incumbent Republican Matt Meade is term-limited), Friess (a 78-year-old billionaire investment manager) might have been better known nationally than in Wyoming, thanks to his notoriety as a major conservative donor. He personally bankrolled much of Rick Santorum's 2012 presidential campaign, which posed the one major threat to Mitt Romney's nomination in the GOP primaries. And his Christian right cultural views got some unsavory publicity for him when he made this comment about contraception to MSNBC's Andrea Mitchell:
 Back in my days, they used Bayer aspirin for contraceptives … The gals put it between their knees, and it wasn't that costly.
A real knee-slapper, eh?
Friess got on the 2016 Trump bandwagon shortly before his fellow-mogul secured the GOP nomination, and has gone out of his way to express support for him in some of his most difficult moments, like the president's terrible handling of the white riot in Charlottesville. The POTUS endorsement was foreshadowed by an op-ed on Friess's behalf by Donald Trump Jr., who noted his usefulness in opening checkbooks for Trump among other big donors. And he also obtained support from the venerable Christian right group the Family Research Council, from Rand Paul, and of course from Rick Santorum.
But Friess's best friend has been his own wallet. He's invested well over $2 million in his campaign, which goes a long way in low-cost Wyoming. Another self-funder, Sam Galeotos, has put about a million into his own campaign. And water rights attorney Harriet Hageman, a proud anti-environmentalist, is trying to flank the whole field on the right. All three of these candidates have been chasing the early front-runner, State Treasurer Mark Gordon, who has been endorsed by much of the state's GOP Establishment. According to the limited public polling in Wyoming, any of the four of the above-named candidates could win.
But in other primaries this year (notably Georgia, Kansas, and Michigan), late Trump endorsements have tilted the balance to his favorites. We'll soon know if his winning streak continues.
Trump also endorsed Wyoming U.S. senator John Barrasso several weeks ago. The incumbent is facing a long-shot primary challenge from self-funding businessman Dave Dodson, who's deploying a Trumpian outsider "drain the swamp" message against Trump's own choice. An unlikely loss by Barrasso would be a shocker to the White House and to Wyoming's political class.