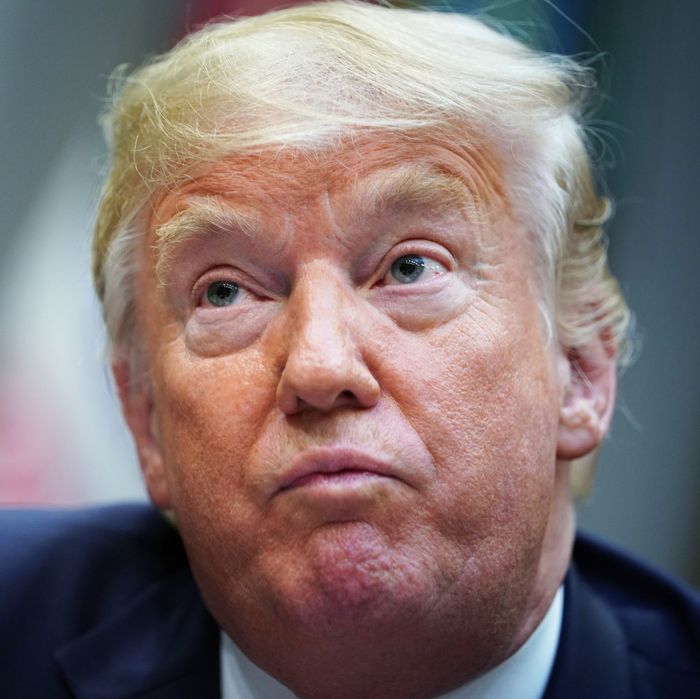 If you can't beat 'em, why not fire Sessions?
Photo: MANDEL NGAN/AFP/Getty Images
Faced with his former campaign manager's conviction, his former fixer implicating him in a federal crime, and the prospect of investigations by a Democratic Congress, President Trump should probably find some top-notch lawyers and avoid making any more legal missteps. But of course, that's not Trump's style. Instead, he's responded by hastening the departure of White House Counsel Don McGahn, and laying the groundwork to finally fire Attorney General Jeff Sessions — two moves likely to intensify the brewing legal storm, and ensure he's ill-equipped to fight it.
The Washington Post reported on Wednesday that Trump's advisers and allies have been warning him that he needs to fortify his legal team and strategy for responding to Special Counsel Robert Mueller. They've even broached the topic of impeachment with Trump, though he calls it "the i-word" and sometimes dismisses the prospect angrily.
"We've talked a lot about impeachment at different times," said Trump attorney Rudy Giuliani. "It's the only thing that hangs out there. They can't [criminally] charge him." Trump's attorneys claim Mueller told them he'll follow Justice Department protocols, which say the president can't be indicted in office.
Though Giuliani added that he doesn't know if Trump has thought about impeachment "in depth yet," McGahn and other aides reportedly invoked the possibility to keep the president from doing something rash, like firing Sessions or Mueller. (And when that strategy failed, McGahn just refused to carry out Trump's order to dismiss the special counsel.)
McGahn, who has been working diligently to confirm more conservative federal judges, distanced himself from the Russia probe, and his relationship with Trump has grown increasingly strained, according to Politico. It was not helped by the controversy earlier this month over McGahn's extensive cooperation with Mueller, but supposedly that wasn't the final straw for Trump. The New York Times reports that Trump "blindsided" McGahn with a tweet announcing his imminent departure on Wednesday in response to an Axios story that said he'd leave after Supreme Court nominee Brett Kavanaugh's nomination:
Mr. Trump had grown tired of seeing reports that Mr. McGahn might leave, according to people familiar with his thinking, and decided to take away any wiggle room he might have. Allies of Mr. McGahn said on Wednesday that he believed the story was planted by his critics to force the president's hand and hasten the timeline of announcing his departure.
McGahn's exit exacerbates the shortage of competent lawyers advising Trump. The Post reports there are now about 25 lawyers serving in the Office of White House Counsel, down from 35 earlier in Trump's presidency. Three of McGahn's deputies have already departed for the private sector, and a fourth is leaving at the end of the week.
White House lawyer Emmet Flood, who represented President Clinton in his impeachment proceeding, is rumored to be the front-runner to take over for McGahn, but that creates a key vacancy on the team handling Trump's response to the Russia probe. The situation sparked talk among the president and his advisers of the need to bring on more attorneys experienced in white-collar defense and political scandals.
One name that's come up is Abbe Lowell — though he's already representing Trump's son-in-law/adviser Jared Kushner. According to the Post, Trump has said he wishes he had competent attorneys, like those his advisers have been forced to hire:
"He wonders why he doesn't have lawyers like that," said one person who has discussed the matter with Trump.




Another adviser said Trump remarked this year, "I need a lawyer like Abbe."
One explanation: Trump doesn't seem to understand what he should be looking for in an attorney:
The president asked Rob Porter, then the staff secretary, several times last year if he would be willing to take over for Mr. McGahn, an idea supported by several of his aides and his children. But Mr. Porter told the president that he did not believe he was qualified for the role, felt it was the wrong fit for him and preferred focusing on policy, those briefed on the discussions said. He has since left the White House amid accusations of spousal abuse.
Another issue: Many high-profile attorneys aren't looking to get involved with a client known for ignoring his lawyers' advice, then unceremoniously firing them via tweet.
Trump probably hasn't helped matters by signaling in recent days that he's gearing up to fire Sessions for refusing to help him thwart the Russia investigation. Politico reported that Trump spent the past ten days lobbying GOP senators on why they should support him if he fires Sessions. Some, like Senators Chuck Grassley and Lindsey Graham, signaled in recent days that they're no longer opposed to confirming a new attorney general. Politico attributes this partly to Trump's efforts, and partly to the senators' annoyance over Sessions's opposition to a criminal justice bill that they support.
Trump has also worn down what's left of his legal team. Two Republicans close to the White House told Politico that they're now convinced that Mueller has ample fuel to make a case for obstruction of justice, even if Trump never goes through with firing Sessions.
"There's the belief that if the president taking action with respect to Sessions is going to be an important part of the Mueller obstruction case, most of that case has already been made," said one of the sources. "Things that the president has already done privately that have been reported, but also things that the president has done publicly that could be characterized as bullying or intimidating, all of that case is already there ready to be made, such that firing him is almost like an afterthought."
If it's too late for Trump's lawyers to prevent him from committing impeachable offenses, why not have fun on the way out?