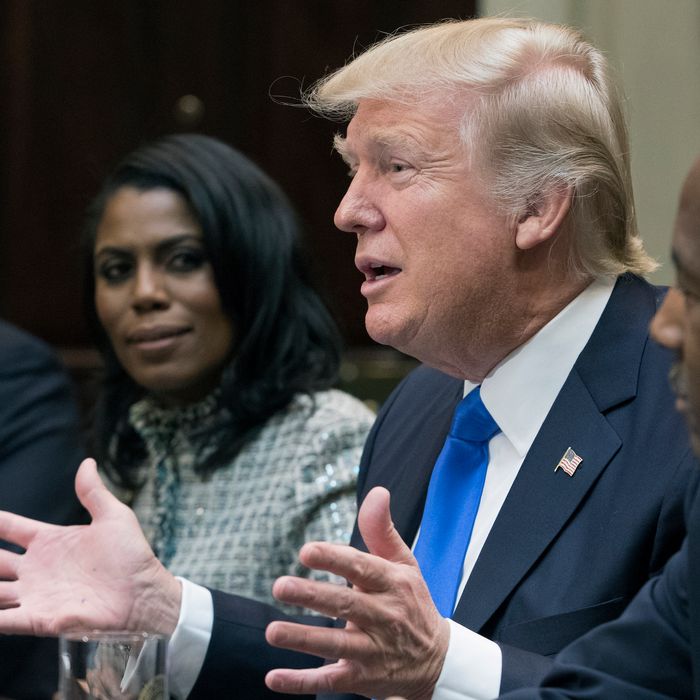 Omarosa with President Trump, the most secretly recorded man in history.
Photo: Pool/Getty Images
While it's been overshadowed by the "pee tape," long before Americans had to ponder potential Russian exploitation of President Trump's sexual fetishes, there was another recording that many believed would do him in politically. The possibly mythical "N-word tape" — Apprentice B-roll in which Trump's racism is on full display — has reemerged in recent days thanks to Omarosa Manigault Newman.
While promoting her book Unhinged, the former White House official claimed that she's heard the tape and it's just as damning as Trumpworld feared. But as she portions out juicy allegations to various interviewers, it's been hard to keep her story straight. On Monday night, several former colleagues said that's because she's lying; they accused her of telling them a wildly different tale about the tape immediately after her firing in December.
Here's a guide to all the conflicting allegations about the latest recording plaguing Trump.
Roots of the Search for Trump's N-word Tape
During the 11-season run of The Apprentice, cameras captured thousands of hours of footage of Donald Trump sitting around a boardroom table, speaking extemporaneously. Rumors swirled during the 2016 campaign that Trump was caught making appalling racist and sexist comments and the tapes became a white whale for a slew of journalists and political operatives.
After the Washington Post published the Access Hollywood tape in October 2016, many predicted that it was just the tip of the iceberg, particularly after Apprentice producer Bill Pruitt tweeted this:
Amid intense public pressure to open up the archives of The Apprentice, MGM and Mark Burnett, a powerful TV producer who was the show's executive producer, released a joint statement saying he "does not have the ability nor the right" to release any footage from the show, and MGM is similarly restricted by "various contractual and legal requirements."
Some found these claims about legal constraints dubious, but no Apprentice outtakes ever emerged publicly. Some sources in the entertainment industry claim they were instructed to stop talking to the media about the tapes, but the rumors persisted.
Appearing on an NPR podcast in October 2017, Pruitt said Trump uttered "some really unfathomably despicable words" while they were recording. "I heard it. I watched it, and those things are somewhere in some warehouse," he said. Asked if the remarks were just about women, Pruitt said, "No, very much a racist issue," indicating that they included derogatory comments about black and Jewish people.
Tom Arnold made similar assertions, claiming shortly after the election that he had obtained outtakes in which Trump "says every bad thing ever, every offensive, racist thing ever. It was him sitting in that chair saying the N-word, saying the C-word, calling his son a retard, just being so mean to his own children." If Arnold has the goods, he's keeping it to himself — for now. Viceland's The Hunt for the Trump Tapes With Tom Arnold premieres next month.
What Omarosa's Book Reveals About the Tape
In the prologue to Omarosa's book, she describes her firing by White House chief of staff John Kelly, and dismisses the "serious integrity violations" he cites as the reason for her dismissal. "Quickly, I connected the dots," she writes. "This had to be about the N-word tape."
She goes on to claim that Pruitt reached out to her and Lynne Patton, Eric Trump's former personal assistant who now runs HUD's programs in New York and New Jersey, about the tape. She says that during the final days of the campaign she participated in a four-way conference call with Patton, Trump campaign communications director Jason Miller, and spokesperson Katrina Pierson. "We discussed whether it was possible Trump had really said those things, and if so, how it would be handled."
Omarosa says that in the fall of 2017, she became newly determined to figure out whether the N-word tape actually existed, as this would be the "last straw" for her. She told then–White House communications director Hope Hicks that chatter about the tape was "heating up," saying she'd heard from an Apprentice source who claimed to be in possession of the tape, and others who described its contents.
"They all told me that President Trump hadn't just dropped a single N-word bomb. He'd said it multiple times throughout the show's taping during off-camera outtakes, particularly during the first season of The Apprentice." Omarosa notes that she and Kwame Jackson were the only African-Americans in that cast.
Omarosa says Hicks took a keen interest in her sleuthing, and now she suspects that she told Kelly "that I was this close to getting my hands on the tape." In passages that sound like something out of a detective novel, she paints her firing and the wild media reports that followed as an effort to discredit her and derail her investigation.
"While all this was going on, I called my sources about the tape and couldn't reach any of them," she writes. "As soon as the fiction hit the news, the trail went cold. Ice cold."
Omarosa's Story Keeps Shifting
Discrepancies in Omarosa's tale emerged almost immediately. In an interview with NPR on Friday, she said of the tape, "Hearing it changed everything for me." When NPR's Rachel Martin pointed out that the book suggests she hadn't heard the tape herself, Omarosa accused her of not reading it, pointing to a passage toward the end. She even read the section out loud, insisting that it describes her hearing the tape herself, though it clearly states that a source is telling her about the recording on the phone:
On this phone conversation, I was told exactly what Donald Trump said — yes, the N-word and others in a classic Trump-goes-nuclear rant — and when he'd said them.




During production he was miked, and there is definitely an audio track.




For over a year I'd been so afraid of hearing the specifics from someone who'd been in the room. Hearing the truth freed me from that fear. And only now that it's gone, do I realize just how heavy it's been.
On Sunday's Meet the Press, Omarosa backtracked, telling Chuck Todd that she heard the recording of Trump using the N-word after the book closed, during a recent trip to Los Angeles. "I heard his voice as clear as you and I are sitting here," she said.
She continued using the alleged tape to tease her book Monday on the Today show, but she bristled when Savannah Guthrie pressed her for more information about the president of the United States using racial slurs. Omarosa offered a few new details, saying the tape is audio-only, and about three minutes long. "He was talking about some African-Americans in the production during the course of The Apprentice, which is unacceptable," she said.
Naturally, Omarosa saved a few more tidbits for her next media appearance. Monday night on Hardball, she told Chris Matthews that Trump uses the N-word in reference to Apprentice contestant Kwame Jackson. She revealed that she heard the recording from a man who used to be part of the show's production staff, saying the source "took it on themselves" to document Trump's racism. She said she believes this man may be planning to drop the audio as an "October surprise" ahead of the midterms.
"After I closed the book I had an opportunity to go out there and to meet with him," she said of the source. "He's terrified, but he also thinks he's doing a good service to save his country from a president who clearly doesn't care about African-Americans."
Trump Aides Say Omarosa Told Them an Entirely Different Story
While Omarosa now claims that she only heard the tape herself in the last few months, three Trump aides say she told them she'd heard the recording immediately after her firing in December 2017 — and she identified the person who played it for her as former Apprentice contestant Troy McClain.
In a HuffPost piece published Monday night, reporter Yashar Ali says Lynne Patton, who still works for HUD, told him that Omarosa called her on the night she was fired:
Patton said that Manigault Newman told her last December that McClain played her the audio, which Manigault Newman told her was in Pruitt's possession. Two other Trump aides received such calls, they confirmed to HuffPost. Those two aides asked to remain anonymous.
Patton suggests Omarosa's depiction of the content was consistent with what she's said during her media blitz: it's a three-minute audio recording in which Trump uses the N-word in reference to Kwame Jackson.
Manigault Newman told Patton that in the tape, described as audio from a microphone Trump was wearing on the TV show set, Trump could be heard complaining that his makeup artist didn't use latex gloves that day (Trump is a self-described germaphobe) and that he was eager to wrap up the day early because the microphone pack was hot and causing him discomfort. He then talked about Jackson. Manigault Newman said he referred to Jackson as a "n****r." 
But Bill Pruitt — the former Apprentice producer who's accused Trump of regularly using racist and sexist language on set — has repeatedly denied that he's in possession of the tapes. McClain also seemed taken aback by Omarosa's reported claim that he played the tape for her in December 2017. Ali reports:



McClain, reached by phone, confirmed that he met with Manigault Newman in the White House in December 2017, while she was director of communications for the White House Office of Public Liaison, but when McClain was asked if he played a recording for her of the president using a racial slur, he laughed and said, "You've got to be bullshitting me. Is this a joke?"




McClain denied that he ever played such a recording and said that Manigault Newman would never say he did. But multiple sources familiar with her communication about the meeting with McClain confirm that she said he played the audio file for her or that he discussed that he had heard the audio with her.
Former Colleagues Accuse Omarosa of Lying
After the HuffPost story ran, Patton released a lengthy statement claiming that Omarosa called her around 11:30 p.m. on December 12, 2017, saying that she'd just submitted her resignation after hearing the N-word tape, and urging Patton to do the same. Patton says she "notified senior communications officials and a Trump family member" the next morning, only to discover that Omarosa had actually been fired.
Patton also says she talked to Pruitt, a mutual friend, and he confirmed to her that he was never in possession of a recording of Trump using the N-word:



 I just spoke to Bill Pruitt tonight before releasing this statement. 




He confirmed to me (before Hardball had even gone off the air) that he does NOT have an audio tape of President Trump using the "N-word" and has NEVER had an audio tape of President Trump using the "N-word." Period. 
Patton does not address Pruitt's public assertions that racist and sexist Trump recordings exist, instead insisting that the N-word tape is "a figment of [Omarosa's] imagination."
Then during a late-night Monday Fox News appearance, Katrina Pierson denied that several conversations Omarosa describes in her book ever took place. She also pointed out that Omarosa denied that Trump is a racist in an ABC News interview recorded days after her departure from the White House. (Omarosa also expressed discomfort with some of Trump's racial rhetoric in the interview, and claimed she raised concerns with John Kelly about "a very urgent issue, and pressing issue, that would affect the president," which now sounds like a veiled allusion to the alleged recording.)
"Omarosa was the source of this tape," Pierson said. "She was concern trolling this tape since the latter part of the campaign, in my opinion as a tool of manipulation of those around her."
Trump's New Denial
After attacking Omarosa on Twitter all day, calling her "not smart" and "a lowlife," Trump insisted on Monday night that the N-word tape definitely doesn't exist. As proof, he cited a call he claims he received from Mark Burnett, and his own assertion that he doesn't use such vocabulary.
It's clear that Omarosa hasn't been able to keep her story straight, and someone is lying about her claims surrounding the N-word tape. But despite the assertions of her enemies in Trumpworld, she's not the root of the rumor. Many journalists and opposition researchers have been tracking the tape for years, based on tips from a variety of sources.
While there may have been a time when the tape would have dashed Trump's political ambitions, now it's easy to imagine a racist Trump rant flopping as an "October surprise." There's no shortage of examples of Trump's racism, from accusations that his family's real estate business discriminated against blacks in the '60s and '70s, to his immigration policies, to referring to white supremacists as "very fine people," to repeatedly disparaging the intelligence of black public figures. Tape of the president using a racial slur would be a scandal, but it's not going to reveal information voters had no way of guessing.