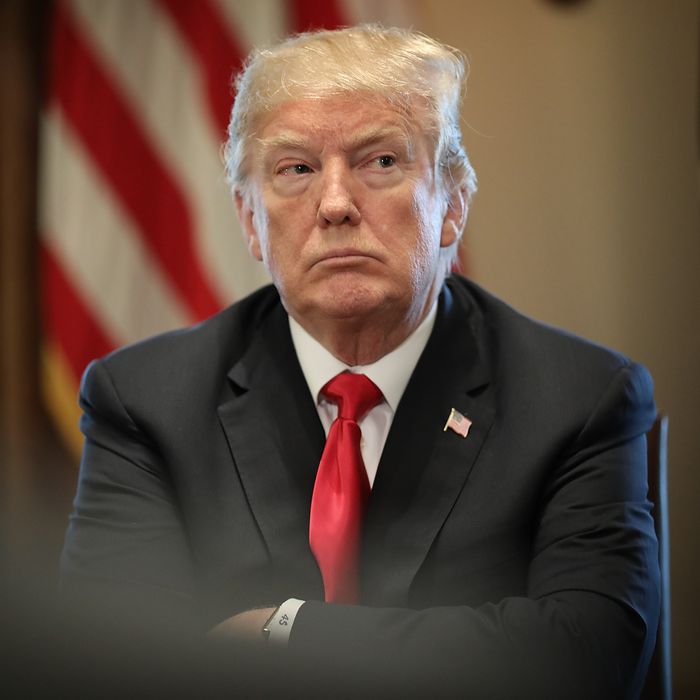 That famous Trump classiness.
Photo: Win McNamee/Getty Images
Following John McCain's death on Saturday at the age of 81, the senator was praised by figures from both political parties, and even one of the men who kept him captive in a Vietnamese prison for five and a half years. Meanwhile, President Trump issued a two-line tweet expressing his sympathies to the McCain family. Then he spent Sunday at his golf course in Virginia, and said nothing aside from two tweets attacking the media and falsely declaring that he has a 52 percent approval rating.
The comment was restrained as Trump tweets go, yet fell far short of the statements the White House typically releases when a prominent politician dies, regardless of their party. The Washington Post reported on Sunday night that White House aides had actually drafted a statement praising McCain's service to the country, but Trump told them not to release it, saying he'd tweet something instead:
Press secretary Sarah Huckabee Sanders, Chief of Staff John F. Kelly and other White House aides advocated for an official statement that gave the decorated Vietnam War POW plaudits for his military and Senate service and called him a "hero," according to current and former White House aides, who spoke on the condition of anonymity to discuss sensitive internal deliberations. The original statement was drafted before McCain died Saturday, and Sanders and others edited a final version this weekend that was ready for the president, the aides said. 
Many Trump administration officials publicly praised McCain, but it did not go unnoticed that the president offered no kind words about the senator, and memorialized him on Instagram with a photo of himself:
Mark Corallo, a former spokesman for Trump's legal team, seemed appalled by Trump's behavior.
"It's atrocious," he told the Post . "At a time like this, you would expect more of an American president when you're talking about the passing of a true American hero."
But of course, Trump's reaction isn't very surprising. Early in his campaign he declared McCain wasn't really a war hero, saying, "I like people who weren't captured."
Though former Vice President Dan Quayle tells The Wall Street Journal that McCain and Trump once enjoyed a pleasant dinner at the White House, McCain reaffirmed his place among Trump's enemies when he voted to stop his effort to destroy Obamacare in July 2017. Trump would mockingly act out McCain's thumbs-down gesture at his rallies, and continued making petty jabs at the senator even as he battled brain cancer. Earlier this month Trump did not utter McCain's name while signing a military spending bill named in his honor, and he said nothing when McCain announced he would stop treatment for his illness.
A number of pro-Trump politicians followed his example. All three GOP candidates in the race to replace Arizona's other senator, Jeff Flake, have embraced Trump and distanced themselves from McCain. Representative Martha McSally, the front-runner, had avoided mentioning McCain while campaigning, but offered kind words in recent days. However, her opponent Kelli Ward, who frequently criticized McCain for not stepping down after his diagnosis, mused in a Facebook post that his announcement about discontinuing treatment was timed to distract from the kickoff of her statewide bus tour. She later deleted the message and offered condolences, but is still promoting anti-McCain messages on her website. Similarly, after tweeting his well wishes to the McCains, Joe Arpaio lashed out at Cindy McCain for blocking him on Twitter.
Despite the McCain-Trump rift in the GOP, the senator's memorial service is expected to be the kind of bipartisan moment that's become rare in the last 18 months — and the president is likely to be left out. White House aides said it's unclear if Trump will go to Capitol Hill, where McCain will lie in state on Friday, to pay his respects. As for the funeral, McCain deprived Trump of another opportunity to snub him, letting it be known in recent months that he doesn't want him there.
Living presidents and first ladies usually make a show of unity when a prominent political figure dies, and McCain made it clear he wants that tradition to continue, without Trump. He asked that the two men who defeated him in his quest for the presidency — George W. Bush and Barack Obama — deliver eulogies.
"John McCain, in death," said historian Jon Meacham, "is performing the unifying function that the incumbent president is congenitally incapable of performing."