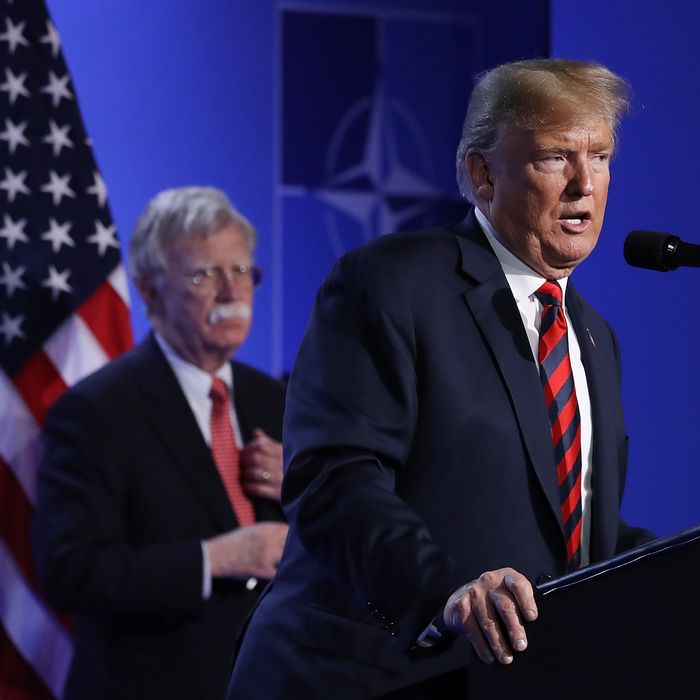 John Bolton stands on stage with Trump at a press conference during the NATO summit on July 12, 2018, in Brussels, Belgium.
Photo: Sean Gallup/Getty Images
One of the many ironies of the Trump presidency is that despite his obsession with "deep state" actors plotting against him, he employs advisers who cook up ways to manage him, rather than simply carrying out his orders.
Sometimes Trump knowingly cedes presidential powers, like when he gave "his generals" much more control over the war in Afghanistan. But more often than not this happens behind his back — for instance, when the Pentagon limits the military options it presents to the president, or when Trump's attorneys in the Mueller investigation argue he shouldn't do anything rash, because the probe will probably be over in a matter of weeks. Anonymous staffers have described using distraction and stalling tactics to keep Trump from going off the rails, prompting GOP senator Bob Corker to label the White House an "adult day care center."
The latest example comes from the New York Times, and weirdly, national security adviser John Bolton — who seems bent on starting a war — plays the defender of diplomacy. The paper reports that while policy agreements produced by NATO summits usually involve intense, last-minute negotiations, Bolton demanded that the latest NATO agreement be hammered out before Trump even set foot in Brussels last month. Bolton had help from other top U.S. national security officials, per the Times:
In June, weeks before the meeting, Mr. Bolton sent his demand to Brussels through Kay Bailey Hutchison, the American ambassador to NATO. He wanted the NATO communiqué to be completed early, before the president left for Europe, according to five senior American and European officials familiar with the discussions who described them on the condition of anonymity to avoid angering the White House.




NATO's secretary general, Jens Stoltenberg, reinforced Mr. Bolton's directive during a gathering of the ambassadors on July 4. The usual infighting over the summit agreement, he said, had to be dropped

He asked the delegations to finish their work by July 6 at 10 p.m. Brussels time.
U.S. officials and their NATO counterparts had good reason to be concerned about Trump's involvement in negotiations, as weeks earlier he'd refused to sign a joint communiqué at the G7, escalated his trade war, and picked a fight with Canadian prime minister Justin Trudeau. NATO officials managed to complete their work before the deadline, and presented Trump with just the bullet points (though, we're guessing, fewer graphs and pictures than he would have liked):
At a 2016 meeting in Warsaw, last-minute changes in the communiqué were shown to President Barack Obama. By contrast, American officials said, this year Mr. Trump was presented with only the broad outlines of what the meeting would deliver — not details of the document of 79 paragraphs, running 23 pages.
Hurriedly preparing the agreement without Trump let NATO officials achieve several key goals from the two-day meeting, even as the president blathered about Germany being a "captive" of Russia, and NATO nations being "delinquent" in their military spending. From the Times:
Against Russian objections, the military alliance would formally invite Macedonia to join. It would establish an Atlantic Command post, hosted by the United States in Norfolk, Va., to coordinate a swift alliance response in the event of, for instance, a war in Europe between Russia and NATO allies.




And, most important, allies pledged to build up their militaries and provide 30 mechanized battalions, 30 air squadrons and 30 combat vessels, all ready to use in 30 days or less, by 2020 — a force to quickly respond to any attack on an alliance member.
After the meeting, Trump officials were able to point to the meaty agreement as the president repeatedly suggested that the U.S. might not come to its NATO allies' defense. His account of the summit has grown more and more belligerent in the telling; in the latest version, Trump makes it sound like he went to Brussels to collect on a mob debt.
That's why while this genre of Trump report provides some momentary relief, it's ultimately so frightening. Even if you embrace the idea of unelected officials circumventing the president on the national stage, for now at least, they can only keep it up for so long. Trump's attacks on the global order have been relentless and unpredictable, and you can't count on his national security advisers — especially Bolton — to keep thwarting his worst impulses.