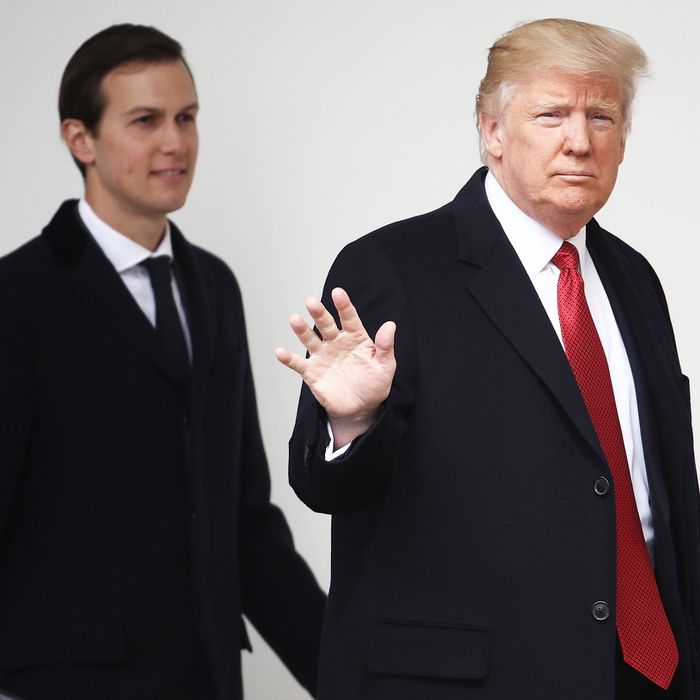 Sorry, Jared, Tom Cotton doesn't like your "jailbreak" bill.
Photo: Win McNamee/Getty Images
The prospects of some sort of criminal-justice reform legislation being enacted during the Trump presidency remain tantalizingly close, but in the end, so far away.
This most bipartisan of causes, backed by a coalition ranging from progressive opponents of the war on drugs and mass incarceration to Mike Lee, Chuck Grassley, and the Koch brothers, was put on hold by Mitch McConnell in 2016 because it seemed to conflict with Donald Trump's law-and-order campaign rhetoric. It came slowly back after Trump's election under the stewardship of presidential son-in-law Jared Kushner, who shepherded a more limited "prison reform" bill through the House earlier this year, and then worked to shape a package that contained several of the key sentencing-reform provisions of the previously stalled legislation. It was an indirect strategy, but one that seemed to bear fruit when Trump signaled support for the package earlier this month.
But then the atavistic rump of conservatives opposing any kind of criminal-justice reform went to work, led as before by Tom Cotton of Arkansas, famous for arguing that America has an "under-incarceration problem." On August 15, Cotton fired off a Wall Street Journal op-ed attacking the Kushner legislation because it included reductions in the mandatory-minimum sentences and other reductions on judicial discretion enacted during the failed war on drugs (which Cotton considers a great success). More recently, Cotton got together with conservative opinion leader Hugh Hewitt to bad-mouth "jailbreak" legislation, which another conservative talker blamed on the "liberal, brand-conscious couple of Ivanka Trump and Jared Kushner" who are "pushing leniency for drug felons."
Then Cotton's fellow incarceration fan, Senate Majority Whip John Cornyn, told Politico the Senate wasn't inclined to take up any criminal-justice-reform legislation before the midterms:
I don't think before the election. I think the sentencing reforms are still controversial and divide Republicans. I just don't see the wisdom of dividing Republicans on a contentious matter like that before the election."
Kushner apparently decided it was time to kick the issue up to the Boss, and arranged a meeting including himself, White House aide Brooke Rollins, and Attorney General Jeff Sessions (famously opposed to almost any kind of criminal-justice reform in the past, but largely neutralized in the White House by Trump's fury at him over the Mueller investigation). After all, Trump had told senators earlier that "I don't care about the politics; if it's the right thing to do than we should do it."
But apparently not, as Axios reported today:
President Trump has stymied a plan to push prison and sentencing reform before the midterms, according to an administration source with direct knowledge. In a White House meeting on Thursday afternoon, Trump decided that the compromise package that Jared Kushner, Sen. Chuck Grassley and others have been advocating for is too politically difficult to endorse before the elections.
I'm sure there will be another excuse after the elections.
All in all, hopes that Trump would rein in the more irresponsible anti-crime demagogues in his party and do the right, bipartisan thing on criminal-justice reform were probably naïve. When this whole Kushner-driven salvage effort began, a Senate staffer observed:
If Kushner gets behind this effort and decides this is good for Trump, we're gonna find out whether he has any influence with the president or not.
Jared's clout isn't looking very formidable right now.