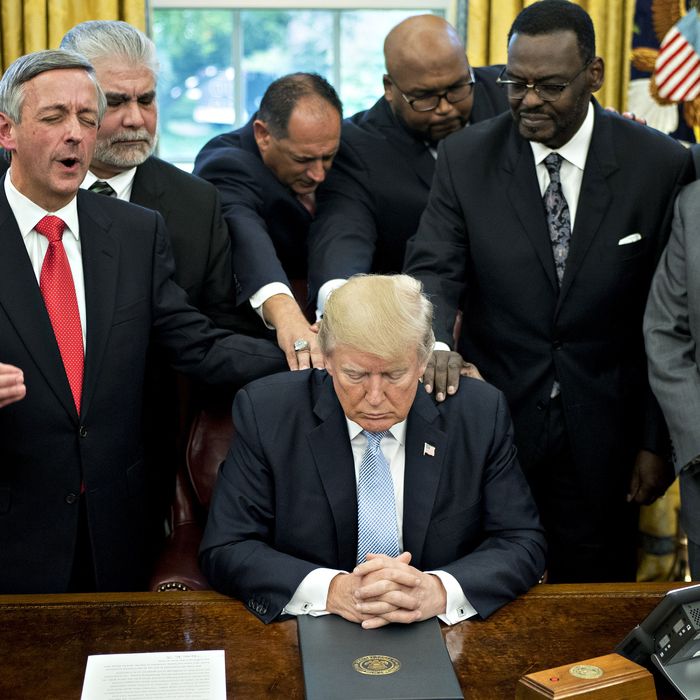 Trump and some of his evangelical advisers.
Photo: Andrew Harrer/Bloomberg via Getty Images
As he does periodically, President Trump got together in the White House with some of his conservative evangelical clergy supporters, and after a prayer or two and some brief wonk talk, the meeting quickly became transactional, according to the New York Times:
[O]nce reporters and television cameras were ushered out of the room, Mr. Trump turned to the more pragmatic concerns of how evangelical leaders can use their pulpits to help Republicans win in the midterm elections, according to an audiotape of his remarks provided to The New York Times by someone who attended the event.
"I just ask you to go out and make sure all of your people vote," Mr. Trump told the group of about 100 evangelical ministers. "Because if they don't — it's Nov. 6 — if they don't vote we're going to have a miserable two years and we're going to have, frankly, a very hard period of time because then it just gets to be one election — you're one election away from losing everything you've got."
And what does that mean? To Trump apparently, it means Democrats will bring back the Johnson Amendment, the 1954 law imposing the unbelievable tyranny of keeping ministers in tax-subsidized nonprofit church pulpits from overtly campaigning for politicians like you-know-who.
Mr. Trump spent most of his private remarks to the group bragging about having gotten "rid of" the Johnson Amendment, a 1954 provision of tax law that threatened religious organizations, like churches, with the loss of tax-exempt status if they endorse or oppose political candidates …




Maybe it's why you are very plateaued. I hate to say it, if you were a stock, you'd be like, you're very plateaued," Mr. Trump said, prompting laughter in the room. "I really believe you're plateaued because you can't speak. They really have silenced you. But now you're not silenced anymore."
Trouble is, Trump has not gotten "rid of" the Johnson Amendment. A provision repealing it was removed from the final version of the 2017 GOP tax bill, and proponents of a repeal also failed to get it into the omnibus appropriations bill earlier this year. The president has tried to claim that a very vague May 2017 executive order on "religious liberty" thwarted the zealous anti-clerical fanatics of the IRS. But even supporters of the repeal acknowledged at the time that it did no such thing, and in fact simply ratified the status quo:
In stilted legalese, Trump's order says the IRS should not take action against churches that speak out on moral or political issues "where speech of similar character has, consistent with law, not ordinarily been treated as" campaign speech. In other words, the time-tested standard applies: Churches can speak out on political issues as long as they don't endorse or oppose a specific candidate.
So in effect, the president, right there in the White House, was encouraging the clergy to break the law:
He urged religious leaders to use what he described as their newfound freedom of speech to campaign from the pulpit on behalf of Republican candidates.




"You have people that preach to almost 200 million people — 150 to, close, depending on which Sunday we are talking about, and beyond Sunday, 100, 150 million people," he said.
If this grossly mistaken legal advice wasn't enough to get these ministers to go back home and thump the tubs for the GOP, Trump tried a very direct if equally mendacious scare tactic, too:
"They will end everything immediately," he said, apparently referring to Democrats. He added, again without being clear whom he was talking about: "They will overturn everything that we've done and they'll do it quickly and violently. And violently. There's violence. When you look at Antifa, and you look at some of these groups, these are violent people."
Antifa, Nancy Pelosi, Conor Lamb, Heidi Heitkamp, whatever: All of Trump's and his party's enemies are placed on the same axis of evil, eager to bring back a Johnson Amendment that never went away and perhaps sack and pillage churches that many of them visit a lot more often than does the president. But to conservative evangelicals who have come to think of Trump as the path to a future that closely resembles the 1950s, he can speak no lies and do no wrong.