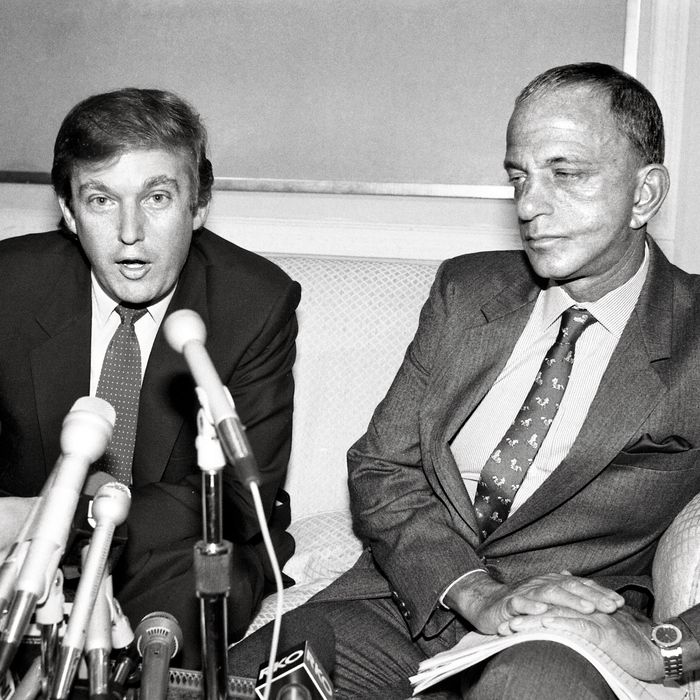 Trump and his mentor, Roy Cohn, who was Senator Joseph McCarthy's right-hand man and protégé.
Photo: Bettmann/Bettmann Archive
President Trump launched an extended Twitter tirade on Sunday morning in response to a New York Times report that White House counsel Don McGahn has "cooperated extensively" with special counsel Robert Mueller in an effort to protect himself from Trump and possible prosecution. And while presidential tweetstorms are a regular feature of weekend mornings, Sunday's was more revealing than most. It featured Trump siding with President Richard Nixon on Watergate, sounding like a full-fledged mobster, and comparing Mueller to one of the most disgraced figures in American history, Senator Joseph McCarthy.
Trump initially responded to the Times story on Saturday with a tweet insisting that he had allowed McGahn to "fully cooperate" with Mueller, thus implying the White House counsel had done nothing untoward. On Sunday morning, the president decided to follow up with another six messages — indicating that this story seems to have gotten deeper under his skin than others. The rant also gave away why.
In the first tweet, Trump referred to the part of the Times report that compared McGahn to Nixon White House counsel John W. Dean, who helped lead the Watergate cover-up before becoming the prosecutors' star witness against the Watergate conspirators. Dean's testimony played a critical role in bringing down Nixon, and he continued to serve as White House counsel while he was working with investigators. He ultimately spent four months in prison after pleading guilty to obstruction of justice.
The Saturday Times story implies McGahn may be acting as Dean had, for the same reasons — though it's far from clear if his "cooperation" with Mueller will do any real damage to Trump or others.
President Trump — a longtime friend of one of Nixon's dirty tricks specialists, Roger Stone — sees Dean as the villain of the Watergate scandal. In that same first tweet about the McGahn story on Sunday, the president referred to Dean as a "RAT."
Trump, who favors personal loyalty almost as much as he does personal regard, has complained of "rats" before, tweeting attacks on people he presumed to be informing on others.
The paranoid Trump has also shown an affinity for Nixonian tactics as president, even compiling a Nixon-like enemies list by which he intends to seek revenge on U.S. officials who have participated in the Russia investigation or criticized him. He has additionally tried to order punishment on specific journalists, tried to demonize law enforcement officials who don't demonstrate fealty, and has earned Nixon-like poll numbers. Unlike Nixon, however, Trump seems incapable of keeping his authoritarian impulses secret. Nixon had his clandestine dirty tricks, informed by experience and a full understanding of government and politics. Trump just likes getting dirty in public, then attacks the media for not calling him clean.
Also included in president's Sunday morning Twitter tirade was yet another attack on the media, the "rigged witch hunt," and Mueller — only this time he compared the latter to Joseph McCarthy, another American lawmaker who once worked down an infamous list of enemies. McCarthy was, of course, the reckless leader of the Red Scare that possessed the U.S. in the 1950s. His name is the basis for the term "McCarthyism," which is used to describe unsubstantiated accusations of treason that are made in an effort to destroy someone's reputation and career. Trump has used the word before, accusing the Obama administration of the practice in his infamous March 2017 tweet that falsely claimed President Obama had tapped his phone in Trump Tower right before the 2016 election.
On Sunday, Trump stretched the comparison to include the legitimate investigation into Russia's interference in the 2016 presidential election — which has already led to 32 indictments. "Study the late Joseph McCarthy," Trump told his followers, "because we are now in period with Mueller and his gang that make Joseph McCarthy look like a baby!"
To state the obvious, there is no comparison between Mueller, a competent, well-respected law enforcement official, and McCarthy, an unhinged, hateful charlatan whose name is synonymous with malfeasance and scaremongering in American politics.
While Trump typically shows a tenuous grasp on history, McCarthy may be an exception. One of the president's mentors was Roy Cohn, McCarthy's ruthless right-hand-man and protege during their actual witch hunt, who fled Washington for second career as a super-shady, frequently indicted lawyer in New York. He also eventually represented and became a close adviser to Trump.
In Trump's mind, despite all the harm Cohn did in his life, he was a great person because he was loyal. In The Art of the Deal, Trump championed Cohn, positively framing his self-hating homophobia as strength and his viciousness as "toughness" — a characteristic Trump also celebrates in authoritarian strongmen abroad and points to as a kind of necessary evil while defending some of his administration's most abhorrent policies.
Trump emphasized in his book that loyalty is more important than integrity or respectability. This is one of the central dogmas which has animated Trump in his life, and it's the reason he thinks John Dean should have kept his mouth shut — even if that meant a president who broke the law and tried to obstruct justice would have been able to stay in power.