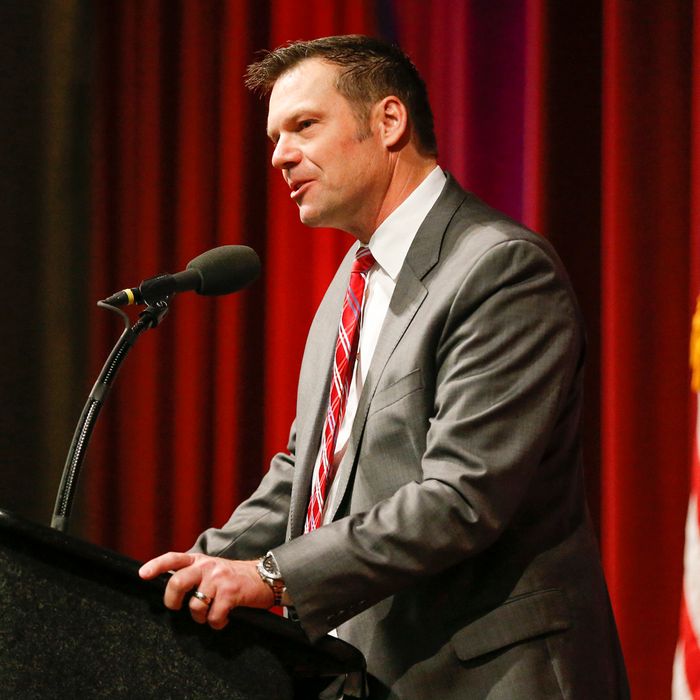 Kobach could be poised to make a stunning ascension.
Photo: Fernando Salazar/TNS via Getty Images
One of the first things visitors see when they walk into the sitting room outside the Kansas secretary of state's office is a framed copy of Time magazine from 2013, mounted to the right of the door. On the front of the magazine stands Marco Rubio, declared in blaring yellow text to be "THE REPUBLICAN SAVIOR." Back when that issue was printed, the hobbled Republican Party's leadership was trying its best to tack toward immigration reform, moderation, and inclusivity. Donald Trump wasn't even a punch line yet.
The magazine, however, isn't hanging in Topeka to celebrate Rubio. An article from the inside of the issue hangs next to the cover. Above this profile sits the ominously presented headline, "The Other Guy."
The Other Guy is Kris Kobach, the country's single most notorious anti–illegal immigration and voter-fraud crusader, whose legend as the beating heart of distilled proto-Trumpian policy has only grown in the half decade since then. It may be about to get a lot bigger. Without much fanfare, as the political world's eyeballs remain superglued to Washington, The Other Guy — a Trump immigration whisperer who represents the greatest fears of many Republicans and most Democrats — is now just steps away from becoming Kansas's next governor. It would be a surprisingly under-noticed, and stunning, ascension that could elevate Kobach to become the White House's highest-visibility, most aggressive national partner in elected office, just as Trump allies strengthen their hold on the GOP across the country.
Polling has been scant in the August 7 primary race pitting Kobach, the 52-year-old second-term secretary of state who's been at or near the center of every one of the country's most pitched immigration and voting-rights battles for over a decade, against incumbent Governor Jeff Colyer and a handful of other smaller-name candidates. Public surveys have shown a tight race, and even recent internal research released by Kobach's team reveals that one-fifth of voters haven't made up their minds. But Kobach was ahead by nine points in his final-stretch poll, and many local and national Republicans consider him the front-runner, based largely on his fame and notoriety. He'd hardly be assured of a win in November, but running in a deep-red state that Trump carried by 20 points in 2016, Kansans' GOP nominee will start the general election as the favorite.
It's already been a long year for Kobach, whom Kellyanne Conway credited as a source of Trump's evidence-free post-election claim that he "won the popular vote if you deduct the millions of people who voted illegally." The Mike Pence–led voter-fraud commission Kobach spearheaded at the president's request fizzled to an unceremonious close in a cloud of lawsuits in January, and this summer a district court judge ruled against Kobach's signature law requiring Kansas voters to provide proof of citizenship, holding him in contempt for disobeying her order not to enforce the law during the trial, fining him for making false statements (he paid with a state credit card), and ordering him to take remedial law courses in the process. Kobach, characteristically, doubled down. He insists the consequences of that decision could be dire: If Kansas's gubernatorial race ends up being decided by fewer than 10,000 votes, he warned me, he's concerned the result may be affected by noncitizens voting illegally. (Roughly 870,000 Kansans voted in the 2014 governor's race, according to the secretary of state's office, but Kobach claimed in court that the 2013 law has prevented up to 18,000 noncitizens from voting. Kansas has had 1.8 million registered voters since 1999, and Kobach actually identified just 43 noncitizens who've registered to vote in the state since then. Only 11 of them voted.)
Yet with a win on Tuesday, Kobach — even better known for his long-held hard-line views on illegal immigration than on restricting voting rights — would take a significant step toward a far greater national platform. "I felt vindicated when President Trump won and took a really strong law enforcement stance, something no other presidential candidate has done in recent memory, except for Tom Tancredo," Kobach said, referring to the right-wing Colorado congressman who briefly ran for president in 2008 but dropped out before voting began. He has ideological allies running elsewhere, he noted, pointing to the Senate campaigns of former Maricopa County sheriff Joe Arpaio and Pennsylvania congressman Lou Barletta, two right-wingers who've been at the front of the immigration wars with him.
"There is absolutely a national crescendo building on this illegal immigration question," he said. "It's become a top, top-two issue for more voters."
Still, Arpaio and Barletta are likely to lose. Kobach's possible rise represents something different: a significant moment for hard-right lawmaker and activists' Trump-era consolidation of power, and a potential reckoning for the remaining Republicans searching for a modern, inclusive identity.
"Kobach is the embodiment of the party's move away from the welcoming, compassionate party of Reagan-Bush to the ascendant wing that is motivated, in large part, by white grievance," said Tim Miller, a former senior aide to Jeb Bush's presidential campaign. "In some ways Kobach's approach is more alarming than Trump's ham-handed race-baiting populism, because he has the backing of organized groups that give the patina of credibility and a more permanent policy infrastructure to his anti-immigrant, racially charged platform."
It could also prove a wake-up call for Democrats whose rage has been focused almost entirely on Trump. Liberals have long considered Kobach dangerous as a figure on the sidelines. Now that his brand of harsh conservatism is increasingly embraced as the GOP mainstream, he looms ever larger.
"One of the first indicators of what kind of person you're dealing with when you're dealing with Kris Kobach is he's someone who actively sought, and then did, the job of chief election official — secretary of state — apparently to make it more difficult for people to vote," said Jason Kander, the former Democratic Missouri secretary of state turned voting-rights activist who has often clashed with his counterpart across the state line. "He has this scary and unique ability to go out and say really, really awful and, frankly, racist things, and do it in a tone that can almost deceive you for a moment if you're not really listening. That's really a dangerous, and I would say villainous, superpower."
There are two genres of photos displayed behind Kobach's desk in the high-ceilinged marble building around the corner from the state capitol in Topeka: images of his family, and images of him with Trump and Pence. He endorsed Trump early in 2016's primary season, and he's taken to signing off tweets with a call to #MKGA — Make Kansas Great Again. But Kobach, a former leader of Kansas's Republican Party, is not simply a Trump-era opportunist. His rise in Republican politics started in the heart of the establishment: working for Attorney General John Ashcroft, beginning in 2001. Yet by 2012's presidential campaign, Mitt Romney bounced between embracing and distancing himself from Kobach, as aides twisted themselves into knots over whether to call the Kansan an "adviser" or a "supporter."
An architect of some of the country's most notoriously strict anti–illegal immigration laws in recent years, including in Arizona and Alabama, as well as in Hazleton, Pennsylvania — where Barletta was the mayor — Kobach's hard-line views are often traced back to his studies under Samuel Huntington, who was famous for his writing about a "clash of civilizations," at Harvard, before Kobach went on to earn subsequent degrees from Oxford and Yale Law School. Kobach was still dipping into birther politics as late as 2016, and he says he was introduced to Trump's orbit by Donald Trump Jr. After Trump's win, Kobach visited with the president-elect during the transition, when he was reportedly in consideration for the Homeland Security secretary role. Heading into the meeting, he was photographed carrying with him a paper depicting proposals to build Trump's border wall quickly, to drop the number of Syrian refugees allowed into the country to zero, and to track entrants to the country who were deemed high risk. He didn't get the job, but he says he turned down multiple other ones in the administration.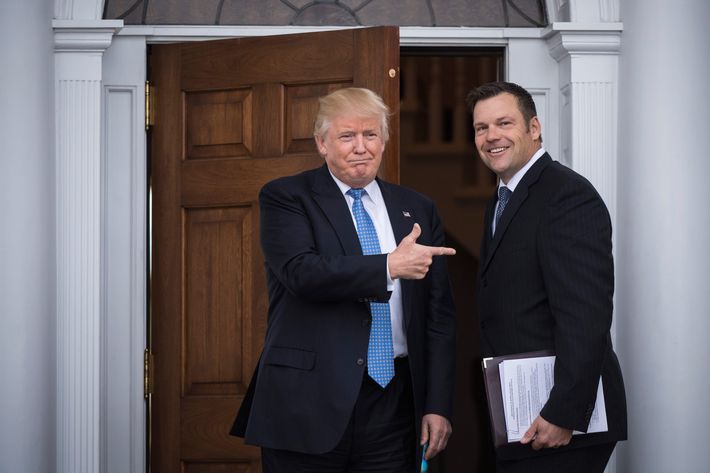 All of which is to say that Kobach has been playing a long game for years. When I saw him in Topeka in late July, he seemed unfazed by his recent setback in court. Kobach — who, as profiles of him often note, has the bearing of a retired quarterback — was still planning to appeal the decision, he said, all the way up to the Supreme Court if necessary. (After the ruling, he called the decision by Judge Julie Robinson, a George W. Bush nominee, "extreme," alleging that it doesn't follow Supreme Court precedent. He said the case was always going to end up getting appealed, no matter which way it went.)
But first comes primary day, and the storm of establishment Kansas Republicans desperate to keep him from their party's nomination. While Kobach has gotten backing from Trump Jr. and Ted Nugent, and recently surprised many locals by gaining the support of the president of the Kansas Senate, Colyer — who stepped into his role in January after the previous governor, Sam Brownback, took a Trump administration gig — is riding endorsements from the NRA, the Kansas Farm Bureau, and, as of Monday, Bob Dole. A recent Wichita Eagle editorial calling Kobach "the last person Kansas needs in charge" referred to him as "the most polarizing figure in the last 20 years of Kansas politics."
Still, even if the hyperpolarizing Kobach wins, Democrats are planning a general-election strategy primarily based on opposition to Brownback, who left office historically unpopular after his chops at the tax code tanked the state's revenues. "From here it looks like there's good reason to believe Kansas folks are not going to want to continue to be guinea pigs for Sam Brownback's experiment," Washington Governor Jay Inslee, the chairman of the Democratic Governors Association, told me. "Kobach has called Brownback a transformative governor. He was transformative in the way the captain of the Titanic was transformative."
Confident that state Senator Laura Kelly, the party's front-runner to take on Kobach or Colyer, is a solid general-election choice, Democrats are betting that voters' memory of Kathleen Sebelius, the last Democratic governor, who left office in 2009 to lead Barack Obama's department of Health and Human Services, hasn't faded. In other words, they're betting that the idea of Democratic leadership therefore doesn't seem far-fetched, while by contrast, the Brownback experience remains raw. Sabato's Crystal Ball, a newsletter run by the University of Virginia Center for Politics, pegs the race at "leans Republican" — making it just as competitive as the contests in traditional swing states with GOP incumbents, like Wisconsin and New Hampshire, and closer than the high-profile races in Tennessee and Georgia. The electoral math is slightly complicated by the presence of Greg Orman, an independent who rose to local prominence in 2014 during his run for Senate, and who has earned roughly 10 percent in recent general-election polling. He insisted to me he's not a spoiler who would hand the governorship to a Republican: His campaign team believes Democrats in Kansas — who they say tried to dissuade him from running as an independent — have a hard ceiling, and that he can appeal to the vast middle.
Indeed, the Republican candidates are sprinting right. A significant part of Colyer's argument against Kobach — who has recently reveled in a low-grade controversy over his practice of riding around in a jeep mounted with a large gun replica — is that he's a showboat. But Kobach has worked to remind voters that Colyer was Brownback's lieutenant governor for seven years, even as establishment Republicans try painting Kobach himself as part of the Brownback machine. Kobach does say he wants to restore Brownback's tax cuts, which Kansas's GOP-led legislature rolled back last year as the state plunged into a fiscal crisis. But Kobach wants to go further down the tax-slashing road that led Brownback into the political wilderness: He insists he wants to cut spending, too, and he rails against his opponents' unwillingness to sign a pledge not to hike taxes. (Kobach believes Kansas, under Brownback, should have gone further in axing spending, including to schools, to make the cuts sustainable. Education spending, in particular, has been a focus of the campaign: He called increased school-financing legislation signed by Colyer in April a "disaster.") "Brownback lost about 100,000 [votes] from 2010 to 2014. I gained 18,000, and I was taking just as hard a line in 2014 as I am now," said Kobach. "So I think that shows that there's some appreciation among the electorate for a no-retreat kind of Republican who pushes hard, doesn't try to please everybody. Whereas Brownback in 2014 was criticized by many Republicans — I think fairly — for not fighting back hard enough."
Kobach has publicly cheered in recent days as the ACLU swooped into Kansas to warn against its longtime foe's candidacy. The group's direct-mail campaign landed at the doorsteps of over 22,000 voters, and it's made over 11,000 calls to Kansas Republicans and independents. Kobach sees the group as a bogeyman that can motivate his voters: "Our lead in the poll reveals why the Colyer campaign has launched so many desperate, negative attacks against Kris Kobach and it explains why the liberal, George Soros-funded ACLU and dark money groups are spending resources in Kansas for Colyer," reads a press release his aide handed me.
But Kobach rejects the possibility that such an attack from the ACLU could actually be designed to boost him since Democrats do believe he would be easier to beat in November than Colyer — liberal groups have tried similar tricks in the past, most famously in 2012 when Missouri Senator Claire McCaskill boosted Todd Akin in his primary only to beat him handily come November. "In non-presidential election years, because you have a much smaller electorate, you usually win by motivating your base to get out and vote," he said, shaking his head. "Colyer doesn't motivate the base, that's just not one of his skills. I can do that." (Colyer's team didn't respond to a request to comment for this story.)
If Kobach is ultimately successful in ousting Colyer Tuesday, he will almost certainly try to force a new round of national discussion about immigration before long. A significant part of his platform is focused on his war against "sanctuary counties" and on the practice of charging undocumented immigrants in-state tuition rates at state schools. It's a discussion Trump and his allies would love to have, but one Republican leaders on Capitol Hill and around the country have been aiming to push off for months, if not years, and certainly until after Election Day. At a recent debate, one of Kobach's lesser-known opponents tried dismissing his signature immigration concerns. "It was, 'Kobach, you're making much ado about nothing.' That's always been the Establishment answer about illegal immigration. 'Oh, it's nothing to worry about, look the other way. So what if you have illegal labor in this industry? It's just one industry.' Then, five years later, 'Oh, it's just these three industries. Oh, nothing to worry about. So what if illegal aliens are putting in the drywall in your house? Oh, and they're putting in the roof of your house. Oh, and they're laying the concrete. Oh, and they're packing the meat,'" Kobach said, getting worked up. "It's like this constant, 'Oh, you're making a big deal about nothing' attitude has led to the illegal problem — illegal immigration problem — that we have now, where we have illegal labor in industry after industry after industry. It's not just harvesting of some fruits and vegetables like it was in the 1980s. It's pervasive, and there will be more illegal labor in more industries if we just have the attitude, 'Oh, it's no big deal, stop complaining.'"
With that kind of talk framing his pitch to voters, it's little surprise that Kansas's political class is watching closely for hints about whether Trump will, finally, tweet his support of Kobach in the final days of the race. National Republicans have reportedly tried convincing the president to stay away from the contest, for fear of elevating a candidate whose presence on the ballot would force them to spend precious money defending a red state's governor's mansion. But Kobach flashed a quick smile when I asked him about Trump's recent endorsement of Georgia secretary of state Brian Kemp, which vaulted Kemp well ahead of his more Establishment-friendly opponent last month. Another Trump nod of approval, to Florida congressman Ron DeSantis, also seems likely to hand him the GOP's gubernatorial nomination in his state.
"It was a brilliant move by the president," said Kobach. "Kemp fits the Trump mold much better than [Lieutenant Governor Casey] Cagle did. So, yeah, whenever the president endorses someone that is more of an insurgent candidate, more of a conservative candidate, of course the Establishment gets nervous."
So is Kobach going to get Trump's backing? "We shall see," he demurred. "I'll just leave it at that."