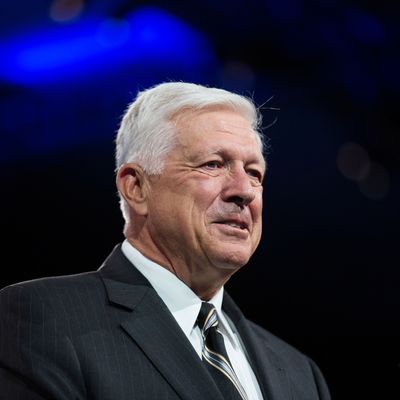 Wealthy investment manager and big-time national conservative donor Foster Friess lost his gubernatorial primary despite unlimited funds and a late endorsement from Donald J. Trump.
Photo: Brooks Kraft/Corbis via Getty Images
Donald Trump has made a habit of tweeting out late endorsements in competitive Republican primaries this year. It's worked out well for him in South Carolina (Henry McMaster and Katie Arrington), Georgia (Brian Kemp), Alabama (Martha Roby), Nevada (Adam Laxalt), Tennessee (David Kustoff), Michigan (John James), Ohio (Jim Renacci), and Kansas (Kris Kobach). But it did not work out well for Wyoming gubernatorial candidate Foster Friess, who despite an Election Day endorsement from Trump, a perception of momentum, and big sacks of money, lost to "Establishment" candidate and state treasurer Mark Gordon by about six points.
Despite his national notoriety (mostly associated with decisive campaign contribution commitments like his personal bankrolling of Rick Santorum's 2012 presidential campaign), Friess wasn't terribly well-known in Wyoming. He was, after all, a part-time resident of the state running for his first public office at the age of 78. While his money (he spent over $2 million on his campaign, which is a lot for Wyoming) made him competitive, it also became an issue in the campaign. Former senator Alan Simpson, who was backing Gordon, commented: "We'll see whether you can really buy a governor's race."
Friess was also handicapped by a large field that he entered relatively late. It included another self-funder, Sam Galeotos, and a very well-known anti-environmentalist crusader, Harriet Hageman. In the end the early front-runner with the bulk of Wyoming GOP endorsements, Gordon, held just enough of his vote to survive.
To be clear, it's not like Gordon or Wyoming Republicans rebuffed Trump. But they didn't let him boss them around, either. As the winner said last night:
"This is a governor's race. This is about the state of Wyoming," Gordon said after winning his six-way primary. "President Trump is doing great things that are important for Wyoming in terms of getting our economy going, and all of that. But in the end, I think people in Wyoming concentrated on who's got the experience, who's got the record and who's got the best message going forward for Wyoming."
Gordon will be heavily favored in November against Democrat Mary Throne in a state that Trump won by better than a three-to-one margin in 2016. But Friess's defeat capped off a terrible day for the White House, and had to sting.