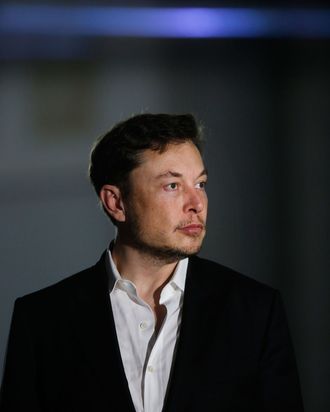 Elon Musk.
Photo: Joshua Lott/Getty Images
Elon Musk was apparently none too happy when British cave diver Vern Unsworth said the submarine Musk built — and shouted about to the world on Twitter and in the New York Times — was a "PR stunt" and that he should stick said sub "where it hurts." So much so that Musk logged on to Twitter and proclaimed Unsworth a "pedo," without any evidence to back his claims, to his 22 million followers.
Musk later issued an apology and that should have been the end of that. But earlier this week, Musk, baited by some other Twitter users, brought the subject back up, declaring it "strange" that Unsworth never sued him. (The implication here being Unsworth didn't lawyer up because he might have actually been the thing Musk unfoundedly proclaimed he was.) Except, it turns out, Unsworth's lawyer did get in touch with Musk. L. Lin Wood, a defamation lawyer based out of Georgia, tweeted a letter earlier Wednesday dated to August 6, 2018. (Musk apologized in July.)
In it, Wood says he is "in the process of preparing a civil complaint for libel" against Musk on Unsworth's behalf. "You published through three different tweets to your twenty-two million followers that Mr. Unsworth engages in the sexual exploitation of Thai children, and you did so at a time when he was working to save the lives of twelve Thai children," the letter notes. Wood asked Musk to have his representation get in touch to avoid litigation.
When contacted for comment via email by BuzzFeed News, Musk declined to answer any questions about the letter. Instead, he claimed that Unsworth isn't really a diver. "Have you actually done any research at all? For example, you incorrectly state that he is a diver, which shows that you know essentially nothing and have not even bothered to research basic facts," Musk wrote. Unsworth is a well-documented cave-diving expert.