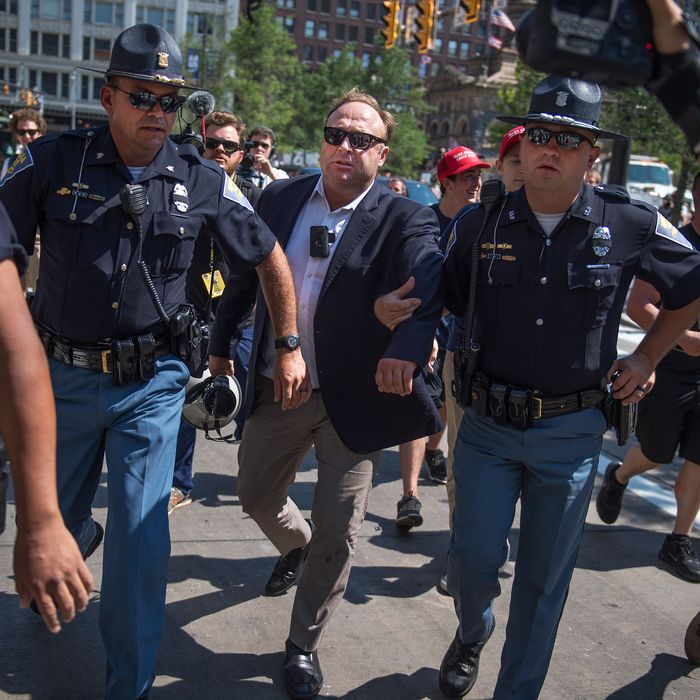 Photo: Tom Williams/CQ-Roll Call,Inc.
Apple. Spotify. Facebook. Pinterest. MailChimp. YouTube. YouPorn. What do all these platforms have in common? Each spent last week removing content from known hatemonger Alex Jones and his conspiracy-theorist outlet, InfoWars. (And then letting everybody know what it'd done.) Notably not among that list? Twitter. The platform announced last week it would not be banning Jones. On Tuesday, Twitter reversed course. Slightly. The platform suspended Alex Jones's personal account for one week. The suspension was announced via a screenshot from Twitter posted to the Infowars accounts which is … still live.
What was the content that finally pushed Twitter over the edge enough to slap Jones on the wrist? Jones is a man who so aggressively peddles and encourages hoax theories about Sandy Hook that six of the families impacted by the shooting are suing him. (Families have been forced to flee their homes and live in hiding for fear of fringe groups.) A Twitter spokesperson told CNN that "the content which prompted Twitter to suspend Jones was a video published Tuesday in which he said, 'Now is time to act on the enemy before they do a false flag.'" The suspension news follows an earlier report from CNN documenting over a dozen tweets from Jones which appeared to violate the platform's Terms of Service. Twitter found that seven of those were, in fact, in violation.
"I feel any suspension, whether it be a permanent or a temporary one, makes someone think about their actions and their behaviors," Twitter CEO Jack Dorsey said in an interview with NBC's Lester Holt. Pause for a moment and picture Alex Jones taking this week to reflect deeply on his actions and not to just continue to disseminate his usual shlock via the number of other Twitter accounts at his disposal. "Whether it works within this case to change some of those behaviors and change some of those actions, I don't know," Dorsey also said. "But this is consistent with how we enforce." On Twitter, Dorsey, noting suspending users isn't 100 percent effective, added Twitter has "some evidence to show this does work." He did not provide any of that said evidence.