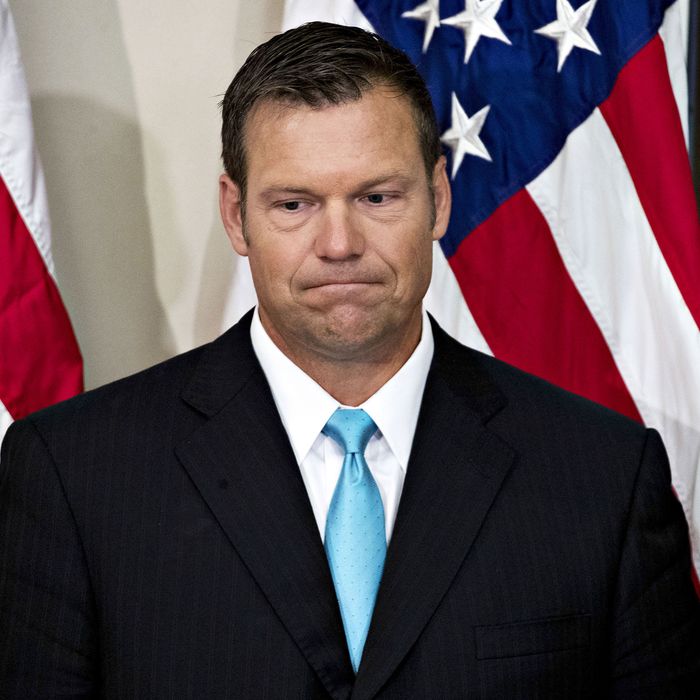 The fiery enemy of phantom voter fraud is probably investigating this typo right now.
Photo: Andrew Harrer/Bloomberg via Getty Images
When this tweet from the Associated Press came over the transom today, there were probably a lot of freakouts from friends and enemies of the fiery Kansas secretary of State, Kris Kobach:
OMG. Would Kobach call a press conference and accuse his opponent Jeff Colyer of massive voter fraud of the kind that his friend the president alleged in 2016? Would MAGA people rush into the streets to defend him?
If, however, you happened to be aware of how small Kobach's lead was after Election Day votes were counted, it looked a little different, as the Hill explains:
Kansas Secretary of State Kris Kobach's narrow lead over Gov. Jeff Colyer in the GOP primary race for governor shrunk on Thursday after officials discovered a mistake in voting totals.




The Associated Press reported that Kobach's lead has been sliced from 191 to 91 votes after Thomas County miscounted Colyer's totals.




The secretary of State's website lists Kobach with 466 votes to Colyer's 422 in Thomas County, but the county clerk told the AP that Colyer actually received 522.
When your lead can be more than cut in half by a typo, it's not what you'd call a very sustainable lead. As it happens, we probably won't know the final count until after provisional (as many as 10,000 votes) and late mail-in absentee ballots (the state allows ballots post-marked by election day and received by Friday) are counted, which could take a while. And then we'll probably find out if the candidate running second chooses to request a recount (which he will be entitled to do if he pays for it; the fact that Kobach will get to set the necessary fee could be problematic and trigger his recusal).
So Kobach's lead could swell, shrink, or disappear altogether in the next few days. The one thing we do know is that his handling of the final count as state election supervisor will be watched as closely as Kobach watches those frightening immigrants he thinks are trying to vote illegally.