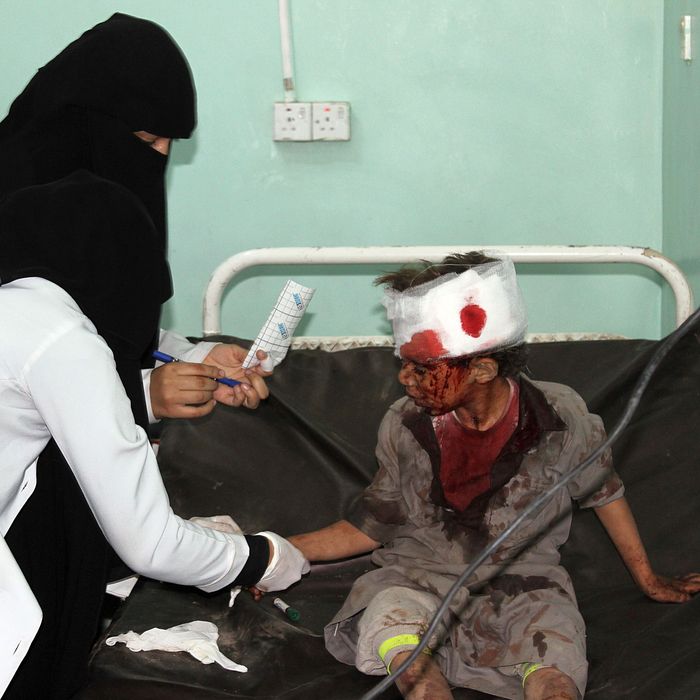 A Yemeni child wounded in Thursday's air strike.
Photo: Stringer/AFP/Getty Images
Dozens of Yemeni schoolchildren are dead Thursday after an air strike by the U.S.-backed, Saudi-led coalition hit a school bus that was carrying them through a crowded market.
As many as 50 people were reported dead after the attack, with another 77 injured. The bus, which was traveling through a city in northern Yemen, was carrying the kids to summer camp for Quran classes, according to local TV. On Twitter, the Red Cross in Yemen said a hospital it supports had received 29 dead children, all under 15 years old, and another 48 injured people.
"Body parts were scattered all over the area, and the sounds of moaning and crying were everywhere," an aide worker who arrived at the scene an hour after the air strike told the Washington Post. "The school bus was totally burned and destroyed."
Images broadcast by Houthi media showed scores of bloody children, some still wearing their backpacks as they were loaded onto stretchers.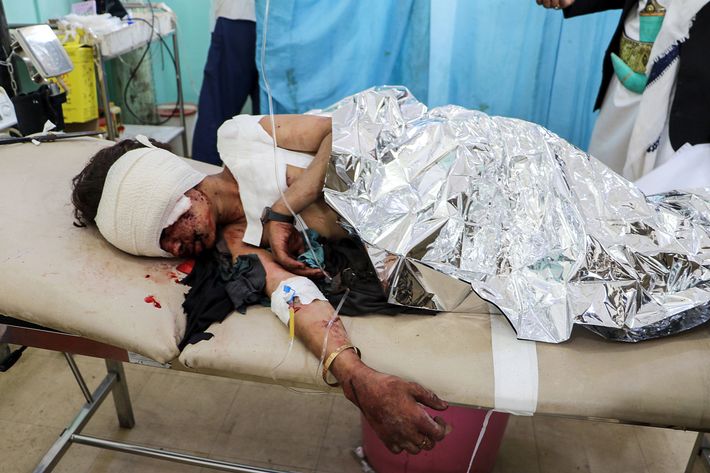 A spokesman for the Saudi-led coalition, which is fighting Houthi rebels in Yemen, said it was targeting rebel missile launchers. The attack, the spokesperson said, was retaliation for a missile fired into Saudi Arabia Wednesday, killing one and injuring 11 more. Despite killing dozens of schoolchildren, the spokesman called Thursday's attack on the school bus a "legitimate military action" and said it is "in accordance with international humanitarian law and customs." He also accused Houthis of using kids as "tools and covers for their terrorist acts."
International aid groups were quick to condemn the air strike. "No excuses anymore!" Unicef's Geert Cappelaere tweeted. "Does the world really need more innocent children's lives to stop the cruel war on children in Yemen?" In a statement, Save the Children condemned the attacks and called for a "full, immediate and independent investigation into this and other recent attacks on civilians and civilian infrastructure, including schools and hospitals."
At least one lawmaker in the U.S., which provides the Saudi coalition with weapons, intelligence, and air support, is calling out Washington's role in the ongoing war.
All told, the U.N. says more than 16,000 Yemeni civilians have been killed since the war began, and it's not hard to argue that the U.S. is complicit.