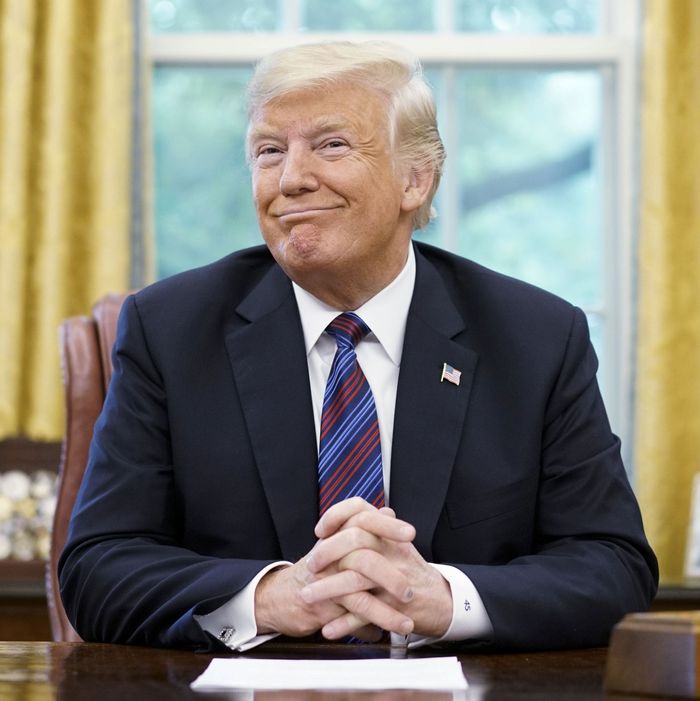 Can we stop talking about Michael Cohen now?
Photo: Mandel Ngan/AFP/Getty Images
After months of painstaking negotiations that often seemed on the verge of collapse, the United States and Mexico reached a bilateral deal on Monday that would rewrite key portions of the North American Free Trade Agreement, the landmark 1994 pact that President Trump attacked relentlessly on the campaign trail and has continued to rail against during his presidency. The big question now is whether Canada, the third party to the original deal, will come onboard.
During an Oval Office briefing with reporters, Trump awkwardly spoke with Mexican president on speaker-phone, hailing the new agreement as a breakthrough. He also said that he would be "terminating" NAFTA, and that the name of the new deal would be the the U.S.-Mexico Trade Agreement. He then threatened Canada with new tariffs on cars if it didn't come to a trade agreement with with the U.S., which he said could be bilateral.
Behind the scenes, though, the Trump administration is attempting to get Canada to sign off on a trilateral deal, and Trump's words could be viewed as a threat for Canada to join as quickly as possible.
With Canadian-U.S.relations at a low after Trump assailed Prime Minister Justin Trudeau in June, the country has withdrawn itself from NAFTA talks in recent weeks.
But Canada's minister of foreign affairs, Chrystia Freeland, said that "once the bilateral issues get resolved, Canada will be joining the talks to work on both bilateral issues and our trilateral issues."
Judging by initial reports about the revised agreement with Mexico, which focused heavily on auto manufacturing, Trump and his hard-line nationalist trade representative, Robert Lighthizer, got a good deal of what they wanted. The New York Times has some of the details:
To qualify for zero tariffs under Nafta, car companies would be required to manufacture at least 75 percent of an automobile's value in North America under the new rules, up from 62.5 percent previously. They will also be required to use more local steel, aluminum and auto parts, and have a certain proportion of the car made by workers earning at least $16 an hour, a boon to both the United States and Canada.
Trump, rebuking decades of free-trade orthodoxy that helped to define the modern Republican Party, has complained time and again that NAFTA is unfair to America. He has frequently called it "the worst deal" ever made.