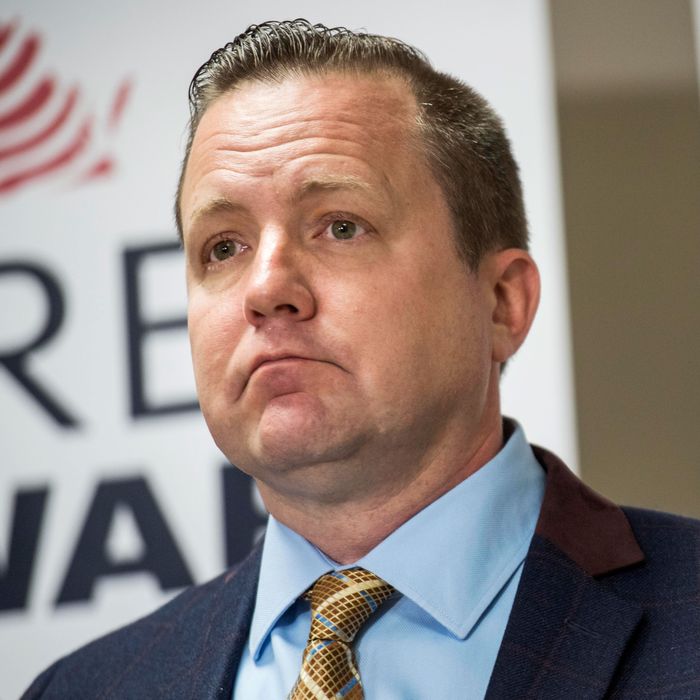 The South will fall again.
Photo: Melina Mara/The Washington Post/Getty Images
Corey Stewart has argued that the Confederacy was on the right side of history; that Republicans who support Medicaid expansion all suffer from erectile dysfunction; and that Virginia voters would like to see him "kick Tim Kaine's teeth in."
Alas, the good people of the commonwealth appear to disagree.
Last month a poll from Quinnipiac University found Kaine leading the Republican challenger for his Senate seat by 18 points; now, a survey from the L. Douglas Wilder School of Government and Public Affairs puts Kaine's lead at 23 points – with Stewart boasting the support of a mere 26 percent of likely Virginia voters.
It isn't too surprising that Stewart is the one choking on his own figurative teeth. Virginia has been trending blue for a decade now, and the neo-Confederate candidate's shtick has limited appeal even among the state's Republicans. The leadership of the Virginia GOP hoped to keep Stewart off the ballot; after his victory in the party's primary, the state's former lieutenant governor Bill Bolling said that he as "extremely disappointed that a candidate like Corey Stewart could win the Republican nomination for U.S. Senate. This is clearly not the Republican Party I once knew, loved and proudly served."
But while Stewart was never a serious contender for Tim Kaine's seat, the margin of his polling deficit matters: If the GOP's Senate candidate can't keep his race within the vicinity of "competitive," he could end up depressing turnout among Republican voters statewide – and help Democrats flip some of the state's House seats in the process.
Republican representative Barbara Comstock is almost certainly a goner, regardless of how Stewart performs. But if the Senate race looks like a laugher in November – and the blue wave keeps building at its current pace – Dave Brat and Scott Taylor could wash out with the tide.
And, at least for the moment, Stewart's campaign is looking like a cause exactly as noble and lost as that of treasonous slaveholders he so ardently admires.