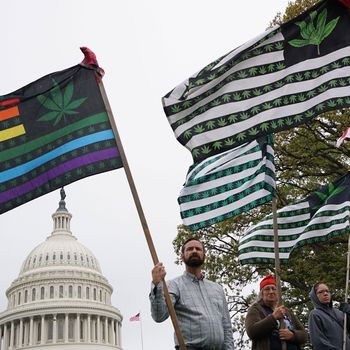 Pro-cannabis activists on Capitol Hill in 2017.
Photo: Mandel Ngan/AFP/Getty Images
The Trump administration has assembled a secret committee to fight the recent rash of positive press for marijuana, according to a report Wednesday from BuzzFeed News.
The White House's Marijuana Policy Coordination Committee appears to have most recently met on July 27, when it gathered with representatives from the State Department, Health and Human Services, the Justice Department, and others. At that meeting, 14 federal agencies were instructed to submit data demonstrating the "negative" aspects of marijuana use because stories highlighting the positive aspects are too common.
"The prevailing marijuana narrative in the U.S. is partial, one-sided, and inaccurate," says a summary of a July 27 meeting of the White House and nine departments. In a follow-up memo, which provided guidance for responses from federal agencies, White House officials told department officials, "Departments should provide … the most significant data demonstrating negative trends, with a statement describing the implications of such trends."
Agencies were also asked to describe how the drug poses a threat to their department; highlight "consequences of use, production, and trafficking on national health, safety, and security"; and to identify "issues created by state marijuana initiatives."
That last point may be of particular interest to some members of Trump's own party, including Colorado senator Cory Gardner, who appeared to convince Trump earlier this summer to leave alone states where marijuana has been legalized. The senator became worried about the administration's approach after Attorney General Jeff Sessions announced a crackdown on legal weed in January.
Gardner has not yet commented on the newly revealed committee, though a spokesperson released a statement suggesting that Trump is being manipulated.
In a statement to BuzzFeed News, the White House didn't confirm or deny the committee's existence. Rather, it said that it does not discuss the process of crafting policies to promote the "President's agenda."