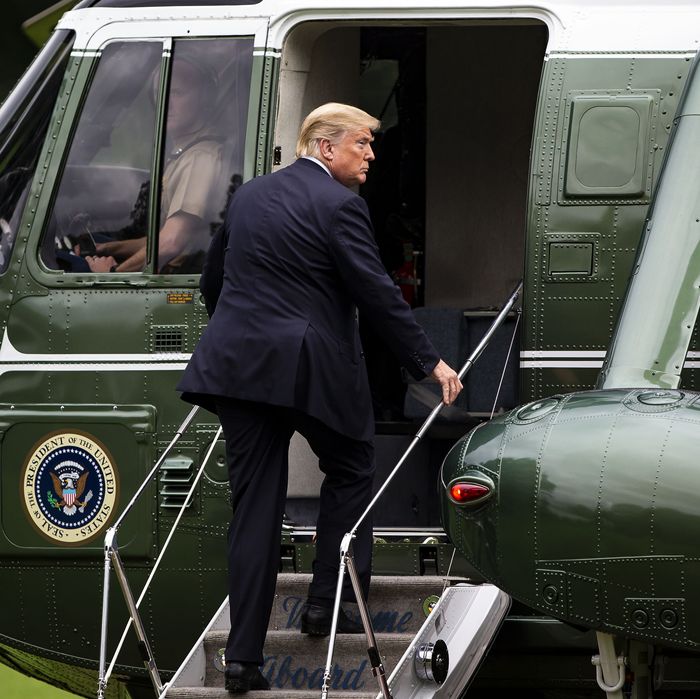 Gone but not forgotten.
Photo: Al Drago/Bloomberg via Getty Images
Just outside Washington, a former high-ranking official from Donald Trump's presidential campaign is on trial, accused of cockamamie financial crimes straight out of a Coen brothers script. The star witness cooperating with federal prosecutors is another former official from the campaign who, on the stand, admitted it was "possible" he had stolen from the president's inaugural committee.
Up the Northeast corridor, in New York, a congressman was indicted for insider trading. And on TV sets scattered across midtown, the president's lawyer continues to play musical chairs, talking about the special counsel investigation that has threatened to asphyxiate this presidency since it began.
Meanwhile, out West, fire. In the middle, a vacant Ohio congressional seat remains unfilled after a special election produced results too close to call. A few states over, another big race was possibly beginning: In Iowa, a lawyer representing the porn star who had an affair with the president announced he is "exploring" the possibility of his own presidential campaign.
Yet, here in the White House itself, there are few signs of life. The big news this week was the presence of peaches in the West Wing, distributed with glee by a press official who, under normal circumstances, seems more likely to throw tomatoes at the reporters in her midst. The entire city, in fact, is in a state of peachy vacation — a familiar, palpable freedom that can only mean one thing: Donald Trump isn't here.
For ten days beginning last week, the West Wing is undergoing what a deputy press secretary referred to as "needed renovations to the Oval Office and other areas in the West Wing." There will be repainting of ceilings and regrouting of marble. And just as during the West Wing construction of last summer, Trump, along with his family and a rotating cast of staffers and outside advisers, is spending this time in Bedminster, New Jersey, where he owns a private club. They call this a "working vacation," and so far that has meant lots of tweeting, rounds of golf, dinners with CEOs, and visits with the likes of Christopher Ruddy and Sean Hannity. A few hundred miles away in the capital, though, what it's meant is some relief.
"There is a sense of calmness whenever he's not physically in D.C.," one former official in the Trump administration official told me. To some extent, this is true in any presidency — that the man himself heading out of town takes some of the edge off. But for as long as Trump has been self-imprisoned here, the occasions on which he sets himself free have felt nearly as freeing for everybody else, too — as though the whole town is awash in a big sigh.
"In the White House, he's always felt kind of trapped. He can't escape, really — he's just in his own world watching Fox News, hate tweeting constantly," a former White House official said. "Whereas, when he's in Bedminster or at Mar-a-Lago, he has golf, he has other stuff to do to take his mind off of the constant cable news churn. And that makes everything so much easier on everyone else, because you don't have like all these ridiculously stupid tweets, stupid requests coming from the president. You'd be dealing with the 6 a.m. tweets no matter where he was at, but you would know that during the middle of the day, he'd be playing golf, and then getting lunch with his society friends or what have you, and he doesn't really tweet during that."
Even among politicos who don't work in the White House, there is a shift here. And it's true even now, with Congress in recess. "I feel like it is more calm when he's gone. That being said, there is something to the fact that he doesn't give a rat's ass how this town normally operates or how things are done. I think people expected that. Asked for it, in fact," a senior Republican congressional operative explained.
The Republican leadership, the operative went on, would, "rather he be a good little president and sign their bills — but he of course wants no part of that. That's whether or not he's here I suppose. The 'not in town' part means he won't have events and much camera time, usually, so there's less of a chance they'll come back from lunch and see their stuff blowing up. But of course, he does that half the time by tweet anyway. Never before has this town — Congress especially — had to deal with not knowing what they were going to be talking about, every day. It's so fast and furious, nonstop for them, that yes, when it is cut down because he is gone, there is relief. But it is cut down, not gone away." All of that said, the operative added, "I prefer it when my day isn't started with a tweetstorm or wildly changed in direction by a wild hair at a press conference."
But back to the peaches: Rumor is that the press secretary, Sarah Huckabee Sanders, entered the briefing room with no briefing on schedule on Tuesday afternoon. Perhaps because of this, she was in an unusually good mood. She carried an armful of peaches she said she'd picked on a recent family trip and she handed them out to the press. One reporter remarked that they were pretty good, adequately sweet peaches. Another reporter talked about the peaches like Elvis had thrust himself down from the heavens to deliver peanut butter and bacon sandwiches as part of a special ghost partnership with Uber Eats, which was a little concerning. But everyone agreed that "Sarah," as they call her, was just so … chill. Was she, maybe, happy? Were we happy?
Later on, I noticed that the day's Washington Post, addressed to Deputy Press Secretary Lindsay Walters, had been placed on top of the trash can near her office, its plastic ribbon untouched. "Gates testifies he stole for, and from, Manafort," the headline on the cover read. Beneath it, there was a worn New York Post, the front page of which was about a contentious divorce involving allegations of weaponized dead fish and a forged Picasso.
Upstairs and down the hallway, the four televisions, set to Fox News, Fox Business, CNN, and MSNBC, were on mute. By that point, Sarah Huckabee Sanders was already gone for the day. The office now belonging to Bill Shine was empty, as was the desk belonging to his secretary, Giovanna. (Shine's office was previously occupied by a variety of staffers, some of whom have been fired or quit and some of whom remain: Jessica Ditto, Michael Dubke, Anthony Scaramucci, and Raj Shah). Elsewhere in the press room, a reporter asked someone if they knew how to turn on the lights.
A member of the maintenance staff who has worked at the White House for longer than I've been alive said that when Trump is gone, the difference here is much starker than when other presidents left town, maybe because Trump always has so much going on. When I remarked to another staff member working on the grounds how quiet things were, the staff member laughed. "Yes …  for now."
A few days later, on Thursday afternoon, a helicopter flew overhead and hovered down to the South Lawn. It carried no one. A secret service agent told me it was a "practice," which, I guess, is good?
On most days, the green tents that line the perimeter of the driveway are populated by the network reporters, producers, crew members, and special guest star White House officials (Kellyanne Conway, Hogan Gidley) who make television here, with the lawn and the gleaming White House as backdrop. Each network has its own booth, and as a whole the area is known as, "the sticks," so nicknamed for the flimsy fence around it, like the wood and wire kind you see sprouting out of sand dunes (under past regimes, when the ground was made of pebbles instead of mulch, the nickname was "pebble beach.") But today, the area was nearly empty.
One former White House official told me that the difference is both physical and mental. "You totally feel a sense of relief, because it means he's gonna be out of contact at least part of the time," one former White House official told me. "When he's actually in the building and sees something or wants something done, it has to be done immediately because he just throws a fit. You have to go off and do whatever dumb task he wants done. But when he's on Air Force One or at his golf course, he can't really do that because of logistical issues. There's enough time between him and the people doing the work to slow that stuff down."
"The White House staff is probably the battered wives club. Everyone is so used to the constant stream of abuse and dumb decisions and dumb projects," this person added. "I wouldn't really call any time in the Trump White House fun, per se, or nonstressful. Things were still moving a million miles per hour, but it just felt like a weight was off everyone's shoulders. Instead of feeling like you had to leave at 8 p.m. and you were just gonna get completely screwed by the news cycle, you were able to leave at 6:30 and actually have a nice dinner without having to constantly check your phone. You're kind of able to focus on what's in front of you a bit more instead of worrying about what's coming around the corner."
"Especially whenever he was in Europe or overseas because you have the time change, so if you get to about 3 in the afternoon, he'd be asleep, so you wouldn't have to worry about this bullshit going on because he's not watching his usual stuff.
The former administration official agreed that being away seemed to make the president calmer, to mitigate his "bunker mentality." That makes everyone else calmer, even if he still did outlandish things while he was out of town.
"I think being in the White House puts him into a combat mindset, where every single morning he's watching cable news and tweeting up a storm. Whereas, if he's in Bedminster or Mar-a-Lago, it's probably a lot more chill and relaxing for him," this person said. "Being in the White House, for the president, he feels like he has to fight, fight, fight every single minute of the hour. But if he goes to Bedminster or Mar-a-Lago, he has some outlets in terms of people to talk to and vent to — in the White House, he's doing his venting through Twitter. He has his kitchen cabinet over in Bedminster."
The former official said that "relief" was the wrong word to describe how it felt to be there when the president wasn't, or to be in Washington now. Instead, this person described the sensation this way: "You can sort of take a breath. I don't know if that makes sense. You can catch up, it's a catch-up day or catch-up week where you can catch up on things you've been putting off. It resembles more of a traditional White House."
Not everyone feels this way, of course. One White House reporter said the calm is just concerning. "I get filled with anxiety when there's no news," this reporter said. "I get way more stressed when he's out of town and it's 'quiet' and my sources aren't really talking. I literally start to panic and assume I'll never break another story again."
This made me think of comedian John Mulaney's bit about how the Donald Trump presidency is like there's a horse loose in a hospital: "I think eventually everything's going to be okay, but I have no idea what's going to happen next. And neither do any of you, and neither do your parents. 'Cause there's a horse loose in the hospital! That's never happened before! No one knows what the horse is going to do next, least of all the horse. He's never been in the hospital before, he's just as confused as you are." At one point, Mulaney says, "The creepiest days are when you don't hear from the horse at all."
Another reporter took a more optimistic view, sort of. "There's a feeling of liberation, knowing that he's away and distracted on vacation and he probably won't ruin my day by doing something outrageous."
"I mean, he still might, but it's less likely. I feel light!"