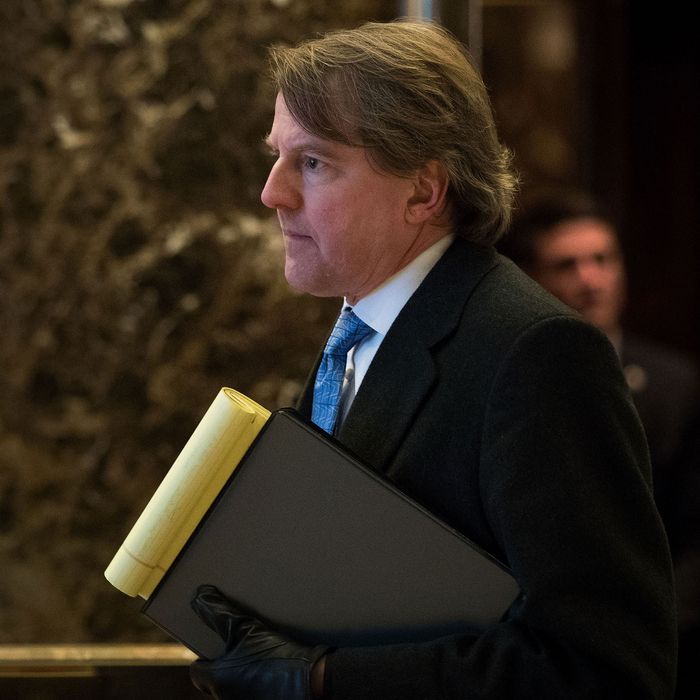 The White House isn't big enough for two Dons.
Photo: Drew Angerer/Getty Images
Don McGahn, the White House counsel and one of the most enduring figures in a volatile West Wing, will make his exit from the Trump administration this fall, the president tweeted Wednesday morning. The announcement came as a surprise to McGahn, whose exit will come after Brett Kavanaugh's likely confirmation to the Supreme Court, Trump tweeted.
According to a report from Axios, McGahn would like to be succeeded by Emmet Flood, the attorney who represented President Bill Clinton during his impeachment trial and joined Trump's legal team to "represent the president and the administration against the Russia witch hunt," as White House press secretary Sarah Huckabee Sanders put it in May.
McGahn is credited with curating the list of potential Supreme Court picks released by Trump during his campaign, a move made to reassure conservatives worried about who Trump would appoint to replace Antonin Scalia. Lately, McGahn's been credited with "leading an aggressive campaign to reshape not only the Supreme Court but the entire federal judiciary." That may explain why Trump's tweet about McGahn's coming exit elicited this shocked response from Senate Judiciary Committee chairman Chuck Grassley.
News of McGahn's impending departure comes days after Vanity Fair reported that he has clashed with Trump over a potential pardon for Paul Manafort. According to the report, Trump is considering replacing McGahn with someone who will draft a pardon for the recently convicted Manafort.
Trump's apparent souring on McGahn also comes less than two weeks after the New York Times revealed that the lawyer "cooperated extensively" with Robert Mueller's probe into Russian election interference. The Times reported that McGahn has spent 30 hours speaking with Mueller's team and offered insight that only he could.
Mr. McGahn described the president's fury toward the Russia investigation and the ways in which he urged Mr. McGahn to respond to it. He provided the investigators examining whether Mr. Trump obstructed justice a clear view of the president's most intimate moments with his lawyer.
While the Times presented McGahn's cooperation as a "unusual," Trump tweeted that it was all a part of the unprecedented level of transparency his administration has had with regards to the Russia investigation.
McGahn has edged toward the White House exits before. In January, he reportedly threatened to quit after Trump ordered Mueller's firing. Then in March, Politico ran an article that said he was still eager to exit the White House. Problem was, Trump couldn't find anyone to replace him.