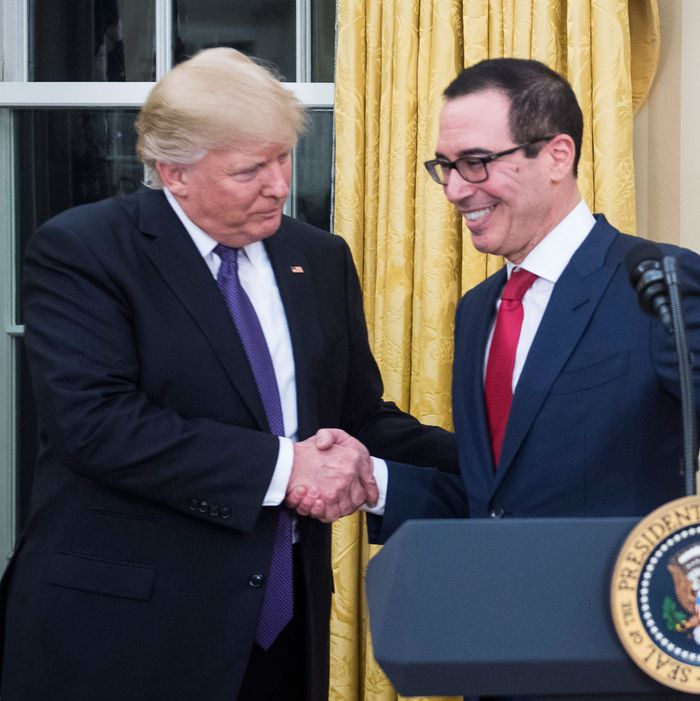 Plutocracy first.
Photo: Jabin Botsford/The Washington Post/Getty Images
The Trump administration spent much of last fall assuring voters that it had no intention of cutting taxes on the rich. "Tax reform will protect low-income and middle-income households, not the wealthy and well-connected," the president told supporters in Indiana last September. "They can call me all they want. It's not going to help." National Economic Council director Gary Cohn went further, promising, "The wealthy are not getting a tax cut under our plan."
Of course, the wealthy very much did. The tax plan that Donald Trump signed into law last December will deliver more than 80 percent of its benefits to the top one percent. And now, the White House is arguing that the superrich's tax cut wasn't nearly large enough. In fact, President Trump has concluded that American plutocrats remain so oppressively overtaxed, he might need to claim extraordinary executive powers to unilaterally lighten their burden himself.
Specifically, Trump's Treasury Department is looking into allowing investors to write off inflation when paying their capital gains taxes. This would effectively provide affluent Americans with a $100 billion tax cut — with 86 percent of that sum accruing to the highest-earning one percent of the population.
This is a difficult policy to justify on several levels. For one thing, the first Bush administration looked into such a measure — and concluded that it would be illegal, as only Congress had the authority to make such a change. For another, the supply-side tax cuts that Trump enacted last year have failed to spur the boom in wage growth, business investment, and productivity that Republicans had predicted.
But on Wednesday, White House press secretary Sarah Huckabee Sanders offered a bulletproof rationale for the measure. While confirming that Trump has asked the Treasury Department to look into singlehandedly slashing capital gains taxes, Sanders told reporters, "This is something that has a lot of support from various people."
Say what you want about deficit-financed tax cuts on the passive income of the superrich — you have to admit, they're overwhelmingly popular with all kinds of different people. Just take an informal survey of the Mar-a-Lago ball room and you'll find that reducing taxes on investment income is a goal that unites people of all colors and creeds!