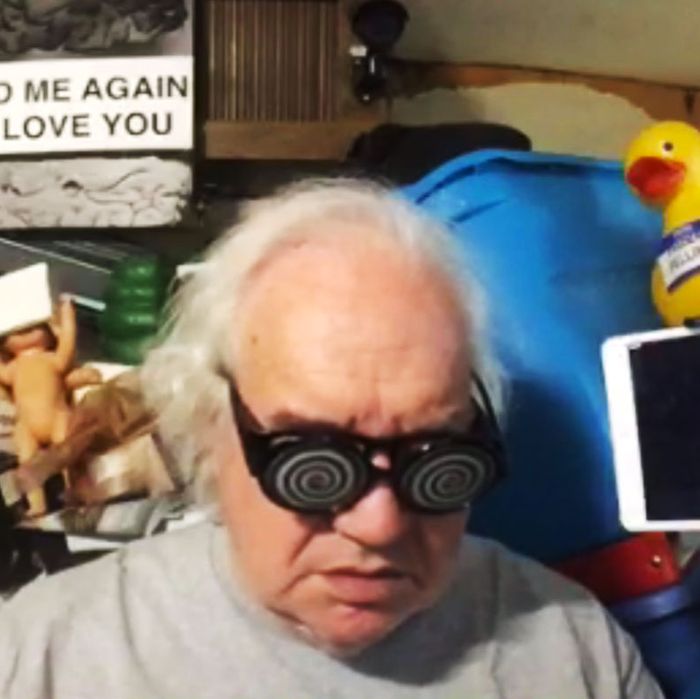 Photo: Bob Pagani via Periscope
Bob Pagani isn't sure why hundreds of people tune in to watch him sleep every week. Nor did he ever plan to become a minor Periscope celebrity while literally snoring.
It just … happened. "It was really just by accident," Pagani says, "like pretty much everything interesting in my life."
It began with a nap. In the late summer of 2017, Pagani was about to snooze and had his phone in front of him. His wife had recently told him about Periscope, the Twitter-owned app that allows users to livestream from their smartphone. "I thought, What would happen if I turned on Periscope and just let people watch me sleep — for laughs?" So he did. When he awoke an hour later, Pagani was bewildered to see that roughly 600 people had tuned in to watch him dozing. "I thought, What if I take this absurdity and just keep rolling with it?" Pagani says. "I decided to see how far I could take the experiment."
The 66-year-old retiree has a history of bizarro stunts. Pagani is a well-known prankster and an old associate of Andy Kaufman. For years, he made fooling the media into a practiced art: In 1990, he bamboozled his way onto the Today show by pretending to be an outraged opponent of Crayola color changes. In 2006, he posed as a $365 million jackpot winner. These days, he's a self-described hoarder with thinning white hair. He lives in a motor home across the yard from his house on the Oregon coast. ("It's like my man cave," he explains. "I go to the house to have dinner with my wife and sister-in-law.")
Pagani began broadcasting himself sleeping every morning, beginning at 4 a.m., on Periscope and Twitch. He called the project "Bob Is Sleeping." In November, he emailed me to say that the project had blown up beyond his wildest expectations: "I get an audience of thousands pretty much every day. My only guess is they're people who can't afford Netflix." That month, he was receiving 4,000 to 5,000 viewers a night. Presently, his Periscope profile has nearly 2 million "hearts."
Pagani also started broadcasting his phone number, inviting viewers to call and leave him voice-mail, which he would then play on loop while sleeping the next day. "I have a few thousand phone messages," Pagani boasts. "People were doing characters. One guy would call and pretend to be a pharmacist in this small town I supposedly live in. He would say, 'I have those extra-small condoms you ordered, and the butt cream, you gotta come get it!'" Another regular would pose as Pagani's "baby mama," leaving messages complaining that he wasn't paying child support.
Eventually, Pagani's viewer numbers mysteriously sank back into the hundreds, and he started talking on camera — rambling, telling stories, goofing around with his most devoted watchers, who produce a running commentary of typed comments. Sometimes he shaves or brushes his teeth. He now frequently hosts his channel while awake. But sleep remains a significant component. If you tune in during Pagani's slumber, you'll find him snoring upright in a chair with the lights on and a mountainous heap of junk behind him: a VCR, a rubber ducky, some creepy dolls, an LED light. There's usually ambient music playing. Sometimes he'll play more intrusive accompaniment, such as a Frank Zappa album or a live police scanner.
What's the appeal of watching a guy snore on livestream for hours at a time? "I don't know!" Pagani says. "I wonder that often myself." So I tracked down some of the most devoted watchers and asked them.
One of Pagani's most loyal viewers is Vanja Jasmine Berg-Welo, a mother of eight children and one dog who lives in Norway and has taken to referring to her Periscope friend as "Uncle Bob." "I find it relaxing," Berg-Welo says of watching Uncle Bob sleep. "Sometimes when you feel alone, you don't feel so alone when you go to sleep with Bob, on your phone."
Berg-Welo began using Periscope in 2016 to stream her family activities. She stumbled upon Pagani's channel one day while scrolling through the app's home screen. Back then, "he only slept and never talked," Berg-Welo says. "I was wondering if there was something wrong with him. Like, he did not have a voice or something." But she was hooked, and in time Pagani began talking on camera. "Bob makes me laugh and feel included. He makes me relax and think about something else if I have a bad day." Paul Thomas McDonald, a regular viewer in the U.K., agrees: "He has great empathy, and when you're having a tough day, ten minutes in his company helps me at least feel like facing the next day."
Like many Pagani viewers, Berg-Welo enjoys the participatory element. She sometimes calls in to leave messages, with occasional help from her children. "We sing and say funny things to him and talk about Norwegian history," she says.
Others enjoy the communal aspect of Pagani's sleeping. "You see people from all over the world — people from Singapore, people from friggin' Kansas — watching him sleeping," says Curt Clendenin, a viewer in Los Angeles who took an interest in Pagani's work via the Andy Kaufman fandom community. "All these people from all over the globe are watching this. And they're all literally tuned in to the same vibration … I imagine it can inspire a lot of insomniacs or people who have a hard time sleeping."
When he's asleep, the comments are more serene — "Night night Bob may you sleep in peace," "sleep well buddy" — but when Pagani is awake, there's a collegial, chatty vibe to the comment flow, like a retro AOL chat room. In some respects there's a retro flavor to Bob's project, which brings to mind internet pioneers like Jennifer Ringley, the world's first "lifecaster." In 1996, the 19-year-old Ringley launched "JenniCam," a webcam in her dorm room that provided live images of her private life to millions of viewers a week and substantial media attention.
Yet "Bob Is Sleeping" feels more calmative than voyeuristic. "Bob Is Sleeping" might be considered a digital descendant of "slow TV," the Norwegian phenomenon in which ostensibly tedious occurrences — a yule log burning, a 12-hour knitting session — are broadcast in real time. (The definitive slow TV "event" was a seven-hour depiction of a train ride from Bergen to Oslo.) Viewers seem to find it soothing, or maybe comfortingly nonintrusive.
The first time I watched Pagani sleep, I found it surprisingly soothing. Pagani's snoring, combined with the distant hum of ambient music and muted voice-mail chatter, felt like a relaxing pulse. My thoughts and worries drifted off. The second time, I nodded off and fell asleep fully dressed. When I showed the livestream to my roommate, Elizabeth, she was fascinated: "You know when you're at Thanksgiving and your uncle falls asleep in a chair? That's what it's like for me — it's like family."
Pagani's ultimate goal is to create a "Global Sleep Network." "My dream is to have people in all 24 time zones on earth broadcasting their sleep on there," he says. Anytime, day or night, you'd be able to tune in and see someone asleep. Clendenin, the viewer from Los Angeles, even believes that this is a world-changing proposition. "If that Global Sleep Network takes off, holy moly! Talk about everyone being tuned in to the same sleep frequency," he says. "If there was ever a way of introducing world peace to the world, I think Bob Pagani is doing it just by sleeping."
It sounds outlandish, but outlandishness might be identified as Pagani's primary professional interest. One of his regular viewers, a performance artist who goes by Amira Ball, says she once wondered whether he was actually sleeping or just hoaxing his audience. (He really is sleeping, she concluded: "I can hear him snoring.") Then again, fake-sleeping for countless hours on a livestream might be even weirder than actually sleeping on a livestream. And if it were a hoax, it seems hard to say whether Pagani is the hoaxer or the one being hoaxed.
In February, Pagani brought his project into the IRL realm when he was invited to sleep in front of a live audience at a fundraiser for the Portland station KBOO (where he now hosts a biweekly show). After he awoke, someone asked, "Did the audience members taking selfies with you bother you?" He was bemused: "People took selfies with me?"