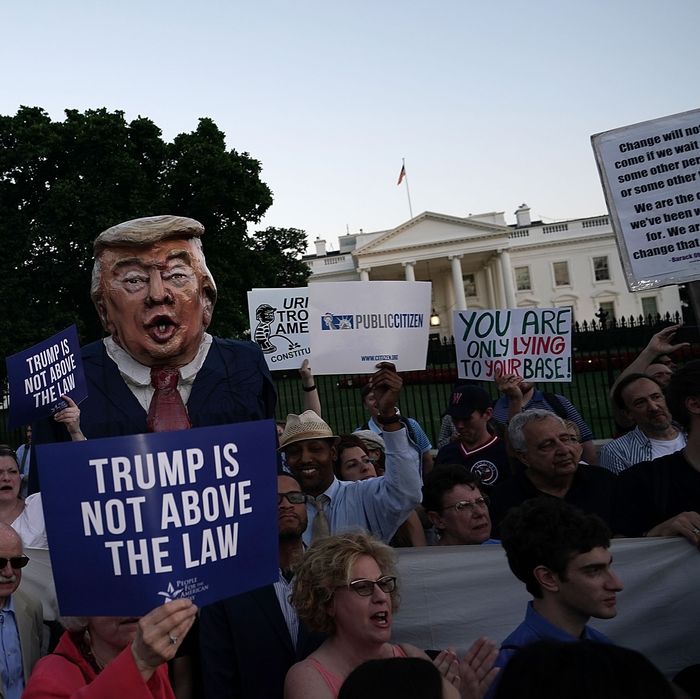 The Democratic base seems pretty fired up, without their leaders explicitly talking impeachment.
Photo: Alex Wong/Getty Images
In any other midterm election, if the president were implicated in a federal crime 77 days before voters head to the polls, you'd likely hear plenty of impeachment talk from the opposition party. But after Michael Cohen pleaded guilty on Tuesday to campaign finance law violations that he says were directed by President Trump, Democrats are trying not to overplay their hand. Rather, it's Republicans who are warning midterm voters about the rising threat of impeachment.
On Wednesday morning, House Democratic Leader Nancy Pelosi downplayed the possibility that Democrats will impeach president Trump if they retake the House in November. Despite Cohen's allegations, she told the AP that impeachment "has to spring from something else"; Democrats just want to conduct oversight of Trump and ensure that Special Counsel Robert Mueller's investigation can continue.
"If and when the information emerges about that, we'll see," she continued. "It's not a priority on the agenda going forward unless something else comes forward."
Pelosi underscored that message in a letter sent to caucus members on Wednesday, urging them to keep talking about the "cesspool of self-enrichment, secret money and ethical blindness" and how House Republicans are turning a "blind eye to the corruption and criminality at the heart of President Trump's inner circle."
Corruption scandals have helped swing midterm elections in the past, and beyond Trump's legal troubles, this message was bolstered by recent corruption charges against Representatives Chris Collins and Duncan Hunter. But Pelosi emphasized that Democrats "must also stay focused on delivering our strong economic message to hard-working families across America."
The Democratic midterm strategy is to have candidates focus on issues in their district, rather than railing against Trump's latest outrages. Some, like progressive billionaire donor Tom Steyer, think that's a huge mistake. But the assumption is that the Democratic base is already plenty fired up about Trump; talk of impeachment will only alienate independents who want Congress to make progress on issues they care about rather than wallowing in D.C. scandals.
Vox took a look at what the Democrats' investigation of Cohen's allegations might look like if they manage to retake the House, based on the latest moves from Representative Elijah Cummings, the top Democrat on the House Oversight Committee. It might please ardent Trump opponents, but won't inspire the average voter:
Democrats would have the purview to make the Trump administration's life a living hell by bombarding them with subpoena after subpoena, and call up administration officials and Trump associates to testify, keeping the president's scandals endlessly in the news.
That's why Republicans have stepped up their argument that Democrats are hell-bent on taking down Trump, but have no plan for governing. On Wednesday White House Press Secretary Sarah Huckabee Sanders said impeachment is the Democrats' only message heading into the midterms, and that's why voters should make sure Republicans remain in power.
"I think that the biggest contrast you could possibly make is the message of the Democrats, which is nothing more than attacking the president and looking at cheap political stunts while this White House and Republicans in the House and Senate are focused on doing good things for the American people," she said.
Others went with a more fear-based spin, suggesting hysterical Democrats are targeting Trump for undemocratic reasons. "They've never been happy with the outcome of the election in 2016, and I expect them to continue their campaign to reverse the election by whatever means possible," Senator John Cornyn told reporters on Wednesday.
Republicans are hoping that playing up the threat of impeachment will inspire Trump's base to come to his aid on November 6. Earlier this week, Republican operatives told Axios they're worried that Trump has actually made his voters too complacent by assuring them that a "red wave" is coming.
"You have Trump-MAGA loyalists, and their friends on Fox, who have reached a point of not believing polls and media people telling them things are going wrong, that I believe is actually causing the Republicans problems," said one strategist.
Not all Republicans are on board with this strategy. In what may be an early sign that the Cohen and Manafort developments are driving a wedge between Trump and his party, some GOP leaders urged their most at-risk incumbents to at least hold off on defending Trump until more information emerges.
"Keep your powder dry and don't rush to attack or defend anybody because you just don't know enough to have a reaction that you can still defend three months from now," said Representative Tom Cole, a former House Republican campaign chairman.
Representative Carlos Curbelo, who's running in a district Hillary Clinton won easily, quickly followed that advice, calling Trump's latest scandals a "sad chapter in our country's politics" and criticizing him for his attacks on Mueller.
"He's making a major mistake by attacking the Mueller probe in such a personal way," said Curbelo. "The best thing for everyone, especially if the White House is so confident that the president will be absolved in this process, is to let the process continue."