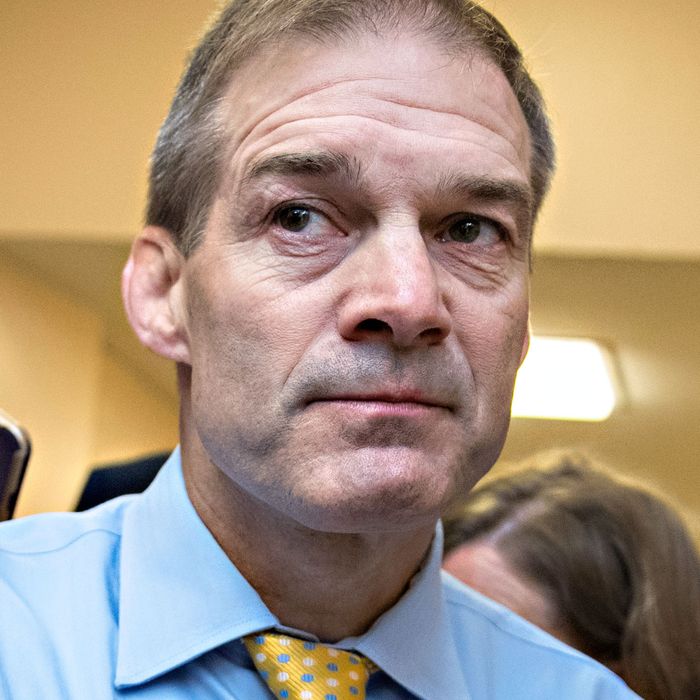 Allegations that Jim Jordan turned a blind eye to abuse get even uglier.
Photo: Tom Williams/CQ-Roll Call,Inc.
Two former Ohio State wrestlers say that after going public with their allegations that they were molested by team doctor Richard Strauss they heard from wrestling coach Russ Hellickson — not to express sympathy or remorse, but to urge them to recant their accusation that the team's assistant coach, Representative Jim Jordan, knew about it and did nothing.
More than 100 former students have told independent investigators hired by Ohio State that they were sexually abused by team doctor Richard Strauss, who died by suicide in 2005. On July 3, three former wrestlers told NBC News that Strauss showered with students and touched them inappropriately during exams. One wrestler, Dunyasha Yetts, described an incident that occurred in the mid-'90s:
"I remember I had a thumb injury and went into Strauss' office and he started pulling down my wrestling shorts," he said. "I'm like, what the f— are you doing? And I went out and told Russ [Hellickson] and Jim [Jordan] what happened. I was not having it. They went in and talked to Strauss."
Screenshots shared with NBC News show that a day after the report ran, Hellickson texted Yetts asking him to recant his claim that Jordan knew about the abuse, and failed to take proper steps to stop it.
"I'm sorry you got caught up in the media train," Hellickson wrote. "If you think the story got told wrong about Jim, you could probably write a statement for release that tells your story and corrects what you feel bad about. I can put you in contact with someone who would release it."
Yetts said Hellickson called him later in the day and made it clear that he was being pressured by Jordan, who was an assistant wrestling coach from 1986 to 1994. Yetts said the coach told him Jordan's supporters were also pushing him to make "a bold statement to defend Jimmy."
"[Hellickson] said, 'I will defend Jimmy until I have to put my hand on a Bible and be asked to tell the truth, then Jimmy will be on his own,'" Yetts said. "I told him, 'I'm going to contradict you, coach, because I'm telling the truth.'"
Mike DiSabato, another former wrestler whose abuse allegations sparked the university's probe, showed NBC News a similar text from Hellickson, but asked that it not be quoted directly.
"He called me after the story broke, too," DiSabato said of Hellickson. "He said Jimmy was telling him he had to make a statement supporting him and he called to tell me why he was going to make it. "
Yetts said that after he declined to take back his allegations, Jordan's allies began attacking him for his admission that he served 18 months in prison for bilking investors.
"What a world we're living in when a member of Congress is digging up dirt on sex abuse victims like us," said another former Ohio State wrestler. He asked not to be identified "because my family is terrified" of being targeted by Jordan's defenders as well.
Jordan has repeatedly denied that he knew anything about Strauss's alleged abuse, or even heard rampant locker room chatter about it. The scandal did not deter him from announcing last week that he's running for House speaker.