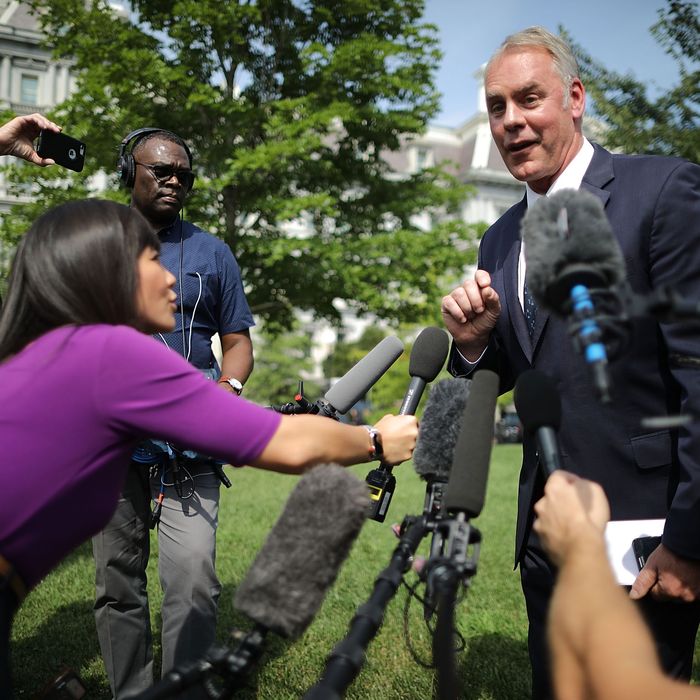 Interior Secretary Ryan Zinke.
Photo: Chip Somodevilla/Getty Images
Interior Secretary Ryan Zinke has spent the last week telling anyone who's asked that the wildfires ripping their way through California have nothing to do with climate change.
On Thursday, he changed his tune. "Of course," he told reporters when asked if climate change is one of the reasons for the proliferation of the fires.
The tepid acknowledgement of the obvious comes days after Zinke told a California TV station that the wildfires have "nothing to do with climate change." The comment came after a visit to the Carr Fire, which has burned more than 200,000 acres, destroyed more than 1,000 homes, and killed three firefighters. It's one of 20 fires currently burning in California, where the wildfire season has yet to peak.
Unlike Zinke, climate scientists are not equivocating on the issue. They've been saying for weeks that two reasons for the fast-spreading, highly destructive fires are searing temperatures and prolonged drought brought upon by a warming climate. "To dismiss the role of climate change on these fires is simply incorrect," Michael Wehner of Lawrence Berkeley National Laboratory told the Times this month. Daniel Berlant, assistant deputy director of California's fire agency, put a finer point on it. "Let's be clear: It's our changing climate that is leading to more severe and destructive fires," he said.
While dismissing role of climate change, Zinke earlier this week focused his blame for wildfires on environmentalists. He blamed "frivolous litigation from radical environmentalists" for preventing the removal of dead timber, which can serve as a fuel to raging wildfires, from California's forests. But as the L.A. Times noted earlier this month, the issue has become politically fraught:
Environmental groups have long argued that the logging industry has used fire as an excuse to plunder forests, cutting big trees and leaving behind only small, unmarketable timber.




The timber industry, however, says that in order to remove flammable deadwood and stop the spread of insects to still-healthy trees, it needs greater access to more valuable live trees.
It's hard to know what to make of Zinke's admission Thursday morning. Especially since it came only hours after he went on Fox Business and questioned the very idea that humans are playing a role in climate change. "There's no dispute that the climate is changing, although it has always changed," he said. "Whether man is the direct result, how much that result is, that's still being disputed."