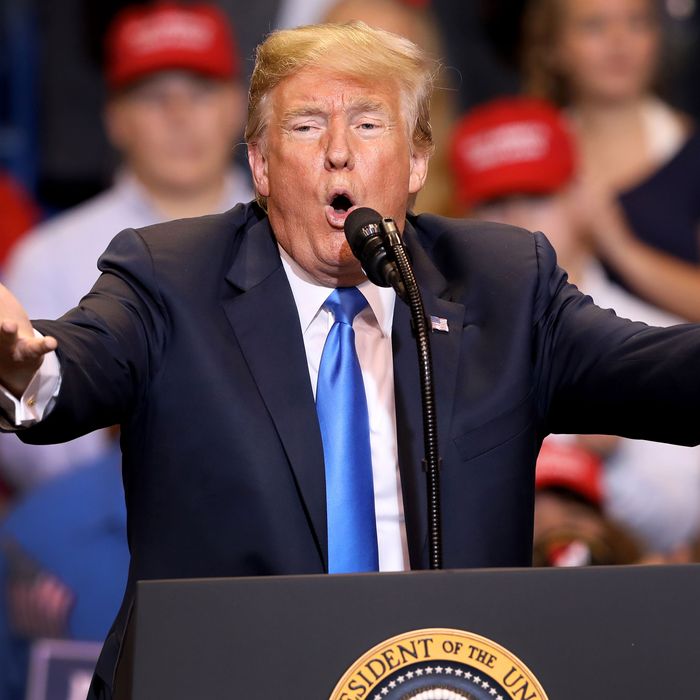 All power to this person.
Photo: Rick Loomis/Getty Images
Throughout 2018, the Democratic Party has had two core messages for the American people: Donald Trump is a dangerous, corrupt president whose power must be checked — and the GOP are a corrupt, dangerous party that wants to take away health care from the sick.
Now, as the midterm campaign hits the homestretch, Republicans are making the Democrats' case for them.
In an anonymous New York Times op-ed published Wednesday, a senior Trump administration official wrote that President Trump has "anti-democratic impulses," is bereft of "any discernible first principles," behaves in an "erratic" manner that is "detrimental to the health of our republic," and is so psychologically unstable, "there were early whispers within the cabinet of invoking the 25th Amendment" (which allows for a president to be removed for physical or mental incapacity). The official went on to insist that all of this "would be more concerning if it weren't for unsung heroes in and around the White House" who "have gone to great lengths to keep bad decisions contained to the West Wing, though they are clearly not always successful."
The op-ed never advises its readers to vote for Democrats this fall. In fact, it suggests that unified Republican government serves the American people's interests, as it has led to "effective deregulation" and "historic tax reform." But when GOP strategists were sketching out the ideal message for their party to run on in 2018, they probably didn't choose: "The health of our republic requires Donald Trump's power to be checked — but don't vote to place any additional checks on his power because his insubordinate staff is sometimes successful at blocking his worst ideas, and if you vote Republicans out of office they won't be able to pass any more corporate tax cuts that you don't like."
What's more, it isn't just a single, anonymous Republican official saying that President Trump cannot be trusted with power. Following the anonymous op-ed's publication Wednesday, GOP senator Bob Corker told reporters, "This is what all of us have understood to be the situation from day one … I understand this is the case and that's why I think all of us encourage the good people around the president to stay. I thank General Mattis whenever I see him."
Corker's comments echo remarks he made in October 2017, when he told the Times that the president's recklessness threatened to put America "on the path to World War III"; that "every single day at the White House, it's a situation of trying to contain him," and that "the vast majority" of the Republican caucus knows these things to be true.
Corker's Republican colleagues have not moved to expel him from the Senate for telling outrageous lies about the president. Many have declined to even dispute the senator's account. Which is to say: A large swath of elected Republicans have tacitly conceded that Donald Trump poses a threat to global security, and that this threat is mitigated primarily by the systemic insubordination of officials who serve at Trump's pleasure.
Once all this is stipulated, the only plausible argument for allowing Republicans to retain full control of Congress (instead of putting a check on Trump that he could not summarily fire) is that the GOP is ready and able to check Trump's authority itself.
But in recent weeks, congressional Republicans have explicitly assured voters that they will not provide effective oversight of the Executive branch. In campaign advertisements, Republican congressional candidates have devoted more airtime to proclaiming their loyalty to Donald Trump than they have to defending their party's signature tax reform legislation. In recent weeks, many Republicans have reframed their 2018 message around a pledge to protect Trump from overzealous oversight. Last month, Senate Majority Whip John Cornyn warned voters that a Democratic Congress would seek "to reverse the election by whatever means possible."
Around the same time, Republicans on Capitol Hill compiled a list of all the White House scandals that a Democratic House would likely investigate — which is to say, a list of scandals that the current Congress is actively covering up. Among them, per Axios:
• President Trump's tax returns




• Trump family businesses — and whether they comply with the

Constitution's emoluments clause, including the Chinese trademark grant to the Trump Organization




• Trump's dealings with Russia, including the president's preparation for his meeting with Vladimir Putin




• The payment to Stephanie Clifford — a.k.a. Stormy Daniels




• James Comey's firing




• Trump's firing of U.S. Attorneys




• Trump's proposed transgender ban for the military




• Treasury Secretary Steven Mnuchin's business dealings




• White House staff's personal email use




• Cabinet secretary travel, office expenses, and other misused perks




• Discussion of classified information at Mar-a-Lago




• Jared Kushner's ethics law compliance




• Dismissal of members of the EPA board of scientific counselors




• The travel ban




• Family-separation policy




• Hurricane response in Puerto Rico




• Election security and hacking attempts




• White House security clearances
It's hard to imagine any Democratic consultant putting together a better advertisement for divided government than this.
Meanwhile, the Trump administration has been doing everything in its power to bolster the other pillar of Team Blue's midterm message. It's long been clear to Democrats and Republicans alike that health-care policy is the House majority's biggest liability. The Obamacare repeal bill that House Republicans voted for last year proved to be the most unpopular piece of major legislation in America's modern history. Shortly after the bill's introduction last spring, the Democratic Party opened a double-digit lead in polls of the 2018 generic ballot, while President Trump's job approval dipped. Subsequent surveys showed the public favoring the Democrats over the Republicans on health-care policy by wide margins.
In May, Republican congressman — and longtime GOP strategist — Tom Cole told CNN that he wasn't worried about the repeal effort hurting his party on Election Day. After all, by then, it would be water under the bridge. "It's hard to beat you on a vote you didn't succeed on," Cole reasoned.
Alas, the Trump administration — and red-state attorneys general — has made that task much easier for Democrats. Earlier this summer, the Justice Department announced that it would not defend the Affordable Care Act (ACA) from a challenge brought by a group of red states, which claims that Congress's repeal of the individual mandate rendered the law's protections for people with preexisting conditions invalid. This claim — that Congress is not constitutionally allowed to eliminate the ACA's insurance mandate, unless it also repeals the law's other regulations of the health-care market — is not some sacred principle of originalist jurisprudence. Rather, it's an ad hoc rationalization for right-wing judicial activism so specious, it makes the National Review blush. And yet, Attorney General Jeff Sessions concluded that his department could make no honest argument against the plaintiffs' case, and thus, had no choice but to forfeit its responsibility to defend federal law.
Oral arguments in that case began this week — and a Republican-appointed judge in Texas signaled that he buys the red states' case. Judge Reed O'Connor "gave only cursory treatment to the baseline question of whether the individual mandate without an accompanying penalty could stand as constitutional," according to Modern Healthcare's Susannah Luthi, devoting most of his questions to the matter of precisely how much of the Affordable Care Act he is constitutionally obligated to strike down. On Wednesday, the judge indicated that he expects to deliver a ruling soon on whether the ACA's consumer protections can remain in force.
It's hard to overstate how inconvenient such a ruling would be to the GOP's electoral strategy. The only thing Republicans want to discuss less than repealing Obamacare is repealing that law's most popular provision. Last year, the idea of letting the market decide who can get chemotherapy without having to declare bankruptcy proved so politically toxic, Paul Ryan and Mitch McConnell retained versions of the ACA's protections for people with preexisting conditions in all of their health-care bills. Even for a House Speaker whose signature policy idea is privatizing Social Security, scrapping those protections outright was a bridge too far.
Now, as voters head to the polls, Republicans may be forced to defend the god-given right of insurance companies to deny coverage to anyone who's ever seen a psychologist. In fact, in some of 2018's most competitive Senate races, Republicans nominated state attorneys general who brought the lawsuit to begin with.
In general, the relevance of messaging to midterm election outcomes is greatly exaggerated. But to the extent that campaign themes influence voter behavior, the Republican Party is doing its best to turn the long-forecasted "blue wave" into a tsunami.