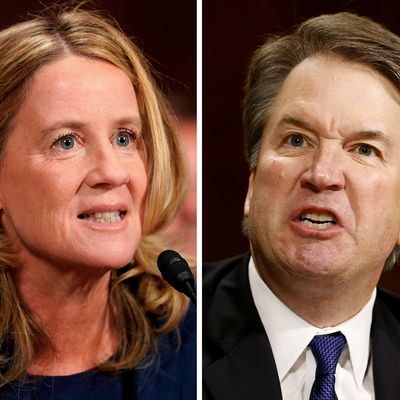 A terrified Ford and a furious Kavanaugh each had their day in the glare of a high-profile hearing.
Photo: Getty Images
In one of the more remarkable days in recent Senate history, the Judiciary Committee held what was in effect two hearings. The first was to hear Christine Blasey Ford, who accused Supreme Court nominee Brett Kavanaugh of sexual assault. And the second was to hear Kavanaugh's response to her and to other recent allegations of criminal misconduct.
In the first hearing, Ford, by virtually all accounts, made a strong and credible impression with her account of being assaulted by Kavanaugh during high school. Fearing what it would look like for eleven Republican men to interrogate Ford, chairman Chuck Grassley brought in Rachel Mitchell, a local prosecutor from Arizona with experience dealing with victims of sexual assault, to do all the questioning on their behalf. The strange, herky-jerky procedure chosen by Grassley — the Democrats alternated 5-minute questions with Mitchell — did little to challenge Ford's credibility. When Ford left the room, Kavanaugh's confirmation looked shakier than ever.
Maybe that was what Kavanaugh anticipated, because his opening statement to the Committee (prepared earlier, with a few added flourishes) was really, really over-the-top: an angry, wounded screed dismissing all the allegations against him as a "last-minute smears, pure and simple," as "revenge for the Clintons," as "grotesque and obvious character assassination," and as the product of "a frenzy to come up with something — anything, no matter how far-fetched or odious — that will block a vote on my nomination." He shouted and cried, and took the demeanor of his opening statement into the rest of the hearing, yelling at the Democratic senators who tried to question him.
While the questioning of Kavanaugh by Mitchell picked at this or that detail of his story, Democrats primarily concerned themselves with efforts to get him to recommend an FBI investigation of Ford's and others' allegations. Kavanaugh kept turning this question back on them by saying it was up to the committee to investigate. Republicans began the session by letting Mitchell question the judge — in response to which he mostly commented on some of the weaker points of Ford's testimony. But then there was a turning point in which Kavanaugh's screed was exceeded by Lindsey Graham:
After Graham took Kavanaugh's own claim of a partisan hit job up a few notches, other committee Republicans joined in on the fun, pushing aside poor Rachel Mitchell, who sat there silently (though she was presumably still on the clock). Again and again and again they made the hearing about the "ambushing" of Kavanaugh by Dianne Feinstein's failure to release Ford's original letter detailing her allegations until Ford's name had gone public and she agreed to testify (which Feinstein has consistently attributed to an effort to maintain Ford's confidentiality). John Cornyn compared Committee Democrats' treatment of Kavanaugh to Joe McCarthy's tactics. Clearly briefed by staff never to criticize Ford, these senators (and Kavanaugh himself) described her as a co-victim of the Democratic conspiracy.
By the end of the day's long, painful session, Democrats were mostly talking about the FBI investigation that never happened and Republicans were talking about an earlier release of Ford's correspondence by Feinstein that never happened, either. Anyone wanting to doubt Kavanaugh's side of the story, and thus his fitness to serve on the Supreme Court, was given abundant grounds to do so by Ford. And anyone wanting Kavanaugh to declare ideological holy war on his tormenters got all they wanted as well. That included one very important viewer down the street from the Capitol:
It says a lot that Kavanaugh may have saved his bacon by delivering a more articulate and literate version of a Trump tweet.
Republican senators are getting together tonight, and you can imagine that the war drums will be beaten in an effort to get everybody on board. The most visibly wavering of Judiciary Committee Republicans was Jeff Flake, who didn't speak until the end of the hearing and expressed sympathy for both Ford and Kavanaugh:
That ambiguous note was an appropriate capstone to this strange day. The Judiciary Committee is currently scheduled to vote tomorrow morning, and will probably send the confirmation to the floor even if Flake (who is retiring from the Senate this year) denies Kavanaugh a majority. At that point, all eyes will be on Republican senators Susan Collins and Lisa Murkowski. Today's events will make the cross-pressures on these two pro-choice women incredibly intense. But their fellow Republicans really wanted to repeal Obamacare last year, too. They said no.