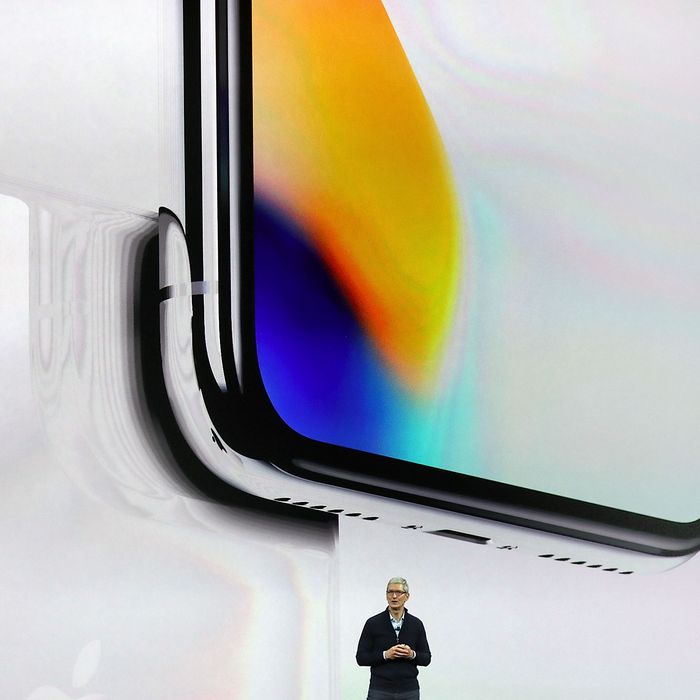 The new iPhone XS Max shown at actual scale.
Photo: Justin Sullivan/Getty Images
On Wednesday, September 12, Apple will unveil an update to the Apple Watch, show off a new iPad, and (please, God) maybe even debut an update to the MacBook Air. But, of course, that won't be why people watch. Tomorrow is all about what the 2018 iPhones are going to look like.
This is an "S-year," which traditionally would mean upgrades to the processor and (sometimes) the camera, while keeping the body and form factor of the previous year's iPhone. In an S-year, Apple would put out a phone that didn't look much different, but would have faster guts and usually a few new software or hardware tricks up their sleeves (think things like Siri, fingerprint scanners, or 3-D touch, all introduced during S-years).
But ever since the iPhone X, Apple's traditions have changed. There are now three different phones on offer, the old number schemes are breaking down, the center cannot hold, the falcon doesn't have enough service bars to hear the falconer; it's mass hysteria. Case in point: Unless every single tech rumor is wrong, the basic body and shape of the iPhone since its debut 11 years ago — including that home button — is gone. Instead, Apple will unveil three new phones that look a lot like different sizes of the iPhone X: a budget 6.1-inch LCD model reportedly called the iPhone XC, an upgraded version of last year's 5.8-inch iPhone X called the iPhone XS, and a premium 6.5-inch phone that may be called the iPhone XS Max [insert wailin' guitar riff].
It's the big phone that's attracting the most attention, though Apple offering up a budget phone is also intriguing. That 6.5-inch screen is 0.1-inch bigger than the Samsung Note 9, making it the biggest major flagship phone available for sale. Why is Apple going big?
The most obvious reason to put out a huge phone: profit margins. There are a lot of factors that play into why Apple became the first company worth a trillion dollars, and one of the biggest is profit margins. The company has always been able to squeeze more profit from its products than its competitors, but its margins had been falling in the past eight years. The iPhone X, despite somewhat weak sales numbers, boasted much higher profit margins than the iPhone 8 or iPhone 8 Plus. An even bigger phone, with an even higher premium price, could help boost those numbers even higher.
And those profit margins are going to matter more and more. Sales of new iPhones and upgrade cycles have remained somewhat flat. Per Mixpanel, nearly 1 in 5 iPhone users are still using an iPhone 6, and the majority of iPhone users are still using an iPhone 7. Consumers, even gadget-obsessed ones, are simply waiting longer to upgrade phones, partly because phone carriers no longer subsidize upgrades, and partly because upgrading just doesn't get you as much. The jump between the iPhone 4, released in 2010, and the iPhone 5, released in 2012, was immense. The jump between the iPhone 6 and the iPhone 7 was much smaller (and meant you lost the headphone jack in the bargain). But increased profit margins means you don't need to sell as many phones to make as much money.
And, as a Wall Street Journal article suggests, bigger phones may induce users to spend more time on their phones. Apple, broadly, used to be a company that made most of its money by making and selling computers. It currently is a company that makes most of its money by selling smartphones. But the fastest growing part of Apple's business is its "Services" unit, broadly covering everything from app sales to Apple Music subscriptions to payments for extra iCloud storage space. (Wonder why Apple is suddenly interested in making original TV programming à la Netflix or Amazon? It's to boost its Services offerings.)
It'll be similarly interesting to see what the pricing is for Apple's budget phone option. If it followed form from last year, it would cost $699, but plenty of analysts and rumor sites have that price pegged at $849. If I had to bet, I'd put money on the $849 price. For Apple, there's more to be gained by continuing to move the price point of its handsets upward, while offering ever more reasons why it's good to be part of the Apple ecosystem.