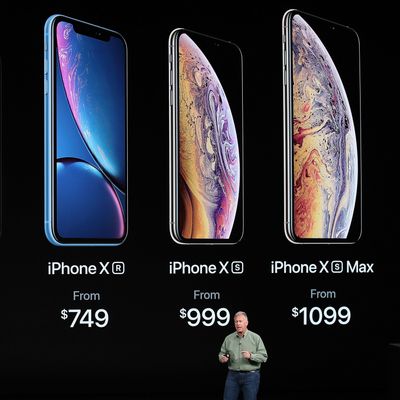 Phil Schiller, senior vice-president of worldwide marketing at Apple, at today's event.
Photo: Justin Sullivan/Getty Images
One nice thing about this year's Apple event: It was short and sweet. Previous years have seen the event stretch well over the two-hour mark. This year was over and done in noticeably less time. But everything else that came between just felt a little blah this year — even more so than I was expecting.
As much tradition as there can be around something that has only been happening for ten years, these "S-years" of iPhone announcements are always kinda dull. You don't get cool new form factors, so there's no promise of a new phone that you can pull out on the subway or at parties and get envious glances. (We're perhaps past the point as a society where a smartphone can even get envious glances.) But in previous S-years, Apple at least rolled out some new gee-whiz sci-fi innovation, whether that was Siri, fingerprint scanning, or 3-D Touch.
But there just wasn't much in the iPhone XS, iPhone XS Max, or iPhone XR. We got price points: $999 for the base iPhone XS, $1,099 for the base iPhone XS Max, and $749 for the base iPhone XR. Apple will start taking preorders for the iPhone XS and XS Max on September 14, and ship September 21. The iPhone XR will be up for preorder on October 19, and ship on October 26.
Yes, the iPhone XS Max will be very big. The iPhone XR looks like a nice new default phone for non-gadget obsessives, or people who just need an iPhone upgrade. But what was the big "wow" moment? The new A12 Bionic chip seems very fast. The ability to program in routines into Siri seems potentially cool, though potentially aggravating in practice. The AR stuff looked goofy. Bethesda's Todd Howard showed off Blades, a mobile game that is not Skyrim but looked a lot like Skyrim. We got extensive details about the camera from Phil Schiller, who dove headfirst into the weeds on the post-processing going on when a photo is taken.
In the audience, someone exclaimed "no!" when Apple showed off that background bokeh could be adjusted even after a photo had been taken in Portrait mode. This is neat, no doubt, and Schiller claimed Apple was the first company to allow for something like this. In reality, Samsung and other Android handsets have been doing this for a while, and ill-fated camera company Lytro did it years before.
The smartphone plateau has been talked about for years — our smartphones are pretty dang good, and have been for a while. That period from roughly 2008 to 2013 when phones felt like every year was a vast leap forward is over, and reflected in people holding on to their phones for longer and longer periods of time. But unlike every other year of Apple rolling out a new iPhone, I don't have even a twinge of envy or desire for what will be on sale later this month. I'll probably stop by an Apple Store on my commute home and play around with a new iPhone XS Max for a bit, but it's hard to imagine lining up for any of the phones Apple showed off.
It says something that the most intriguing thing at the show — and what got the biggest cheer from the crowd — was the ability of the Apple Watch 4 to take electrocardiograms. Literally heart-pounding stuff, to be sure, and a bigger leap forward than anything the new models of iPhone showed off.
Maybe I just slept badly last night. Maybe I've watched too many Apple events. But this year's lineup left me cold, and while Apple will still sell tens of millions of this year's iPhones, I'll be curious to see if I was the only one.