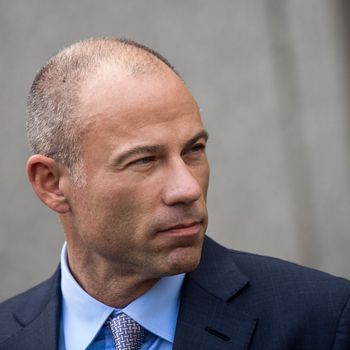 Michael Avenatti.
Photo: Drew Angerer/Getty Images
Michael Avenatti, the lawyer for Stormy Daniels, says he is "aware of significant evidence" that Supreme Court nominee Judge Brett Kavanaugh participated in multiple gang rapes while in high school.
In an email posted to Twitter Sunday night, Avenatti writes that Kavanaugh, his childhood friend Mark Judge, and others "would participate in the targeting of women with alcohol/drugs in order to allow a 'train' of men to subsequently gang rape them."
Avenatti ended the email, which was sent to the chief counsel for nominations at the Senate Judiciary Committee, by saying that he will be releasing "additional evidence" of the allegations "in the coming days." In an interview with Politico, Avenatti said he represents multiple people who were witnesses to the events described in his email. One of the people he's representing could be described as a victim, he said.
On Twitter, Avenatti wrote that he will "be demanding the opportunity to present testimony" to the Senate Judiciary Committee. It's unclear if that will happen, but a spokesperson for Judiciary Chairman Charles Grassley says the committee will attempt to evaluate the claim.
He also tweeted a desire to have Kavanaugh explain the meaning behind an entry in his yearbook.
In yet another tweet, Avenatti said that his client is not Deborah Ramirez, the former college classmate of Kavanaugh's whose sexual misconduct claim against the judge was published by The New Yorker Sunday night. But there is an anecdote in that story that relates to Avenatti's claim. The New Yorker quotes an ex-girlfiend of Judge's who said he told her a story that mirrors the allegations Avenatti is making.
Prior to his more explicit tweet Sunday, Avenatti teased new dirt on the 53-year-old Kavanaugh. On Saturday, he tweeted that all "indications are that Dr. Ford is not alone," a reference to Christine Ford, who says Kavanaugh attempted to rape her at party when they were in high school. He followed that Sunday morning with a tweet that said, "What happens at Georgetown Prep does not stay at Georgetown Prep." Kavanagh was a student at the elite private school at the time of the alleged incident with Ford.