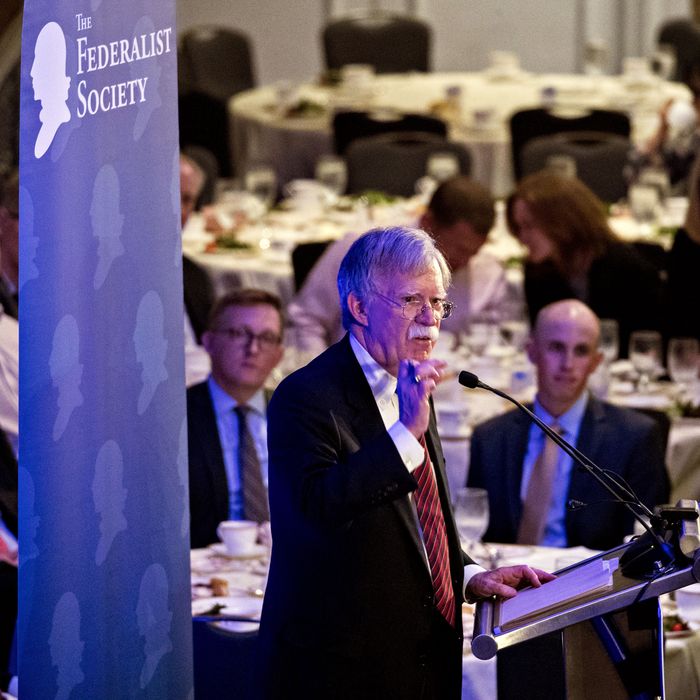 Bolton makes it clear that America First doesn't depend on getting along with anybody.
Photo: Andrew Harrer/Bloomberg via Getty Images
It was a predictable step for an "America First" administration that does not acknowledge international institutions, treaties, or norms as reflecting U.S. values or interests. But still, the virulent attack on the International Criminal Court that national security adviser John Bolton made today at a meeting of the conservative Federalist Society was notably over the top.
The U.S. has had an up-and-down relationship with the I.C.C. — founded to provide sanctions against individuals committing war crimes, crimes against humanity, and acts of genocide — since it was founded by the Rome Statute in 1998. Bill Clinton signed the statute in 2000 but did not submit it to the Senate for ratification, saying he wanted to observe the I.C.C.'s record first. George W. Bush formally renounced any U.S. obligations to the court when it began operating in 2002. Barack Obama announced a policy of cooperation with the I.C.C. as an observer nation.
Now the pendulum is swinging back with a vengeance, as Bolton labeled the court "illegitimate" and "dead to us." But he went further than a policy of passive hostility, as the Guardian reported:
"The United States will use any means necessary to protect our citizens and those of our allies from unjust prosecution by this illegitimate court," Bolton said.




He said the Trump administration would "fight back" and impose sanctions – even seeking to criminally prosecute ICC officials – if the court formally proceeded with opening an investigation into alleged war crimes committed by US military and intelligence staff during the war in Afghanistan or pursued any investigation into Israel or other US allies.
It was no coincidence that this declaration of war on the war crimes tribunal was made the same day as a State Department announcement that the U.S. was closing the Palestinian Liberation Organization's office in Washington.
In its statement, the department says its decision is also consistent with administration and congressional concerns with Palestinian attempts to prompt an investigation of Israel by the International Criminal Court.
The beef against the I.C.C. is something of a personal hobbyhorse for Bolton, as the New York Times observes:
The United States declined to join the court during Mr. Bush's first term, when Mr. Bolton was an under secretary of state and later ambassador to the United Nations. After he left the Bush administration, the White House showed a little less resistance to the court's work, even expressing support for its investigation of atrocities in Darfur …




[W]ith Mr. Bolton back in power, the White House has swung back to the language of 2002 and 2003. In his speech, he made familiar arguments against the court, saying that it infringed on American sovereignty, had unchecked power, and was "ineffective, unaccountable, and indeed, outright dangerous."
Looks like Bolton has found an administration more to his liking. Former U.S. ambassador-at-large for War Crimes Issues David Scheffer, who participated in the creation of the I.C.C. while warning regularly of the danger of the tribunal exceeding its authority, summed it up:
The Bolton speech today isolates the United States from international criminal justice and severely undermines our leadership in bringing perpetrators of atrocity crimes to justice elsewhere in the world…. This was a speech soaked in fear and Bolton sounded the message, once again, that the United States is intimidated by international law and multilateral organizations. I saw not strength but weakness conveyed today by the Trump Administration.
Team Trump's consistent disdain for the "soft power" of multilateral institutions and diplomacy, which has been a bulwark of U.S. foreign policy since World War II, is going to undermine this country for years after Trump and Bolton leave Washington.