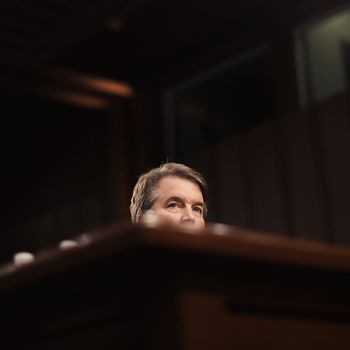 Supreme Court nominee Judge Brett Kavanaugh appears before the Senate Judiciary Committee during his Supreme Court confirmation hearing.
Photo: Chip Somodevilla/Getty Images
One oft-forgotten fact about of the rise of William Rehnquist, who endured two separate Supreme Court confirmation hearings, is that he broke the rules to reach the highest court in the land. As John Dean — Richard Nixon's former White House counsel — and others would go on to document, the nation's 16th chief justice got away with things that should have disqualified him, had they come to light when the Senate vetted him — not once, but twice — before he occupied his place on the Supreme Court.
Unless something dramatic happens at this week's Senate confirmation hearings, Brett Kavanaugh, Donald Trump's choice to replace retired Justice Anthony Kennedy, is bound to repeat history. Not just because he and Rehnquist, whom he's called his "judicial hero," are cut from the same partisan mold — shaped by the ways of Republican politics and conservatives' dogged pursuit of judicial supremacy. It's also because there are millions of records from his time in the White House under George W. Bush that the Trump administration is determined to keep a secret.
That's not even counting records from Kavanaugh's 35 months as staff secretary, a time the nominee himself has called "formative" for his views on law and policy. Kavanaugh's handlers have determined those documents are categorically out of bounds.
Powerless to stop the hearings outright but keenly aware that there's a lot at stake with the Kavanaugh nomination, Democrats on the Senate Judiciary Committee seem to have lost their patience. Merely seconds into the first day of hearings, just as committee chairman Chuck Grassley of Iowa was getting started with preliminaries, it fell to Kamala Harris, the junior senator of California and the most junior member of the committee, to set the tone with an extraordinary interruption. The hearings couldn't continue without a complete record of the nominee, she pressed. "We have not been given an opportunity to have a meaningful hearing on this nominee," she said. The body had just gotten a new document dump the night before, just hours before the hearing.
The proceedings never quite recovered after that. Minnesota's Amy Klobuchar, New Jersey's Cory Booker, Hawaii's Mazie Hirono, and Rhode Island's Sheldon Whitehouse all joined the protest. As tempers flared — and Grassley had no option but to unenthusiastically pound his gavel and let Democrats complain, derailing his schedule — Connecticut's Richard Blumenthal made and renewed a motion, under Senate rules, to adjourn the hearings until all the relevant records were received from the White House. At this, chaos erupted in the chamber as protesters cheered and stood to oppose Kavanaugh, then were arrested and hauled off the premises. More chaos in the chamber: Grassley never granted Blumenthal's motion, insisting he had the better reading of the rules.
Acknowledging all of this, Illinois's Dick Durbin, who for weeks has been sounding the alarm over Kavanaugh's missing documents, said that "what we've heard is the noise of democracy." Across the aisle, Texas's John Cornyn called Democrats' tactics "mob rule," even though his party is the one moving with all deliberate speed. Durbin then made an eye-opening suggestion to the nominee: If you believe in and are willing to defend your record, you should ask the chairman that we postpone this whole thing. Kavanaugh never did, but letting the suggestion — and the implication that the White House is hiding something — hang in the air just might help move public sentiment.
Process arguments have rarely moved the needle with the electorate, and Democrats failed mightily when their process arguments over Republicans' blockade of Merrick Garland didn't energize voters to punish Trump and Senate Republicans at the ballot box. But when an exasperated Grassley suggested that he's willing to extend the hearings into the weekend so as to let Democrats vent any frustrations and questions they may have, the minority, if only for a moment, won a symbolic victory.
Because, absent a major gaffe by Kavanaugh or an embarrassing revelation about his record in the days ahead, there's little doubt in progressives' minds that the Supreme Court is all but a lost cause. Since they don't have the votes, they're left to try long shots, like a tedious document request that might shed new light on Kavanaugh.
And stranger things have happened in the Trump era than stopping a Supreme Court nomination that seems like a fait accompli, such as Democrats' successful resistance to a unified Republican government bent on repealing Obamacare. Can they pull it off again? Now the attention turns to what Harris, alluding to the late Senator Ted Kennedy, called a "job interview with the American people" — the hours of grilling that senators, with the limited information and "committee confidential" documents they have at their fingertips, will subject the nominee. Will they drop more objections, motions, and bombshells in the days ahead? The burden is on them to make a big show. Grassley put them on notice near the end of Tuesday's spectacle that he's not going to let things get out of hand on Wednesday.
Kavanaugh, for his part, mostly nodded politely and on occasion looked despondent in the face of what was happening before his eyes. What might his wife, daughters, and supporters think about the shouting matches and interruptions? When he finally got around to his opening statement, close to 5 p.m., he went through all the motions. Notably, he credited Justice Kennedy and his mother as his judicial heroes, but said nothing about Rehnquist, his true model for how judges should rule in the cases that matter. The omission was probably more revealing than anything else that went down during Day One: Rehnquist, not long after joining the Supreme Court, was only one of two justices who disagreed that women had a constitutional right to choose.
Kavanaugh would have senators and the public believe that he'd be, as he put it, "pro-law" and part of "Team Nine." But Rehnquist was never quite that. And there's little evidence a Justice Kavanaugh, for more than a decade a proud dissenter or lone writer on Washington's second-most powerful court, would ever be.