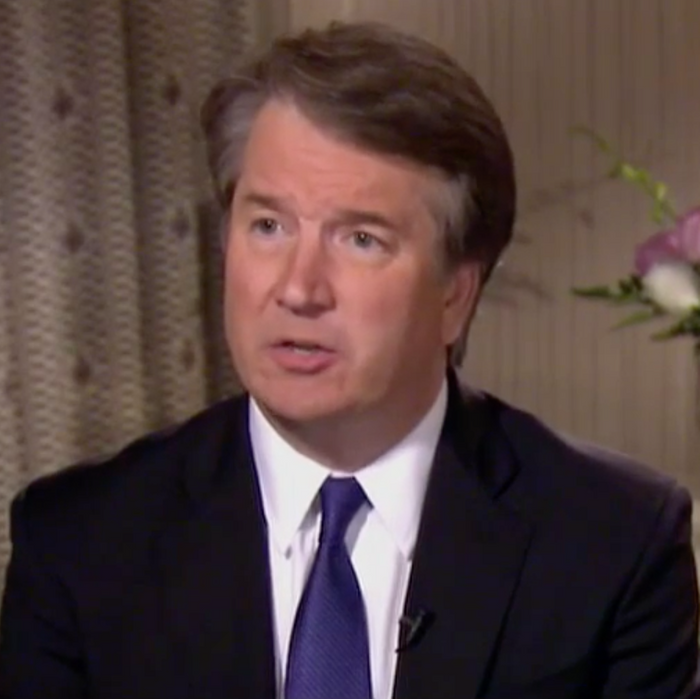 Brett and Ashley Kavanaugh
Photo: Fox News
If there's anything to be gleaned from Brett Kavanaugh's background as an assistant for Kenneth Starr, political operative working on judicial nominations for George W. Bush, and his lifetime membership in the Federalist Society, it is his abiding commitment to the partisan interests of the Republican Party. The recent downfall of his friend Ed Whelan, who was forced to take a leave of absence as head of a conservative think tank over a widely condemned doppelgänger theory attempting to discredit the allegations of Christine Blasey Ford, is one of a piece with Kavanaugh's ambitions. If judicial dominance is the game, he'll seemingly stop at nothing to play it.
Appearing on Fox News to defend your good name and credibility is a page from the movement conservative playbook — one that no other Supreme Court nominee in modern history has used before. The only public speaking Merrick Garland, bless his heart, did as he awaited a Senate hearing that never came was give a public speech at a high-school graduation and at a lawyers' event encouraging pro bono representation for needy clients. Other than that, radio silence, and probably with good reason: He had no reason to defend himself.
Not so with Kavanaugh, whose interview with Martha MacCallum that aired on Monday evening was part of a one-two-punch offensive that also included a forceful letter to the Senate Judiciary Committee responding to Ford's allegations and those of Deborah Ramirez, who accused the judge in The New Yorker of drunkenly exposing himself to her during their years at Yale. "The coordinated effort to destroy my good name will not drive me out," he wrote, stopping just short of echoing Kellyanne Conway's comments earlier in the day that the spate of accusations were part of a "vast left-wing conspiracy."
Why Kavanaugh felt it was a good idea to even agree to such an interview, with his wife Ashley by his side, is unclear. Not just because it's out of character for aspiring Supreme Court justices to go on public-relations sprees, but also because it betrays poor judgment to think that Fox News and an anchor who has been critical of sexual allegations against the late Roger Ailes are the right vehicles for your message. Unless what Kavanaugh truly wants is to fire up the Trump base — and no one else — about his asserted innocence, and feed the perception that conservative judicial supremacy justifies going scorched earth if the need arises.
"I am looking for a fair process, a process where I can defend my integrity and clear my name," Kavanaugh told MacCallum, a line that he repeated at least a dozen times in the nearly 20-minute interview, which was mostly pablum, but at the same time not helpful to his own cause in a strategic sense, as it certainly offered Democratic senators a preview of what they can expect — as well as potential avenues to ask follow-up questions or to impeach the judge's credibility.
Raising these kinds of questions is precisely what Ronan Farrow and Jane Mayer, who broke the Ramirez story Sunday night, were doing on Twitter just as Kavanaugh tried his best to spin on national television. "If such a thing had happened, it would've been the talk of campus," Kavanaugh said of the Ramirez allegation. "The women I knew in college and the men I knew in college said that it's inconceivable that I could've done such a thing." To which Farrow, pointing to his own reporting, responded that the judge's own roommate has gone on the record crediting Ramirez's account while discrediting Kavanaugh's judgment at the time.
There was also Kavanaugh's bizarre declaration, when pressed on yet more allegations that have surfaced since Ford went public, that he "did not have sexual intercourse or anything close to sexual intercourse in high school or for many years thereafter." For a conservative, and one who went to Catholic school at that, copping to being a virgin during your high-school and college years may be a badge of honor. But volunteering a vow of chastity for a national audience, when the main allegations didn't involve penetration, proves absolutely nothing. If anything, it makes Kavanaugh ignorant about the realities of sexual violence and misconduct in this #MeToo moment. I expect Mazie Hirono will have a field day with this.
To her credit, MacCallum wasn't all softballs and did ask probing, probative questions. Kavanaugh didn't give her much, sticking to a tight script of denials, calls for a fair process, and his history of respect for women. And other than brief remarks on how hard this has been for their family, his wife Ashley also didn't have much to add the discussion. At one point, as Irin Carmon noted, her husband prevented her from answering whether the FBI should get involved — he cut her off and answered for her, all but implying that fairness and due process don't include giving your version of events to disinterested federal investigators.
Perhaps my favorite back-and-forth between MacCallum and Kavanaugh, who up to this point has been on the defensive and has hardly expressed any humility throughout this ordeal, was when the interviewer tried to extract a concession from the interviewee on the provenance of the allegations. Could Kavanaugh go on the record and channel the president in insisting that his trials are nothing but a partisan witch hunt?
MacCALLUM: Where's all this coming from?

 

KAVANAUGH: I just want a fair process where I can be heard.

 

MacCALLUM: You don't have any thoughts on what's — where this is coming from?

 

KAVANAUGH: I just want a fair process where I can be heard, defend my integrity, defend the integrity of my family. I've — I'm telling the truth.

 

MacCALLUM: You don't want to talk about where you think this is coming from?

 

KAVANAUGH: I just want an opportunity, a fair process where I can defend my integrity.
An interview with the house that Roger Ailes and Bill Shine and Bill O'Reilly helped build is far from the optimal, neutral forum to clear one's name of sexual wrongdoing, let alone the place a respected jurist would book himself for vindication. But this is the Trump era. And we're talking about Brett Kavanaugh here, a lifelong Republican and partisan who has his own dossier of questionable practices in the quest to get judges confirmed to the federal bench. If he were the one running point on his own nomination, there's little doubt he'd have this go down any other way.
With his credibility on the line, and yet another story making the rounds that impugns his image as high-school choirboy, Kavanaugh now shoulders the heavy burden of truthfulness about his past.