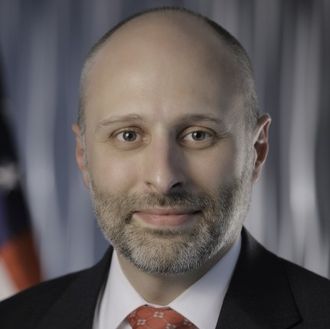 CFPB policy director Eric Blankenstein.
Photo: Consumer Financial Protection Bureau
The Trump administration official in charge of monitoring financial discrimination questioned if using the n-word made someone racist and doubted the veracity of most hate crimes on his blog more than a decade ago, the Washington Post reports.
Eric Blankenstein, whose job at the Consumer Financial Protection Bureau involves ensuring lenders don't discriminate against racial minorities, kept a political blog called "Two Guys Chatting:"
In a 2004 post, Blankenstein wrote that a proposal at the University of Virginia to impose harsher academic penalties for acts of intolerance was "racial idiocy." He questioned how authorities could know the motivation of someone using a racial slur.




"Fine . . . let's say they called him n—– ," he wrote, spelling out the slur. ". . . would that make them racists, or just a——-?"




Blankenstein also wrote that "hate-crime hoaxes are about three times as prevalent as actual hate crimes."
Though Blankenstein only posted under the alias "egb3r," the Post identified him via a slew of personal details he left on the site. When they asked him about the incendiary remarks, he admitted he made them but denied they were relevant to his current position.
"The insight to be gained about how I perform my job today — by reading snippets of 14 year old blog posts that have nothing to do with consumer protection law — is exactly zero," he said. "The need to dig up statements I wrote as a 25 year old shows that in the eyes of my critics I am not guilty of a legal infraction or neglect of my duties, but rather just governing while conservative."
In one blog post, Blankenstein, who is one of the highest paid people in government, making $259,500 a year, railed against policies that mete out harsher punishments for hate crimes. "Shouldn't we be more concerned that the crime happened period? Does it matter that someone got beat up because they were black, or does it matter that someone got beat up?" he wrote.
Perhaps none of this should come as a surprise from Mulvaney's CFPB. Earlier this year, Mulvaney moved to strip the Office of Fair Lending and Equal Opportunity of its enforcement powers, a move that one activist said at the time sends "a signal to the financial services industry that they can operate without fear of repercussions for discriminatory policies, practices, and products."