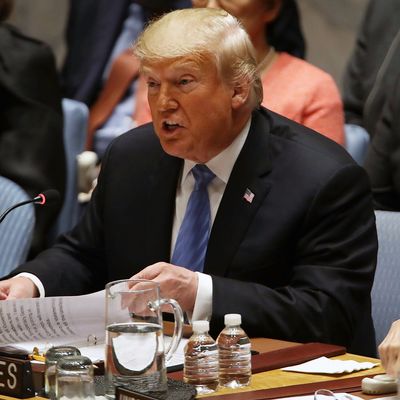 Blame China.
Photo: Spencer Platt/Getty Images
Chairing a meeting of the U.N. Security Council in New York on Wednesday, President Donald Trump alleged that China has been meddling in November's midterm elections in an attempt to punish the Republican Party electorally for Trump's anti-China trade policies.
"They do not want me or us to win because I am the first president ever to challenge China on trade and we are winning on trade, we are winning at every level," Trump said. "We don't want them to meddle or interfere in our upcoming election."
The U.S. may be winning the trade war the Trump administration launched against China this year, in the sense that Trump has more Chinese imports to tax than Beijing has targets for retaliatory tariffs. So far, however, China has not made any of the concessions the administration is demanding, so the president's declaration of victory may be characteristically premature.
In the Security Council, the Chinese delegation vociferously denied the accusation. "We did not and will not interfere in any country's domestic affairs. We refuse to accept any unwarranted accusations against China," Chinese foreign minister Wang Yi said.
Trump did not give any evidence of China's alleged election meddling at the meeting, which was supposed to focus on preventing proliferation of weapons of mass destruction.
The only concrete example Trump gave of Chinese election interference came via Twitter later on Wednesday, when Trump tweeted an image of a four-page insert in Sunday's Des Moines Register placed by The China Daily, a state-owned Chinese media outlet.
"China is actually placing propaganda ads in the Des Moines Register and other papers, made to look like news. That's because we are beating them on Trade, opening markets, and the farmers will make a fortune when this is over!" the president's tweet read.
The Register responded by saying it was not surprising that China would advertise in their paper, as "the Register is Iowa's largest news organization and Iowa farmers are disproportionately affected by China's tariffs." Foreign organizations and governments placing advertising, op-eds, or sponsored content in U.S. media to promote their interests is nothing new; countries Trump approves of — such as Saudi Arabia, the United Arab Emirates, and Israel — do this all the time.
Of course, none of this is to say that China isn't meddling in U.S. elections. Later on Wednesday, a senior administration official told reporters that the Chinese Communist Party and the government it leads "employ a whole of government approach using political, economic, commercial, military and informational tools" to influence public opinion in the U.S., and that these activities had reached "an unacceptable level."
China has been identified as a major source of cyberthreats to the U.S. for years, but there is no evidence that it has used its considerable capabilities to interfere in the midterms. It would make perfect sense, however, for China to target election infrastructure or attempt to influence the outcome of U.S. elections through disinformation — especially since Russia's election interference campaign in 2016 was such a smashing success.
Speaking of which: Trump didn't mention Russian meddling in the Security Council meeting. In comments to reporters later, he said his administration would not let China or Russia meddle in our elections, but when asked to compare the alleged threat from China with Russia's well-documented activities, he said: "Well, I think it's different."
It's certainly different in the sense that Trump has repeatedly taken Russian president Vladimir Putin's word for it that Moscow did not meddle in the 2016 elections, despite a literal embarrassment of evidence to the contrary and against the nearly unanimous assessment of his own intelligence and national security agencies. This is a pattern we've seen before from this administration, which is perfectly comfortable denouncing any foreign cybercrimes except that one in particular.
Trump's claim that he is committed to protecting U.S. elections from foreign interference (or at least that which might help elect Democrats) rings even more hollow in light of recent moves by his administration and the GOP. Just a month ago, the White House helped kill a piece of bipartisan legislation that would have strengthened the integrity of our elections by setting new standards for cybersecurity and mandating audits after federal elections; in July, his party blocked federal funding for states to strengthen their election security.
So if the idea that Trump cares about the integrity of U.S. elections in general is so transparently false, what is this accusation really about? It's possible the speech was intended to help build a narrative about the midterms in which whatever losses his party incurs can be blamed on foreign meddling. This is not some wild conspiracy theory: He has already been doing this with regard to Russia, which he claimed over the summer was "pushing very hard for the Democrats."
There have indeed been suggestions that Russia has been attempting to influence the midterms. The full extent of these activities is not publicly known, but the two candidates that have been identified as targets of Russian hacking attempts this year have both been Democrats: Missouri Senator Claire McCaskill and Tabitha Isner, a candidate in Alabama's Second Congressional District. Intelligence agencies do not customarily launch cyberattacks on people they are trying to help.
Trump's claims about Russian and Chinese assistance to Democrats plant seeds of doubt about the upcoming elections that he and other Republicans can harvest if and when they suffer a drubbing in November thanks to Trump's multifarious ethical scandals and the failure of their tax cuts to help anyone other than wealthy investors. Whether they will be brazen enough to do so remains to be seen.