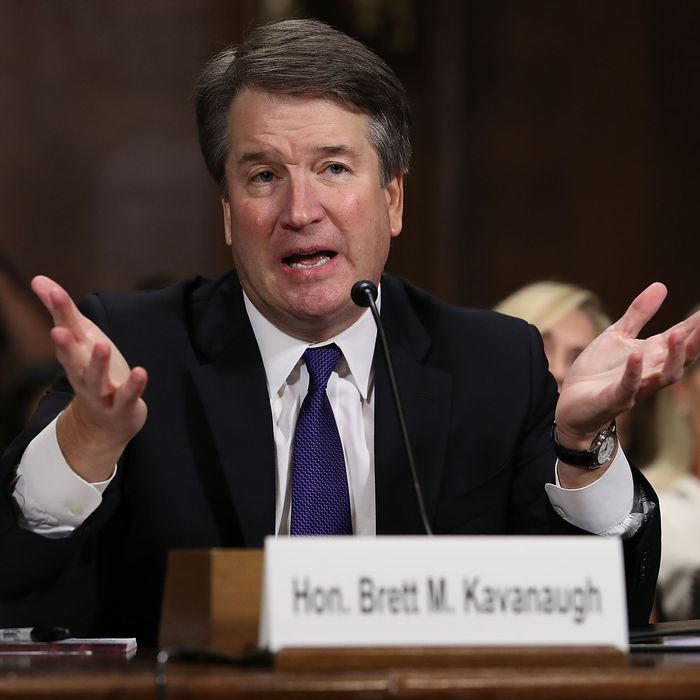 Brett Kavanaugh has been accused of a "blatant mischaracterization" of his drinking habits.
Photo: Win McNamee/Getty Images
In college, Brett Kavanaugh often became "belligerent and aggressive" while drinking and was frequently seen "staggering from alcohol consumption," a former Yale classmate told the New York Times.
Chad Ludington, a professor at North Carolina State University, said he and Kavanaugh were friends in college, putting him in a position to know that the judge was lying — or offering a "blatant mischaracterization," as he put it — during Senate testimony Thursday. Kavanaugh claimed during the hearings that he has never blacked out or suffered memory loss from drinking.
In a statement published by the Times, Ludington recounted a specific incident of Kavanaugh going into a booze-induced rage:
"When Brett got drunk, he was often belligerent and aggressive. On one of the last occasions I purposely socialized with Brett, I witnessed him respond to a semi-hostile remark, not by defusing the situation, but by throwing his beer in the man's face and starting a fight that ended with one of our mutual friends in jail."
Ludington, who writes that Kavanaugh's testimony made him "cringe," told the Washington Post that drunken idiocy, especially by a teenager, should not "condemn a person for the rest of his life." But Kavanaugh's willingness to lie under oath "should have consequence," he said.
"It is truth that is at stake, and I believe that the ability to speak the truth, even when it does not reflect well upon oneself, is a paramount quality we seek in our nation's most powerful judges,"he said. He intends to take his information to the FBI on Monday morning, but it's not clear those investigating the Supreme Court nominee will be interested in hearing it.