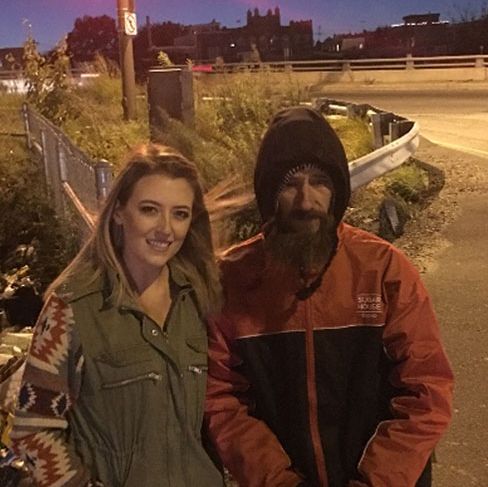 Photo: Screenshot via GoFundMe
Here's a heartwarming story that takes a dark enough turn to convince you that there is actually no such thing as a heartwarming story. Last year, a man named Johnny Bobbitt gave $20 to Kate McClure when her car ran out of gas. Bobbitt was homeless and that $20 was, so the tale goes, his last. Touched by his kindness, McClure and her boyfriend, Mark D'Amico, started a GoFundMe campaign and raised over $400,000 for Bobbitt. Except Bobbitt says he never saw even half of those funds. And now the money is nowhere to be found.
On Thursday, authorities raided McClure and D'Amico's house in New Jersey. "They proceeded to search the premises, and a BMW parked in the driveway was towed away by investigators," Gizmodo reports. Video from ABC6 showed D'Amico outside the house golfing and playing with a dog while the search was conducted.
Bobbitt is working with a lawyer, Chris Fallon, in pursuit of the funds he claims to have never received. McClure and D'Amico, via their lawyer, revealed in court earlier this week that all the money is gone. Bobbitt says he did receive about $75,000 from the couple. That included a camper and a 1999 Ford Ranger. Bobbitt was living in the camper on land owned by the couple until they kicked him off the property in June, AP reports. McClure and D'Amico never purchased a house for Bobbitt, as was initially promised. (The trailer and car, NPR reports, were not registered in Bobbitt's name.) Bobbitt claims the couple spent the remaining money on vacations and a new BMW. The couple denies these allegations.
"There will also be 2 trusts set up in his name, one essentially giving him the ability to collect a small 'salary' each year and another retirement trust which will be wisely invested by a financial planner which he will have access to in a time frame he feels comfortable with so when the time comes he can live his retirement dream of owning a piece of land and a cabin in the country," McClure wrote in the now-deleted GoFundMe. Bobbitt claims he never had access to withdraw funds at his own discretion. The couple claimed to be wary of giving Bobbitt complete access due to his history with drugs. GoFundMe, the platform, has since donated $20,000 to create a legal fund for Bobbitt as the case proceeds. No criminal charges have been filed at this point.