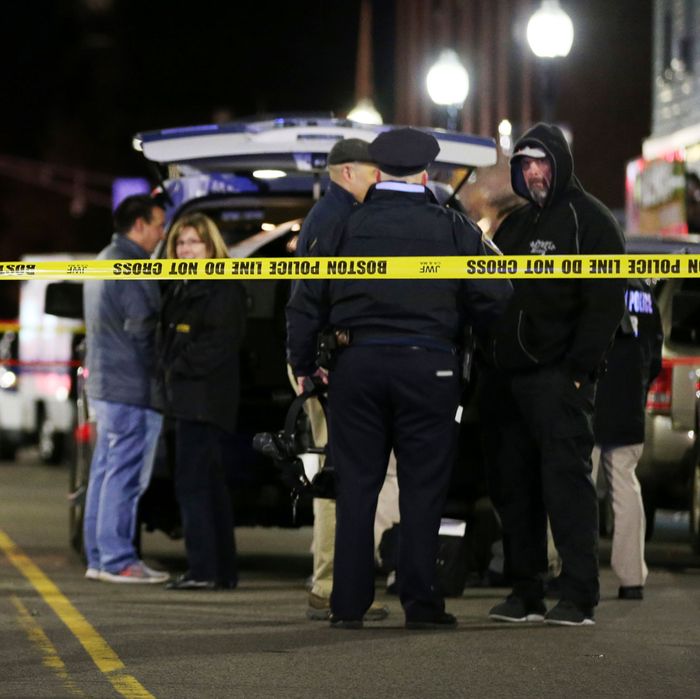 Trump's imaginary "massive crime wave" is ebbing.
Photo: Craig F. Walker/The Boston Globe via Getty Images
One way in which Donald Trump has brought back the racially divisive rhetoric of a past generation has involved his regular invocation of a "massive crime wave" engulfing the country. This was a staple of his 2016 presidential campaign, and he continues to warn that a Democratic Congress would generate more crime despite the underlying reality that violent crime rates are about half what they were in 1990. Small but real upticks in certain crimes in 2015 and 2016 gave Trump's crime demagoguery at least a patina of truth. But now the FBI's Uniform Crime Report for 2017 is showing that the longer-term trend of lower crime rates over the last quarter-century has resumed, as The Hill reports:
The number and rate of both property and violent crimes committed across the United States fell in 2017, led by big declines in some cities hit hard in recent years by waves of violence.




Data released by the Federal Bureau of Investigation shows 382.9 violent crimes per 100,000 U.S. residents in 2017, down from 386.6 per hundred thousand residents in 2016, about a one percent decrease….




Both the number and rate of crimes committed across the country are still slightly above the recent low that was reached in 2014. But the long-term decline in crime that began in the early 1990s is still evident.

There were about 200,000 fewer violent crimes committed in 2017 than there were in 1999, even though the country's population has risen by 50 million people. The number of property crimes has dropped by more than two million in just a decade.
Early estimates for 2018 indicate that the 2017 trend of moderately lower crime rates is continuing, in part because the headline-grabbing spike in homicides in cities like Baltimore and Chicago appears to have ended. But again, the long-term trend is clear and unmistakable. It would take many years of steady increases in crime rates to get the country back to the relative state of peril citizens experienced during and just following the Reagan presidency.
The most immediate question is whether the president and Republicans on the midterm campaign trail will ignore the numbers, deny them, or even try to take credit for the latest trend, as Attorney General Jeff Sessions tried to do today, and as he did earlier this year, when the first signs appeared that crime rates were again declining. This last tack isn't terribly credible:
Thomas Abt, a former federal prosecutor now a senior fellow at Harvard Law School and Kennedy School of Government, noted that the decline came before Trump announced his first wave of U.S. attorneys in June.




"It's simply not honest to say that aggressive federal prosecution was responsible for the crime decline when the federal prosecutors that Trump nominated weren't even in office at the time," Abt said.




What is more, he said, about 90 percent of criminal prosecutions in the United States are handled by local and state courts, leaving the federal government with a limited role in crime fighting.
The most common rhetorical gambit of Republicans trying to "energize the base" heading towards the midterms is simply to agitate the air anecdotally about undocumented immigrants accused of especially heinous crimes like the murder of University of Iowa student Mollie Tibbets. As has been established repeatedly, there is no evidence whatsoever that tight or loose immigration policies have anything to do with crime rates; indeed, immigrants, legal or illegal, commit crimes less often than native-born citizens. But as a "two-fer" guaranteed to upset older conservative white voters upset who already fear the country is going to hell in a hand-basket, the idea of an immigrant-fed "crime wave" is hard to beat.
The question may be whether facts about crime will matter at all.